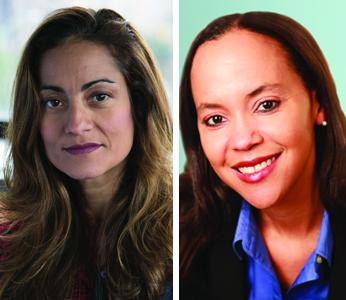 CCNY's Adriana Espinosa (left) and Lesia M. Ruglass, two of the co-leaders of the tobacco use study.
Dr. Adriana Espinosa, assistant professor, psychology, in The City College of New York's Colin Powell School for Civic and Global Leadership, is the principal investigator of a $467,205 grant from the National Institutes of Health (NIH) for an innovative study of tobacco use and its varying impact on white and Black adolescents. Entitled "An intersectional examination of early tobacco use among white and Black adolescents," the two-year study also involves researchers from the University of Texas at Austin, and the Roswell Park Comprehensive Cancer Center.  
"The project will identify differences in the types and accumulation of multiple risk and protective factors for tobacco use between white and Black adolescents over time," said Espinosa, whose research expertise includes health disparities and health behaviors. "The purpose is to understand factors explaining differences in early tobacco use between white and Black youth with the long-term goal of developing interventions that reduce tobacco-related health disparities among Black individuals. This developmental project is the first step in this direction because it will identify groups of Black adolescents who face the highest risks of tobacco-related illnesses."
Future projects will create interventions to prevent and mitigate tobacco use and related consequences among those who face the highest risks.
The collaborative work will be done at City College. Espinosa's co-investigators include:
Colin Powell School clinical psychologist and PTSD and substance use disorder researcher Lesia M. Ruglass;
Fiona Conway (UT Austin), who also studies substance use disorders; bio-behavioral health, and technology-assisted health interventions; and
Christine Sheffer (Roswell Park), whose specialties include the treatment of tobacco dependence, and health behavior change.  
In addition to this new research, Espinosa and Ruglass are also involved in an innovative National Institute on Drug Abuse-funded study to evaluate the effectiveness of substance use disorder treatments for Black people who use cocaine.

About the City College of New York
Since 1847, The City College of New York has provided a high-quality and affordable education to generations of New Yorkers in a wide variety of disciplines. CCNY embraces its position at the forefront of social change. It is ranked #1 by the Harvard-based Opportunity Insights out of 369 selective public colleges in the United States on the overall mobility index. This measure reflects both access and outcomes, representing the likelihood that a student at CCNY can move up two or more income quintiles. In addition, the Center for World University Rankings places CCNY in the top 1.8% of universities worldwide in terms of academic excellence. Labor analytics firm Emsi puts at $1.9 billion CCNY's annual economic impact on the regional economy (5 boroughs and 5 adjacent counties) and quantifies the "for dollar" return on investment to students, taxpayers and society. At City College, more than 16,000 students pursue undergraduate and graduate degrees in eight schools and divisions, driven by significant funded research, creativity and scholarship. CCNY is as diverse, dynamic and visionary as New York City itself. View CCNY Media Kit.