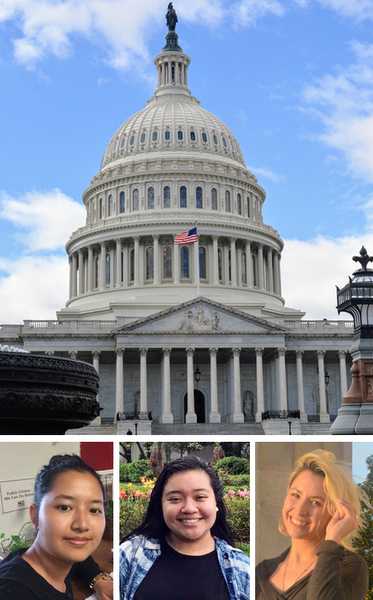 For generations, Washington, D.C., has attracted an endless stream of civic-minded citizens keen on public service careers.  Eight City College of New York undergraduates are the latest to feel the lure of D.C. where they are gaining new insights, networking and connecting with CCNY alumni there.
Thanks to a semester-long program in the Colin Powell School for Civic and Global Leadership supported by the MCJ Amelior Foundation, students like Corrin Chow are in the nation's capital learning how the legislative branch works. The political science and international studies double major is interning with New York Representative Joseph Crowley, chairman of the Democratic Caucus.
Elena Soktoeva, also majoring in international studies, is interning at the Global Language Network, a non-profit that provides affordable language classes in the D.C. area. She's eager to introduce the concept in New York City, adding: "I plan to work in the field of immigrant affairs. The skills and knowledge I've received at my internship placement are invaluable."
Then there's Anne Joost, whose internship at the Climate Institute has strengthened her interest in environmental issues. "Ideally, after I graduate I would like to work for a nongovernmental organization that has as its mission to combat environmental degradation," she adds.
For these students and their colleagues in the fourth cohort of Colin Powell School-D.C. interns, the program is delivering beyond expectation. It is particularly beneficial for students with a strong interest in public policy, public service and the workings of governmental structures. 
 "I've gotten the incredible and rare opportunity to get an inside look at how policy is created, drafted, and debated on Capitol Hill," notes Chow, a Macaulay Honors College member at CCNY. "This internship has not only introduced me to the world of policy and politics, but has given me a clearer understanding of what kind of career I want and what steps are necessary to arrive there."
A boon for her and some of the other CCNY interns has been interacting with City College alumni. In Chow's case it's her supervisor, Congressman Crowley's office staff assistant, who graduated from the Colin Powell School's Skadden, Arps Honors Program in Legal Studies program. 
 And while the word "lobbyist" might have a negative connotation in some circles, concedes Veronica Alexandra Balladares, her stint at The Normandy Group, LLC, a boutique bipartisan lobbying firm has been anything but.
 Founded in 2006 by former members of Congress, among others, Normandy has provided Balladares, a pre-law and international studies major, with a unique experience.
"What I love about this internship is the amount of exposure we have as interns," she says. "The partners want us to know what lobbying is about, how politics truly works, and how they go about in finding their clients."
Demetrios Rallis' role in the office of Shadow Senator Paul Strauss makes the junior and political science major a player in the District of Columbia's campaign for statehood.
"My roles include attending Congressional hearings and other events, reporting on those hearings and events, keeping up with proposed legislation regarding DC autonomy and statehood," he says.
Rallis' exuberance is such that his only objection is that his internship will end. "I can't begin to explain how comfortable I feel, as if D.C. truly is my home. I have made new friends from all parts of the country, and I have networked to what may turn out to be very important connections for my future work," adds the future journalist. "I miss New York. But I would be very pleased if I were told this program was extended for another semester. I am not looking forward to the day I leave."
Kai Gilchrist, on the staff of New York Democratic Representative Hakeem Jeffries, is the third City College student in D.C. interning in a Congressional office. The junior is a psychology major. 
Thomas Johnson's internship experience, meanwhile, is more technical. An international studies senior, he's at Joint Base Anacostia–Bolling, a military installation in Southwest D.C. There he's working on computer systems, making sure they function properly and meet government security standards.
"The biggest thing I have taken out of this internship is the practical knowledge I have gained about computers and networks," says Johnson. "Computers and networks are going to be important so I guess this is practical forever."
How inclusive is the Colin Powell School-D.C. Internship Program? Well, you could be a philosophy major like Elina Rai and still find your niche. It is not exclusive to particular majors or minors.
Rai found placement with the nonprofit Public Citizen founded by famed consumer advocate and former U.S. Presidential candidate Ralph Nader.
Her duties include researching public health and commercialism-related policies and issues, gathering data related to trends in commercialism, and helping developing campaign actions to protect public interests from the exploitative nature of commercialism. 
"I have realized that it takes a lot more than just hard work to get your message across. You must be dedicated, persistent and headstrong," sums up Rai.
Andrew Rich, the D.C. Program's academic director in the Colin Powell School, highlights its attributes.  "The Semester in D.C. provides an extraordinary opportunity for our students to experience national politics and policymaking up close, and to combine professional experience with academic exploration.
"Over the past three years, students who have completed the program have stayed on in D.C. with full-time jobs in public service. The program embodies some of the Colin Powell School's core values of service, leadership and civic engagement."
Akasha Solis, alum of the program and its coordinator, captures the buzz around the offering run in partnership with the University of Delaware.
"The best aspect about it is the excitement it generates," she notes. "It's a great experience and there is tremendous enthusiasm from professors and advisors that send us students they think would be a great fit for the program."
Recruitment is ongoing for the spring 2018 program. "It's an exciting feeling helping expand a student's career while in college, and I feel proud to watch each student grow throughout his or her experience," adds Solis.
About The City College of New York
Since 1847, The City College of New York has provided low-cost, high-quality education for New Yorkers in a wide variety of disciplines. Today more than 16,000 students pursue undergraduate and graduate degrees in eight professional schools and divisions, driven by significant funded research, creativity and scholarship.  Now celebrating its 170th anniversary, CCNY is as diverse, dynamic and visionary as New York City itself.  View CCNY Media Kit.