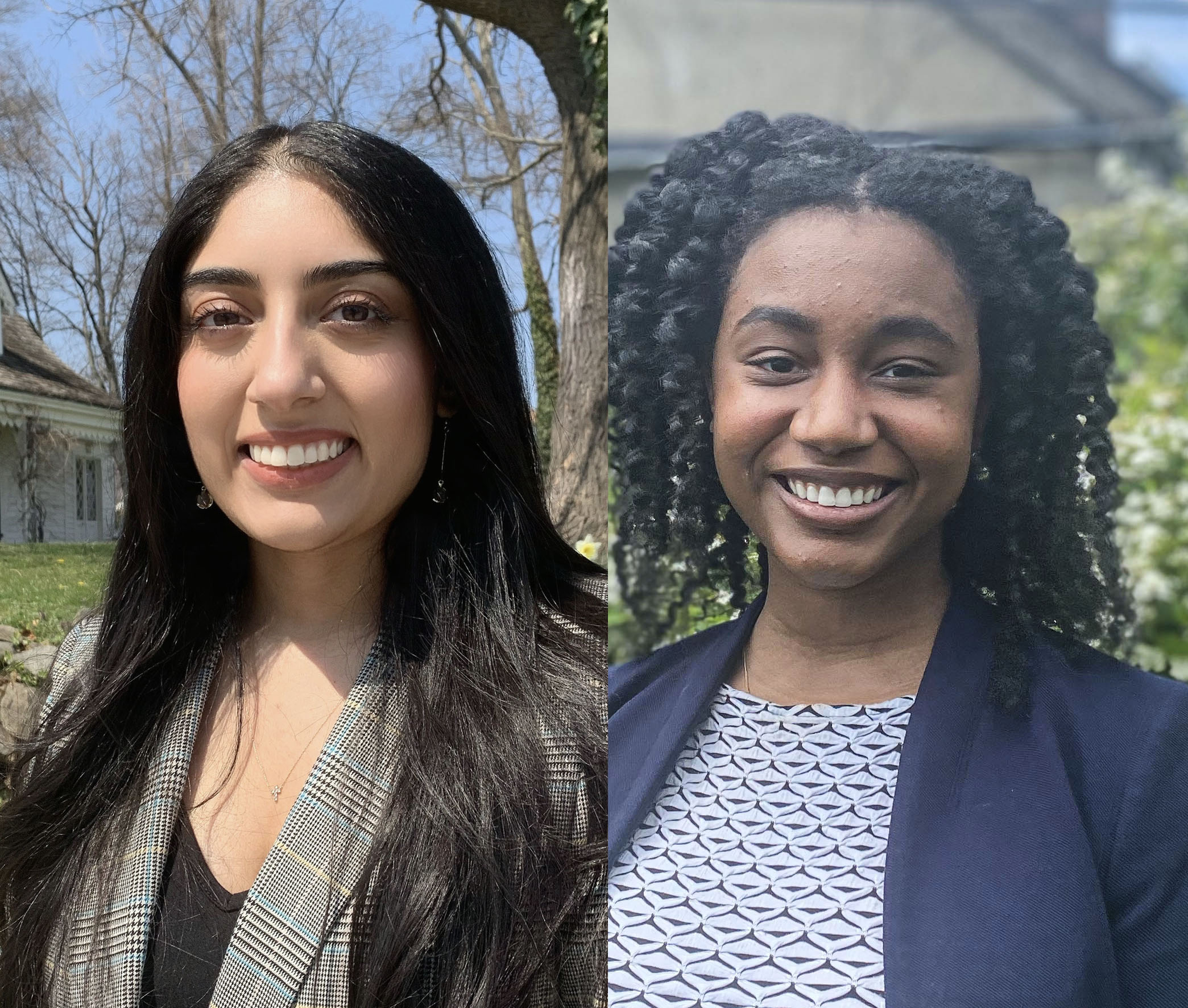 Aisha Fuenzalida Butt (left) Cassiady Perard are CCNY's 2021 Fulbright award recipients.
As parts of the world begin to open up from the Covid-19 pandemic, City College of New York duo Aisha Fuenzalida Butt and Cassiady Perard can look forward to traveling overseas this fall as Fulbright Scholars. The two join a select group of 2021-2022 winners nationally in the Fulbright U.S. Student Program.
Fuenzalida, who is graduating on June 4 with a BA in anthropology and as the Colin Powell School for Civic and Global Leadership's valedictorian, is headed to Spain's Canary Islands in September on a Fulbright English Teaching Assistant (ETA) award that runs through June 2022. Perard, an English literature major from CCNY's Class of 2020, is also the recipient of an ETA award. It will take her to Benin, West Africa, in October. 
Following are brief bios on CCNY's latest Fulbright scholars:
Aisha Fuenzalida Butt:
The Staten Island resident's other honors include Mellon Mays and Climate Policy fellowships. The latter, in the Colin Powell School, ignited her passion for  environmental justice and mitigating the effects of climate change on marginalized communities. She plans to share her passion and knowledge with the students in the two schools where she'll teach on the Canary Islands. "Being an ETA in Spain provides me with the opportunity to work with children experiencing unique effects of climate change. I will be able to combine my research passions and motivation to promote international education while encouraging ideas of intersectional environmentalism," she said. "I plan to engage children in conversations in the classroom and community that make them think about their personal relationship to the environment and global effects of climate change." Fuenzalida's Fulbright includes a community engagement component. She will engage in community projects that focus on coastal climate change and pollution and volunteer with local environmental organizations in beach cleanups. On her return to the United States, Fuenzalida plans to pursue a PhD anthropology and explore conservation and community responses to climate change and environmental protections. 
Cassiady Perard:
The daughter of Haitian immigrant parents, Perard will teach English to post-secondary school students in French-speaking Benin from October through June 2022.  The Queens resident said of her award: "It will allow me to explore the intercultural connections across the Black diaspora and engage in classroom discussion about migration and identity. I hope to gain international perspectives on education while also exploring my personal and cultural history within Benin." Perard plans on earning a master's degree in public policy on her return from Africa. She was on the Dean's List at CCNY honors and was a member of the Skadden Arps Honors Program in Legal Studies in the Colin Powell School. She also served a year as a Student Senator for the CCNY Undergraduate Student Government, from 2019-2020.
About the Fulbright Scholar Program
Established in 1946 under legislation introduced by the late Sen. J. William Fulbright of Arkansas, the program's purpose is to build mutual understanding between the people of the United States and other countries. Fulbright Scholars are selected on the basis of academic or professional achievement and demonstrated leadership potential in their fields. 
About the City College of New York
Since 1847, The City College of New York has provided a high-quality and affordable education to generations of New Yorkers in a wide variety of disciplines. CCNY embraces its position at the forefront of social change. It is ranked #1 by the Harvard-based Opportunity Insights out of 369 selective public colleges in the United States on the overall mobility index. This measure reflects both access and outcomes, representing the likelihood that a student at CCNY can move up two or more income quintiles. In addition, the Center for World University Rankings places CCNY in the top 1.8% of universities worldwide in terms of academic excellence. Labor analytics firm Emsi puts at $1.9 billion CCNY's annual economic impact on the regional economy (5 boroughs and 5 adjacent counties) and quantifies the "for dollar" return on investment to students, taxpayers and society. At City College, more than 16,000 students pursue undergraduate and graduate degrees in eight schools and divisions, driven by significant funded research, creativity and scholarship. CCNY is as diverse, dynamic and visionary as New York City itself. View CCNY Media Kit.