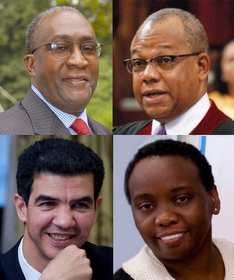 Community leaders have hailed the establishment of the first public medical school in Harlem by The City College of New York in partnership with St. Barnabas Hospital. The CUNY School of Medicine at City College will accept its first intake in fall 2016.
Lloyd A. Williams, president and CEO of the Greater Harlem Chamber of Commerce (GHCC) called the City College development "historic."
"In light of all the health issues predominate in the upper Manhattan area, the fact that a medical school will open at the City College of New York is historic and of dramatic importance to the health and well-being of upper Manhattan in particular and the entire New York City in general," he said. 
Williams commended City College as a leading public institution in upper Manhattan that has worked closely with the GHCC on health initiatives. "This includes the Percy Sutton 5K run which promotes exercise and well-being in the community," he added, in reference to the annual Harlem Week event scheduled for August 22 this year. 
The Reverend Calvin O. Butts III, pastor of the iconic 
Abyssinian Baptist Church in Harlem, applauded City College PresidentLisa S. Coico for what he termed "this monumental achievement."
Noting that the medical school was an expansion of CCNY'sSophie Davis School of Biomedical Education established in 1973, Butts said: "I was here when Sophie Davis started," he said of the program charged to increase accessibility to careers in medicine for underrepresented groups and to train primary care health care professionals to serve in medically underserved communities.
His church, designated a New York City Landmark in 1993, became a destination for some Sophie Davis students.
Butts hoped that the new medical school would be sensitive to the changing racial and ethnic demographics in both the city and Harlem.   
Ydanis Rodriguez, Councilmember for District 10 and a 1993 City College alumnus, also talked of the new development as an historic achievement by his alma mater.  
"With the establishment of this school not only does CCNY expand its footprint but also creates a new path forward for communities of color to enter the medical field which has sometimes been all too elusive. As an alumnus, I'm especially proud of my alma mater for this historic achievement," said Rodriguez.
In nearby Washington Heights, Dr. Burnedette Drysdale, principal of the City College Academy of the Arts, a CUNY Early College High School, said the medical school is long overdue.
"It's a wonderful idea and will make medical school accessible to students who think they can't afford or aspire to study medicine because schools are far away. Now we have a medical school in our community and this is amazing," said Drysdale. 
Operating on the City College campus in Harlem with its clinical campus at St. Barnabas Hospital, the new school is the only medical school in the CUNY system.
About The City College of New York
Since 1847, The City College of New York has provided low-cost, high-quality education for New Yorkers in a wide variety of disciplines. More than 15,000 students pursue undergraduate and graduate degrees in the College of Liberal Arts and Science;the Bernard and Anne Spitzer School of Architecture;the School of Education;the Grove School of Engineering;the Sophie Davis School of Biomedical Education;and the Colin Powell School for Civic and Global Leadership. U.S. News &World Report, Princeton Review and Forbes all rank City College among the best colleges and universities in the United States.
About SBH Health System 
St. Barnabas Hospital and its sister facilities in the Bronx are now known as SBH Health System. In addition to its flagship hospital, which features the hospital's state-of-the-art Ambulatory Care and Hemodialysis centers, SBH Health System encompasses Fordham-Tremont Mental Health Center, the St. Barnabas Rehabilitation &Continuing Care Center, and the Southern Medical Group.
St. Barnabas Hospital is a 461-bed not-for-profit acute care community hospital with a Level 1 Trauma Center. The Ambulatory Care Center at St. Barnabas Hospital recently received Level 3, the highest level of certification for a patient-centered medical home, a model of care that emphasizes care coordination and communication to transform primary care into "what patients want it to be" (as defined by the National Committee for Quality Assurance, the certifying body).