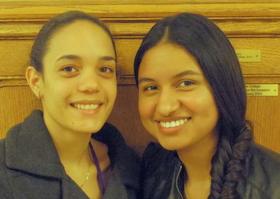 Laura Arias [left] and Jatnna Taveras are two of the first four City College President's Community Scholars to graduate from CCNY.
The first four City College of New York President's Community Scholars will graduate May 30 as members of CCNY's Class of 2014. City College President Lisa S. Coico established the scholarship program, which provides full tuition for high-achieving students from upper Manhattan, in 2010. 
 
The four graduating students are:
Ms. Arias and Ms. Taveras, who were named community scholars in 2012, came to City College with 62 transfer credits they earned in high school at the City College Academy of the Arts (CCAA) in Washington Heights. Mr. Nsangou and Mr. Sabha were awarded the scholarships in 2010 as entering freshmen from Frederick Douglass Academy and Manhattan Center for Science and Mathematics, respectively. 

"Without the scholarship, it would have been very difficult for my family to send me to college. I'd have had to take out thousands of dollars in loans," said Ms. Arias, 19, who graduates summa cum laude with a 3.70 GPA. In the fall she will attend Hunter College to pursue a master's in education. 
 
"My mom is a single mother with two daughters and without the scholarship it would have been really hard for me to attend college," said Ms. Taveras, 20, who lives in the Inwood section of Manhattan. "I'm really grateful to President Lisa for this great opportunity." She plans to pursue graduate studies in social work.
 
President Coico introduced the community scholarships shortly after coming to City College to strengthen links between the institution and the surrounding community. To date, 35 students have received the scholarships.

About The City College of New York 
Since 1847, The City College of New York has provided low-cost, high-quality education for New Yorkers in a wide variety of disciplines. More than 16,000 students pursue undergraduate and graduate degrees in the College of Liberal Arts and Sciences; the Bernard and Anne Spitzer School of Architecture; the School of Education; the Grove School of Engineering; the Sophie Davis School of Biomedical Education, and the Colin Powell School for Civic and Global Leadership. U.S. News, Princeton Review and Forbes all rank City College among the best colleges and universities in the United States. For additional information, visit www.ccny.cuny.edu.
MEDIA CONTACT