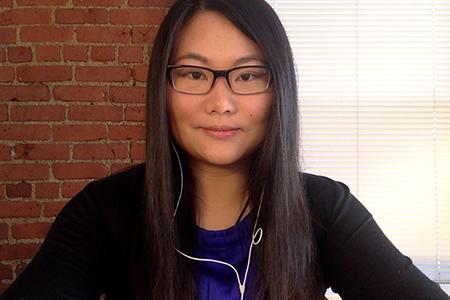 The Zahn Innovation Center at CCNY in collaboration with IN2NYC hosts Entrepreneur in Residence Ellie Li, co-founder of Projections.io.
The Zahn Innovation Center at The City College of New York in collaboration with the International Innovators Initiative (IN2NYC)—the first municipal program in the nation designed to help international entrepreneurs access visas to create jobs in the United States—hosts Entrepreneur in Residence (EIR) Ellie Li, co-founder of Projections.io, a viral consumer product that lets users clip moments from any video and was acquired by AppMonet in 2019. Li will be a resource for students, faculty and staff who are interested in commercializing innovation projects.
IN2NYC is a partnership between the New York City Economic Development Corporation (NYCEDC) and the City University of New York (CUNY). They partnered with seven CUNY colleges, including CCNY.
"The Zahn Center has been hosting IN2NYC entrepreneurs since 2016. As our Entrepreneurs in Residence, they've brought unique perspectives to our incubator, and offered individualized support for our student founders," said Kesia Hudson, interim executive director of the Zahn Center. "Recognizing the innovative and entrepreneurial work happening throughout the college, we see the opportunity for our EIR Program to serve as an additional resource for faculty and staff. They can now connect directly with Ellie and tap into her skills and knowledge base."
Since 2017, Li mentored student startups through the Zahn Center collaboration. She hosted various workshops and used her office hours to share her expertise on product growth and marketing that she acquired from starting and running a business.
"Over the years, the Zahn staff have adopted such lean startup methodology into a modularized approach to teach students how to be experimental and break down big ideas into smaller actionable items for tangible results," said Li. "I found it especially gratifying to serve as a mentor to guide students along the way and share the business insights from my own experience." 
Li is also a data driven entrepreneur with extensive experience on launching viral products, product management, UI/UX, data analytics and growth hacking. Prior to starting her startup journey, she worked at Barclays Investment Banking, Technology group with $700+ million transaction value and progress ventures, investing in early stage technology and media companies. She holds a BA in Economics from Boston College.  
"Going forward, we are interested to expand the opportunities for engagement with international entrepreneurs under the IN2NYC program" said Andrew Wooten, senior director of innovation management at City College. "In addition to mentoring CCNY's new entrepreneurs, we would like to find opportunities to connect experienced international EIRs directly with the many promising innovation development projects underway at CCNY.  Often, CCNY innovators have no wish to leave their full-time employment to become entrepreneurs, but teaming CCNY innovators with these talented international entrepreneurs as part of the IN2NYC program could provide both the technical and business expertise to successfully launch new commercial ventures." 
After the core technology of Projections.io was acquired, Li and the founding team are continuing to work on new products in private beta, leveraging their expertise in the digital media and advertising space. New products include an NFT platform that helps e-commerce merchants tokenize digital assets to unlock selling potential with the combination of physical goods and services, and the second is an artificial intelligence product that helps marketers allocate their advertising budget better. 
About the City College of New York
Since 1847, The City College of New York has provided a high-quality and affordable education to generations of New Yorkers in a wide variety of disciplines. CCNY embraces its position at the forefront of social change. It is ranked #1 by the Harvard-based Opportunity Insights out of 369 selective public colleges in the United States on the overall mobility index. This measure reflects both access and outcomes, representing the likelihood that a student at CCNY can move up two or more income quintiles. In addition, the Center for World University Rankings places CCNY in the top 1.8% of universities worldwide in terms of academic excellence. Labor analytics firm Emsi puts at $1.9 billion CCNY's annual economic impact on the regional economy (5 boroughs and 5 adjacent counties) and quantifies the "for dollar" return on investment to students, taxpayers and society. At City College, more than 16,000 students pursue undergraduate and graduate degrees in eight schools and divisions, driven by significant funded research, creativity and scholarship. CCNY is as diverse, dynamic and visionary as New York City itself. View CCNY Media Kit.