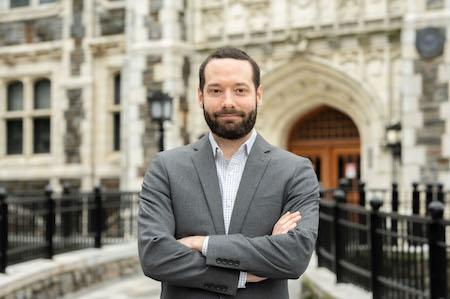 Gabriel Foreman is the first-ever Executive in Residence in the Office of Institutional Advancement, Communications, and External Affairs at CCNY.
Gabriel Foreman is the first-ever Executive in Residence in the Office of Institutional Advancement, Communications, and External Affairs at The City College of New York, and will work on projects with Rise Light & Power, the Advanced Robotics for Manufacturing (ARM) Institute, and the unified Charles B. Rangel Infrastructure Workforce Initiative and CUNY's Accelerate, Complete, and Engage (ACE) collaborative. In his role, Foreman will build sustained pathways to CCNY for high school students as well as help with recruitment, talent development curriculum, industry placement and grant initiatives. 
"As we expand the work we do across the city and state, and in particular as we look to identify innovative programs for matriculated and non-matriculated students, we wanted to create a position for someone with deep knowledge of the skills our students need to be prepared for the workforce of the future," said Dee Dee Mozeleski, vice president of the Office of Institutional Advancement, Communications, and External Relations, executive director of the Foundation for City College and senior advisor to the president. "I am thrilled to welcome Gabriel to our team and look forward to developing programs that are responsive to our community's needs."
He is the co-founder and president of Duro Workforce, a hands-on STEM programming and service provider, and co-founder and vice president of Duro UAS, a Bronx-based developer of affordable environmental monitoring systems. His work in climate tech and youth development has been featured in The New York Times and by his alma mater, Baruch College.
Foreman has led several major initiatives that include the co-planning and population of the ARM Institute's career portal, roboticscareer.org, where he managed a team to research robotics-related programs across the country. 
He also leads the FunFab (Fundamentals of Fabrication) program, which provides middle and high school students with hands-on computer-aided design (CAD) and proto-entrepreneurship experience, and AMP (Autonomous Monitoring Program), an environmental monitoring and data science program developed in partnership with CIPASS, City College's Initiative to Promote Academic Success in STEM. 
He is an accomplished public speaker and guest lecturer at the Urban Future Lab at NYU, Barnard College, the Colin Powell School for Civic and Global Leadership at CCNY and more. His awards include the NYC Economic Development Corporation's (NYCEDC) Futureworks NYC for advanced manufacturers and the American Entrepreneurship Award.
Foreman received an MBA from Baruch College's Zicklin School of Business in entrepreneurship and small business management and a BA from SUNY Purchase in political science.
About The City College of New York
Since 1847, The City College of New York has provided a high-quality and affordable education to generations of New Yorkers in a wide variety of disciplines. CCNY embraces its position at the forefront of social change. It is ranked #1 by the Harvard-based Opportunity Insights out of 369 selective public colleges in the United States on the overall mobility index. This measure reflects both access and outcomes, representing the likelihood that a student at CCNY can move up two or more income quintiles. Education research organization Degree Choices ranks CCNY #1 nationally among universities for economic return on investment. In addition, the Center for World University Rankings places CCNY in the top 1.8% of universities worldwide in terms of academic excellence. Labor analytics firm Emsi puts at $1.9 billion CCNY's annual economic impact on the regional economy (5 boroughs and 5 adjacent counties) and quantifies the "for dollar" return on investment to students, taxpayers and society. At City College, more than 15,000 students pursue undergraduate and graduate degrees in eight schools and divisions, driven by significant funded research, creativity and scholarship. This year, CCNY launched its most expansive fundraising campaign, ever. The campaign, titled "Doing Remarkable Things Together" seeks to bring the College's Foundation to more than $1 billion in total assets in support of the College mission. CCNY is as diverse, dynamic and visionary as New York City itself. View CCNY Media Kit.