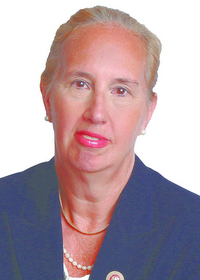 Summit to address community disaster planning
Is Harlem prepared to respond to a large-scale emergency? The City College of New York's WHCR 90.3FM Emergency Broadcast Team (WEBT), in partnership with Harlem Hospital Center, hosts the Second Annual Harlem Ready! Summit Wednesday, September 24, at the Harlem Hospital Center Herbert G. Cave Auditorium, 2nd Floor, 8:30 a.m. - 1 p.m.
"We are excited to partner with Harlem Hospital and other organizations to educate people on community disaster planning," said Angela Harden, general manager of WHCR 90.3FM on the City College campus."We are committed to working within our communities to keep them safe and informed."
Manhattan Borough President Gale A. Brewer will deliver the keynote address. Other featured speakers include Dr. Lisa S. Coico, president of the City College, and Eboné Carrington,deputy executive director and chief operating officer of Harlem Hospital Center.
Under Harden's leadership, the Harlem Ready! Summit was organized in 2012 as a collaborative effort among Harlem organizations, community leaders, businesses, houses of worship and residents to learn and share information about preparing and planning for a disaster during unexpected emergencies.
The summit features panel discussions led by public and private sector experts in emergency preparedness and readiness. Specific topics include Harlem Hospital's plans for managing the unexpected, lessons learned from disasters like the East Harlem gas explosion and "Superstorm Sandy," survival skills training, and using community-controlled wireless networks to assist in local emergency preparedness.
Participating sponsors for the Harlem Ready! Summit are The City College of New York, WHCR 90.3FM, Harlem Hospital Center, and Harlem Community Development Corporation.
About The City College of New York
Since 1847, The City College of New York has provided low-cost, high-quality education for New Yorkers in a wide variety of disciplines. More than 16,000 students pursue undergraduate and graduate degrees in: the College of Liberal Arts and Sciences; the Bernard and Anne Spitzer School of Architecture; the School of Education; the Grove School of Engineering; the Sophie Davis School of Biomedical Education, and the Colin Powell School for Civic and Global Leadership. U.S. News, Princeton Review and Forbes all rank City College among the best colleges and universities in the United States.
About WHCR-90.3FM
WHCR-90.3FM is owned and operated by The City College of New York. Under the leadership of General Manager Angela Harden, the WHCR Emergency Broadcast Team is run by a coalition of radio staff, on-air hosts, disaster management specialists and community technology professionals who have worked since Superstorm Sandy to establish the station as a viable communications resource during a disaster or emergency.
About Harlem Hospital Center
Harlem Hospital Center is the largest hospital in Central Harlem, and provides a wide range of medical, surgical, diagnostic, therapeutic, and family support services to the residents of Central Harlem, West Harlem, Washington Heights and Inwood.The Hospital provides over 90 specialized ambulatory care services, including same-day surgery in its Aubrey S. Maynard Ambulatory Surgery Unit, behavioral health services, community substance abuse treatment, dentistry and oral surgery. Anticipating today's health issues, the Hospital long ago instituted wellness programs, measuring patient satisfaction, and implemented quality review programs to assure that its patients receive the highest quality health care.
About Harlem Community Development Corporation
Harlem Community Development Corporation (Harlem CDC), a New York State public benefit corporation, was created in 1995 to serve the greater Harlem community, including East Harlem, Central Harlem, West Harlem and Washington Heights, through planning and facilitating the development of a range of community development projects and revitalization initiatives to restore Upper Manhattan as an economically stable and culturally vibrant community.