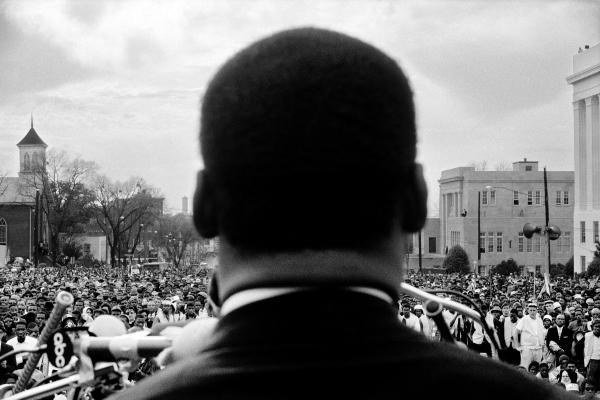 Stephen Somerstein was an undergraduate at CCNY when he took this iconic image of Dr. King at the 1965 Selma March. 
Fifty-eight years after capturing numerous iconic photos of the 1965 Selma to Montgomery, Alabama, Civil Rights March as a student photojournalist,  alumnus Stephen Somerstein returns to his alma mater for the first ever public exhibition of his historic images at The City College of New York. The exhibition, "Witness to History: Selma 1965 Photography of Stephen Somerstein," is open to the public and runs March 21 to May 14 in the Lincoln Corridor of CCNY's Shepard Hall.
The opening day reception is March 20 and includes a conversation, 5:30 – 7 p.m. in Shepard Hall room 350, between Somerstein, a retired physicist from CCNY's Class of 1966 and Vanessa K. Valdés, associate provost for community engagement at The City College. They will provide  running commentary during a slide show of the exhibition's images. 
Somerstein will narrate how he came to cover the march, the camera equipment he used and challenges he faced with limited rolls of film. He'll also discuss his photographic approach to tackling this enormous historic event and how he parsed its essential features to create a body of work faithfully emblematic of the event. 
Somerstein was a self-taught photographer, and both picture and managing editor of "Main Events," a CCNY student paper, when he took a bus to Alabama to cover one of the pivotal events of the Civil Rights movement. By highlighting racial injustice, the Selma to Montgomery marches led by the Rev. Dr. Martin Luther King, Jr., contributed to passage of the 1965 Voting Rights Act, a landmark achievement of the Civil Rights movement. 
Fifty-five of the approximately 400 images Somerstein took on the final day of the march -- mostly black and white, a few in color -- will be on view at CCNY. In addition to Dr. King, they capture some of the major figures of the Civil Rights movement, including James Baldwin, Bayard Rustin, A. Philip Randolph, Rosa Parks, Joan Baez and Coretta Scott King
It wasn't Somerstein's first time to capture Dr. King on film. Two years earlier the then Bronx resident had photographed Dr. King at CCNY when he delivered the keynote address at the 1963  commencement in the old Lewisohn Stadium, where the North Academic Center now stands. 
After graduating with a BS in physics, Somerstein went on to a successful career as an aerospace engineer at Harvard and senior scientist at Lockheed Martin. He designed instruments at the latter deployed on the recently launched James Webb Space Telescope.
Revisiting his photographic work in Alabama years later, Somerstein used the images to produce, in cooperation with CUNY media relations, an Emmy Award-winning video in 2013. A selection of images later went on exhibit at the New-York Historical Society in 2015.

Click here for more details about the "Witness to History" exhibit at CCNY and exhibit times.

About the City College of New York
Since 1847, The City College of New York has provided a high-quality and affordable education to generations of New Yorkers in a wide variety of disciplines. CCNY embraces its position at the forefront of social change. It is ranked #1 by the Harvard-based Opportunity Insights out of 369 selective public colleges in the United States on the overall mobility index. This measure reflects both access and outcomes, representing the likelihood that a student at CCNY can move up two or more income quintiles. Education research organization Degree Choices ranks CCNY #1 nationally among universities for economic return on investment. In addition, the Center for World University Rankings places CCNY in the top 1.8% of universities worldwide in terms of academic excellence. Labor analytics firm Emsi puts at $1.9 billion CCNY's annual economic impact on the regional economy (5 boroughs and 5 adjacent counties) and quantifies the "for dollar" return on investment to students, taxpayers and society. At City College, more than 15,000 students pursue undergraduate and graduate degrees in eight schools and divisions, driven by significant funded research, creativity and scholarship. This year, CCNY launched its most expansive fundraising campaign, ever. The campaign, titled "Doing Remarkable Things Together" seeks to bring the College's Foundation to more than $1 billion in total assets in support of the College mission. CCNY is as diverse, dynamic and visionary as New York City itself. View CCNY Media Kit.