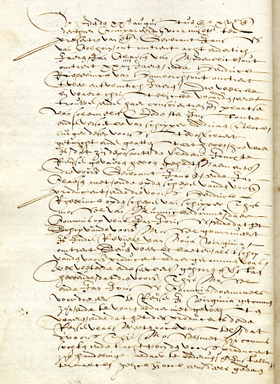 "Juan Rodriguez and the Beginnings of New York City" details Latino identity of man from Island of Santo Domingo who settled here 400 years ago
"Juan Rodriguez and the Beginnings of New York City," a monograph revealing information on the Latino identity of the first immigrant to settle in New York City, will be released to the public Wednesday, May 15, by the CUNY Dominican Studies Institute (CUNY DSI). Rodriguez, who was also known Jan Rodrigues, arrived in what was known as Hudson's Harbor in 1613 and stayed until 1614.
Historical records identify Rodriguez as a black or mixed-race male from the island of Santo Domingo, the first European colony established in the Americas following Christopher Columbus' 1492 voyage. As a black man from a Spanish colonial society, he can be considered an ancestor or, at least, a predecessor of New York City's black and Latino communities, said Dr. Ramona Hernández, director of CUNY DSI and professor of sociology at The City College of New York.
Executive Summary of the Monograph
CUNY DSI put together a team of researchers specialized in Dominican, Dutch, and Spanish history to reconstruct Rodriguez's life in La Española and his involvement in the events of 1613-1614 in what would become called New Amsterdam. It consisted of:
Anthony Stevens-Acevedo, assistant director of CUNY DSI and a historian, who specializes in 16th and 17th century La Española (known as Hispaniola in the Anglo world), who was principal investigator;
Tom Weterings, a historian who specializes in early modern Dutch history, and
Leonor Alvarez Francés, who specializes in 17th century literary translations of Spanish works into the Dutch language  
The team's methodology consisted of five stages: (1) digging up documents from archives in Holland and the Dominican Republic about Rodriguez and his relations with the Dutch as well as his own society of origin; (2) transcribing Dutch and Spanish documents; (3) translating Dutch and Spanish documents into English; (4) summarizing the scholarship on Rodriguez, i.e., what had been said about him until now; (5) presenting an analysis that intertwines all documents found, previous studies and the historical context of La Española society as maker of a man of Juan Rodriguez's character.  
The central thesis of this research is that Juan Rodriguez's profile as described in Dutch documents – a free, dark-skinned and assertive man who had a relationship with Dutch sailors in 1613 – seems very typical of a former inhabitant of early 17th century Santo Domingo. In 1613, la Española was a very well defined society, and blacks and persons of mixed race comprised the majority of its population.
Similarly, La Española was a society where widespread systematic smuggling and illicit trading with foreigners, including the Dutch, was a fact of life. Interactions among peoples from inside and peoples from outside developed into strong social relationships and exchange of cultural practices, including language and other ethnic symbols. In addition, Juan Rodriguez's strong-minded decision to stay in New Amsterdam reflects the character of an individual who came from a society, like Santo Domingo, where people lived in clear violation and defiance of the Spanish Crown.
The New York City Council and the American Chamber of Commerce of the Dominican Republic partially funded the research.  
 
Summary of the monograph's original documents
Copies of original archival Dutch manuscripts mentioning Rodriguez that were never published
First typed transcriptions of the Dutch manuscripts mentioning Rodriguez, including line-by-line verbatim transcription and reordered transcription
Literal and standard English translations of Dutch manuscripts
Standard Spanish translations of Dutch manuscripts
A revision of the 1959 English translations of Dutch manuscripts
Transcriptions and English translations of Spanish judicial documents from La Española pertaining to smuggling trade between the Dutch and inhabitants of Santo Domingo that mention three men named Juan Rodriguez
Transcriptions and English translations of parochial records from Santo Domingo mentioning adult and infant individuals named Juan Rodriguez
Map of settlements in 16th century colonial Santo Domingo or La Española
Graph showing evolution of population in 16th century La Española
On the Internet