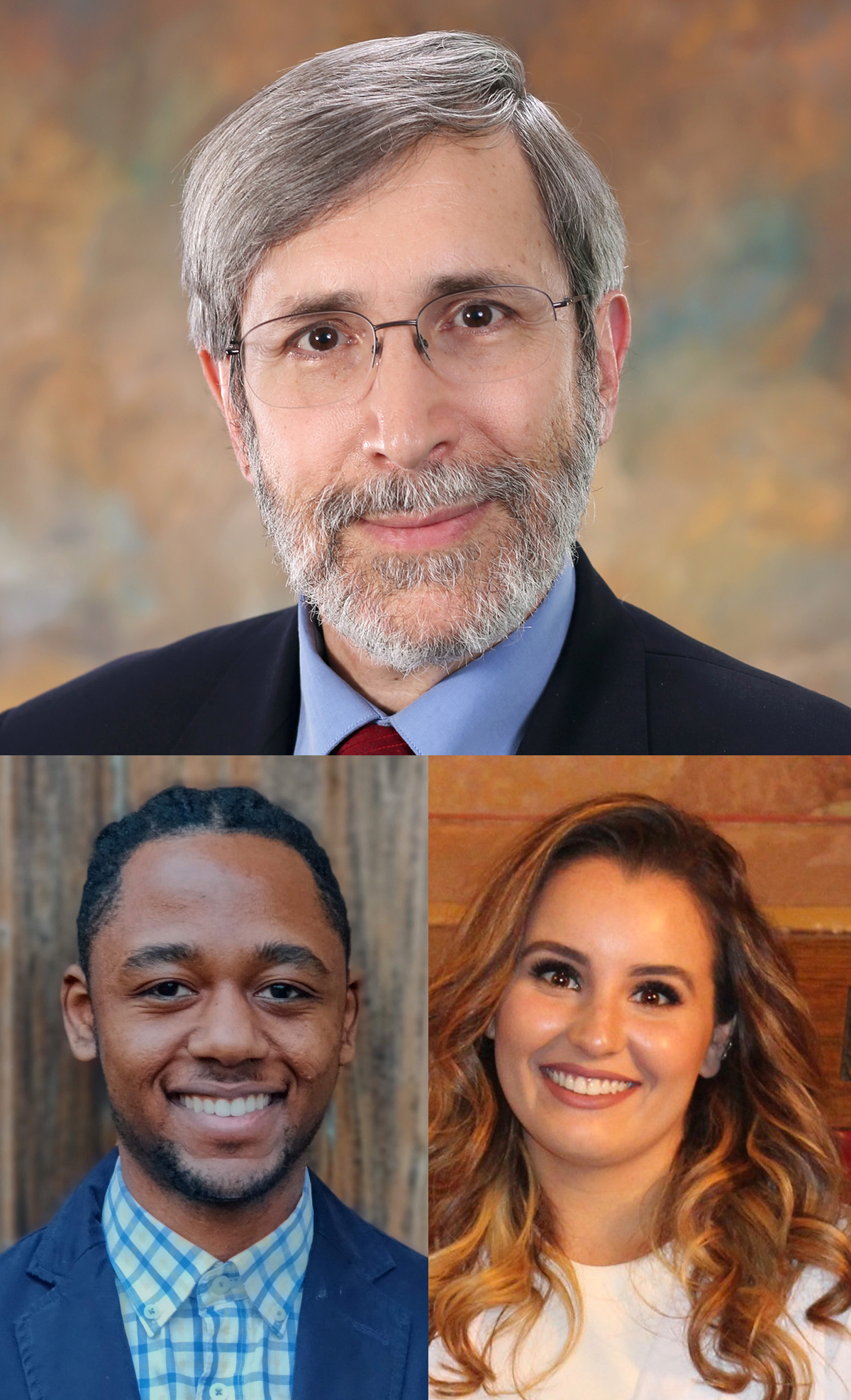 CCNY alumnus David Bendich has established a research fellowship in honor of his parents. Caleb Garard [bottom left] and Cameron E. Morales of the CUNY medical school at CCNY, are the first recipients.
Caleb Garard and Cameron E. Morales, second-year students in the CUNY School of Medicine (CSOM) at The City College of New York, are the first recipients of the Dorothy and Max Bendich Student Research Fellowship. The award has been established by pediatric specialist and CCNY Class of 1971 alumnus David Bendich, MD, in honor of his parents. It will support exceptional students showing an interest in science education and clinical research.
Fellows will receive $3,000 per semester each for expenses incurred while engaged in assigned research. Bendich, who initially studied music at CCNY before a research program sparked his interest in the life sciences, hopes that fellowship recipients will be similarly inspired. "This fellowship will allow students to explore different paths in medicine and help them find what suits them," he said.   
Bendich went on to earn his medical degree from the New York State University School of Medicine-Buffalo in 1975. He has spent more than 45 years since serving unrepresented communities. "Life has been good to my family," said Bendich. "It's time to give back." 
Garard and Morales were named Bendich Fellows after a highly competitive selection process. Garard plans to use the fellowship to pursue his research interest in the racial tensions between French citizens of African heritage and Black immigrants surrounding HIV/AIDS health empowerment. 
"I appreciate this Fellowship's commitment towards students' success," said the Long Island resident. 
Morales, who's also from Long Island, plans on furthering her research on gastrointestinal microbiome disruption. Her research at Montefiore Hospital is through a partnership with Albert Einstein School of Medicine. "This Fellowship will allow me to focus on this fascinating and evolving area of medicine and contribute to a greater understanding of gastrointestinal microbiome disruption," she said. 
Click here to read more about the Dorothy and Max Bendich Student Research Fellowship.
About the City College of New York
Since 1847, The City College of New York has provided a high-quality and affordable education to generations of New Yorkers in a wide variety of disciplines. CCNY embraces its position at the forefront of social change. It is ranked #1 by the Harvard-based Opportunity Insights out of 369 selective public colleges in the United States on the overall mobility index. This measure reflects both access and outcomes, representing the likelihood that a student at CCNY can move up two or more income quintiles. In addition, the Center for World University Rankings places CCNY in the top 1.8% of universities worldwide in terms of academic excellence. Labor analytics firm Emsi puts at $1.9 billion CCNY's annual economic impact on the regional economy (5 boroughs and 5 adjacent counties) and quantifies the "for dollar" return on investment to students, taxpayers and society. At City College, more than 16,000 students pursue undergraduate and graduate degrees in eight schools and divisions, driven by significant funded research, creativity and scholarship. CCNY is as diverse, dynamic and visionary as New York City itself. View CCNY Media Kit.