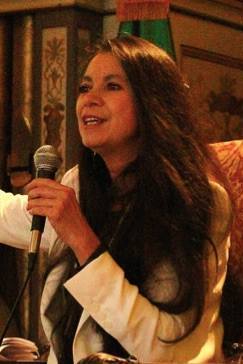 Carmen Boullosa, the internationally acclaimed Mexican writer, concludes The City College of New York's sixth Cátedra Vargas Llosa, Friday, Oct. 26, with a lecture on Mario Vargas Llosa's 2003 novel "El paraíso en la otra esquina" (The Way to Paradise). It starts 7 p.m. at the Instituto Cervantes of New York.
Boullosa and Raquel Chang-Rodríguez, Distinguished Professor in City College's Division of  Humanities and the Arts, led the 2018 Cátedra that focused on El paraíso. The novel revolves around two non-fictional characters, the Peruvian Flora Tristán (1803-1844) -- a binational writer and activist who has been called the first feminist of the Americas -- and her grandson, the French painter Paul Gauguin (1848-1903).  
Boullosa and Chang-Rodríguez compared the two characters' attitudes towards artistic creation, money, social institutions, notions of modernity, and "Primitivism." They examined Flora Tristán's memoirs, "Peregrinaciones de una paria" (1838); explored some of Gauguin´s paintings, and considered Vargas Llosa's approach to narrative strategy as presented in his essays on the art of the novel.

Boullosa is a visiting professor at the Macaulay Honors College at CCNY.
For information on Boullosa's lecture, contact CCNY's Department of Classical and Modern Languages & Literature at 212-650-6731, or email rchangrodriguez@ccny.cuny.edu .
Launched at CCNY in 2013 as the first of its kind in the United States, the Cátedra Vargas Llosa is offered through CCNY's Department of Classical and Modern Languages and Literatures, with the cooperation of the Instituto Cervantes. It honors the Peruvian-born Nobel laureate.
About The City College of New York
Since 1847, The City College of New York has provided a high quality and affordable education to generations of New Yorkers in a wide variety of disciplines. CCNY embraces its role at the forefront of social change. It is ranked #1 by the Harvard-based Opportunity Insights out of 369 selective public colleges in the United States on the overall mobility index. This measure reflects both access and outcomes, representing the likelihood that a student at CCNY can move up two or more income quintiles. In addition, the Center for World University Rankings places CCNY in the top 1.2% of universities worldwide in terms of academic excellence. More than 16,000 students pursue undergraduate and graduate degrees in eight professional schools and divisions, driven by significant funded research, creativity and scholarship. CCNY is as diverse, dynamic and visionary as New York City itself.  View CCNY Media Kit.