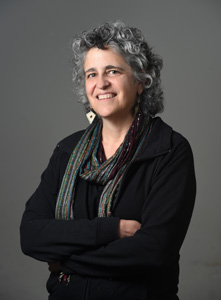 American film schools graduate about 50,000 students a year – for an industry that may offer as few as 2,000 studio jobs a year.
But aspiring filmmakers wishing to get a foothold in a new career need not despair, says Andrea Weiss, professor of film and co-director of the MFA Program in Film at the City College of New York.
"Focusing on independent filmmaking, the MFA Program in Film at CCNY can help students to find their passion and their voice as filmmakers, and impart the skills and craft to realize their vision," she says.
Weiss explains that the indie approach, combined with the program's affordability, ensures that diverse voices in filmmaking are heard.  While CCNY's student body boasts many born and bred New Yorkers, the program's strength sprouts from those who hail from all over the globe. This polyglot population results in the assembly of film crews in which the various cultural perspectives make for better and more interesting films.
Recent graduate pairings include an Algerian director and an Israeli cinematographer; a Pakistani director and a Spanish cinematographer; and a Japanese director who worked with a Sierra Leonean cinematographer on a documentary about mass suicides in Okinawa during the last few months of World War II. 
Entering its 75th year, film at CCNY remains a selective boutique with numerous student Oscars and Emmys as well as Sundance, Cannes and Berlin Festival premieres to its credit.
For more information, visit MFA Film Program.
About The City College of New York
Since 1847, The City College of New York has provided low-cost, high-quality education for New Yorkers in a wide variety of disciplines. More than 15,000 students pursue undergraduate and graduate degrees in the College of Liberal Arts and Science; Bernard and Anne Spitzer School of Architecture; School of Education; Grove School of Engineering; Sophie Davis Biomedical Education/CUNY School of Medicine; and the Colin Powell School for Civic and Global Leadership. U.S. News, Princeton Review and Forbes all rank City College among the best colleges and universities in the United States.