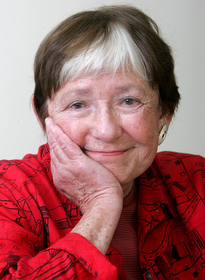 More than 70 years ago, Myriam Sarachik's family fled her native Belgium when the Germans invaded. After several attempts they succeeded in escaping the Nazis in late 1941. They lived for more than five years in Cuba and then settled in New York in 1947. In the early 1960s, Dr. Sarachik battled hard to gain a faculty position in physics at a time when there were few women in the field.
Today, Sarachik is Distinguished Professor of Physics at The City College of New York. On Thursday, April 23, she speaks of her past experiences and her life-long advocacy for women in science and the human rights of scientists everywhere in the final talk of City College's inaugural "Presidential Conversations: Activism, Scholarship, and Engagement" series.Her topic, 4 – 5: 30 p.m. in CCNY's NAC Ballroom, is entitled "Advocating for Women in Science: Advocating for the Human Rights of all Scientists." 
"I will talk about some of the events in my life that may have triggered my interest and involvement in the activism that I've been engaged in on behalf of women in science and scientists in general whose rights have been infringed on," said Sarachik. 
"Presidential Conversations" feature City College faculty members in conversation with CCNY President Lisa S. Coicoand audience members about activism, scholarship and engagement. 
About The City College of New York
Since 1847, The City College of New York has provided low-cost, high-quality education for New Yorkers in a wide variety of disciplines. More than 16,000 students pursue undergraduate and graduate degrees in: the College of Liberal Arts and Sciences; the Bernard and Anne Spitzer School of Architecture; the School of Education; the Grove School of Engineering; the Sophie Davis School of Biomedical Education, and the Colin Powell School for Civic and Global Leadership. U.S. News, Princeton Review and Forbes all rank City College among the best colleges and universities in the United States.