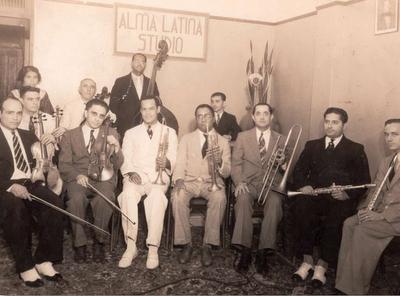 The CCNY-based CUNY DSI has received an NEH grant to study the history of Dominican music in the U.S.
The CUNY Dominican Studies Institute at The City College of New York is embarking on another ground breaking digital project. A $100,000 grant from the National Endowment for the Humanities (NEH) will fund the first online study regarding the history of Dominican music in the United States.
CUNY DSI Director Ramona Hernández, professor of sociology in City College's Colin Powell School for Civic and Global Leadership, heads the project. "This is a collective effort that brings together young researchers at CUNY DSI:  John Bimbiras (music), Ruth Lizardi (art) and Jhensen Ortiz (librarian), along with an elite group of academic experts in Dominican music." said Hernández.  "It was a very competitive undertaking but we have a unique story to tell, and in telling this story we also contribute to the visibility of important missing chapters in the historical narrative of this country's cultural and humanistic legacy."
The endeavor is one of 290 humanities-based research projects in 43 states, the District of Columbia, and Puerto Rico to receive a combined $16.3 million in awards from the NEH.
"The humanities help us study our past, understand our present, and prepare for our future," said NEH Chairman William D. Adams. "The National Endowment for the Humanities is proud to support projects that will benefit all Americans and remind us of our shared human experience."
CUNY DSI is the nation's first university-based research institute devoted to the studying people of Dominican descent around the world.  Its recent pioneering achievements have included rolling out a unique paleography tool to decode the various Spanish-language writing styles common in the 16th and 17th centuries. The "Spanish Paleography Digital Teaching and Learning Tool" makes it possible to teach anyone to decipher and read the handwriting styles used in the Spanish-speaking world during the colonial era.
CUNY DSI has also launched the first digital platform in academia presenting a comprehensive history of the Americas' earliest African inhabitants.  "First Blacks in the Americas/Los Primeros Negros en las Américas," is a fully bilingual archival resource in English and Spanish. It is the first platform to make this kind of collection of sources available on the internet to the general public.
About The City College of New York
Since 1847, The City College of New York has provided low-cost, high-quality education for New Yorkers in a wide variety of disciplines. More than 15,000 students pursue undergraduate and graduate degrees in eight professional schools and divisions. View CCNY Media Kit .