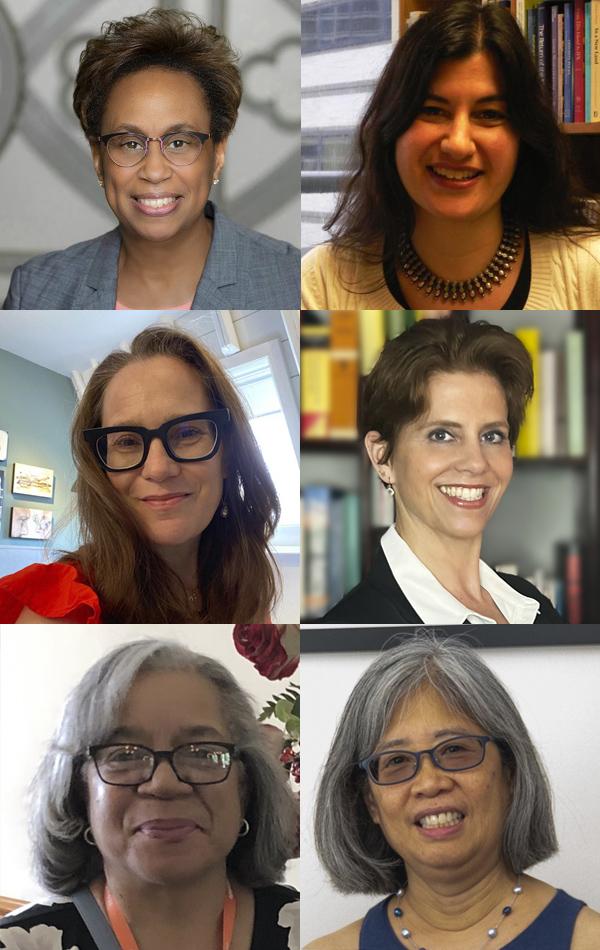 CCNY's NSF ADVANCE project team members (clockwise from top left): Rosemarie Wesson, Maritsa Poros, MC Binz-Scharf, Christine Li, Karen Hubbard and Irina Carlota Silber.
An interdisciplinary City College of New York team is the recipient of a $999,839 National Science Foundation (NSF) ADVANCE award for its proposal, "ADVANCE Adaptation: Advancing Inclusion, Diversity, and Equity in STEM (AIDE-STEM)." The award is over three years.
The NSF ADVANCE program contributes to the National Science Foundation's goal of a more diverse and capable science and engineering workforce.
Led by Rosemarie D. Wesson, associate provost for research and professor of chemical engineering in City College's Grove School of Engineering, the CCNY team comprises:
"The overall goal of this Adaptation project is to continue building on the blueprint initiated during the (NSF) CCNY Catalyst Award for meaningful institutional transformation that fosters an equitable and supportive professional environment for all faculty, but with a particular emphasis on women and Black, Indigenous, and People of Color (BIPOC) STEM faculty," said Wesson. "While the Catalyst Award sought to understand unique challenges that women and BIPOC faculty encounter during their progression through the professorial ranks, this grant is focused on implementing initiatives that will generate long-lasting cultural changes to support all faculty during their academic progression."
NSF ADVANCE "Catalyst" awards provide support for institutional equity assessments and the development of five-year faculty equity strategic plans.
CCNY's ADVANCE IT-Catalyst project, "Blueprint for Increased Representation and Advancement of Women in STEM" sought to protect the advancement of women and underrepresented minorities as CCNY moves toward becoming more research intensive. It also sought to understand the underlying challenges women faculty in Natural Sciences, Technology, Engineering and Math (N-STEM) and Social and Behavioral Sciences (SBS) face in achieving success in the professoriate.
"The persistent underrepresentation of women and BIPOC faculty in STEM at CCNY and across the nation undermines the attainment of a diverse workforce and national prosperity," added Wesson. "The reasons for the persistence are complex, and solutions to address them will require new and multi-faceted integrative approaches rooted in primary forces that drive the academy."
About the City College of New York
Since 1847, The City College of New York has provided a high-quality and affordable education to generations of New Yorkers in a wide variety of disciplines. CCNY embraces its position at the forefront of social change. It is ranked #1 by the Harvard-based Opportunity Insights out of 369 selective public colleges in the United States on the overall mobility index. This measure reflects both access and outcomes, representing the likelihood that a student at CCNY can move up two or more income quintiles. In addition, the Center for World University Rankings places CCNY in the top 1.8% of universities worldwide in terms of academic excellence. Labor analytics firm Emsi puts at $1.9 billion CCNY's annual economic impact on the regional economy (5 boroughs and 5 adjacent counties) and quantifies the "for dollar" return on investment to students, taxpayers and society. At City College, more than 16,000 students pursue undergraduate and graduate degrees in eight schools and divisions, driven by significant funded research, creativity and scholarship. CCNY is as diverse, dynamic and visionary as New York City itself. View CCNY Media Kit.