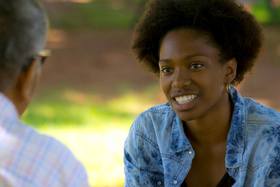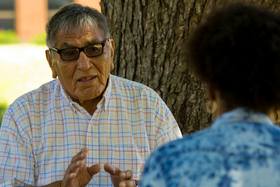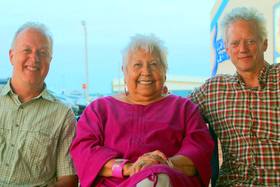 Ethnographic Filmmaking course taught by CCNY anthropologist and filmmaker immerses students in American Indian culture
The recent streak of killer tornadoes did not deter five City College of New York undergraduates from journeying to southwestern Oklahoma. Accompanied by Professor of Film Campbell Dalglish, MFA graduate Niav Conty, and consultant Robert Vetter, they traveled to the Cheyenne and Arapaho Tribal College (CATC) in Weatherford for a two-week intercultural exchange with Native American peers June 10 – 24.
Associate Professor of Anthropology Irina Carlota (Lotti) Silber, who partners with Dalglish, maintained a connection with the theoretical aspects of anthropology as it related to their journey. Students are still in post production, gathering what they shot: interviews with Arapaho Chief and Sundance singer Moses Starr as well as footage covering pow-wows, a gourd dance, Wichita Mountains sacred sites and a healing ceremony.
The students – Abigail Rosen, Kendra Rivers, Javier Vazquez, Ray Guarnieri and Pura Torres –enrolled in a two-week, field study immersion experience in Ethnographic Filmmaking being taught by the two professors. Robert Vetter, an anthropologist and education consultant specializing in Native American studies, and CATC's president, Dr. Henrietta Mann, facilitated the program and introduced the students to multiple immersion experiences in Indian Territory.
"When I take the students out there, they will be sitting elbow-to-elbow with Native Americans and getting immersed in their culture," said Professor Dalglish. "They'll come back with a better understanding of who they are and (CATC students) will have a better understanding of who we are."
"We're bringing students from City College, a diverse, urban school, to work with members of the Cheyenne and Arapaho tribes," added Professor Silber. "As an anthropologist, I am excited about the unexpected things that could happen during the course of this field work as members of different cultures meet."
The class is tied to a unique research collaboration between Professors Dalglish and Silber that is supported by a City SEED Grant. CCNY President Lisa S. Coico established the SEED Grant program two years ago to promote interdisciplinary collaborations among members of the College's faculty.
Besides the class, Professor Dalglish and Robert Vetter are collaborating on production of an eight-part documentary series, "Being Indian in Oklahoma." Professor Silber is chief consultant with an advisory board of native scholars. They are exploring opportunities to expand the relationship between the two institutions, as well.
Between 1830 and 1860, more than 60 American Indian tribes from across the United States were relocated to what is now Oklahoma. This forced migration became known as the Trail of Tears because many died along the way. Today, 39 tribes continue to live in the state and practice a wide range of cultural activities, which makes Oklahoma a unique and diverse culture unlike any other in the United States.
At CATC, which is located on the campus of Southwestern Oklahoma State University, the students conducted open-ended ethnographic interviews and worked on production teams with Native American students. They also were immersed in American Indian cultural practices by participating in a sweat lodge, a give-away ceremony, fry bread bar-b-q, a pow-wow and several healing ceremonies that focused on reconciliation as well as local physical and emotional issues.
Their final projects are still in post production and will serve as personal journals of the students' visit, as well as an ethnographic account that answers the question: "Who am I asking what question of whom, when and where."
The class and a research project that Professors Dalglish, Silber and Vetter are collaborating on came under the umbrella of "Building Bridges: Indigenous Media." They are producing an eight-part documentary, "Being Indian in Oklahoma," that explores how the diverse American Indian populations that were brought to that state "became" Indian through a historical process not widely understood by outsiders.
In addition, they are committed to opening up a creative, scholarly, and collaborative space to discuss indigenous issues with the broader community. Professor Dalglish exhibited a rough cut of the first chapter, "Spirit Road," at two events at City College in April.
Among those attending the first event, a roundtable held at CCNY's Center for Worker Education in Lower Manhattan, was John Haworth, director of the Smithsonian's National Museum of the American Indian. Both CATC's President Mann and CCNY's President Coico participated in a symposium on CCNY's main campus to discuss possibilities for creating joint interdisciplinary curricula.
On the Internet
About The City College of New York
Since 1847, The City College of New York has provided low-cost, high-quality education for New Yorkers in a wide variety of disciplines. More than 16,000 students pursue undergraduate and graduate degrees in: the College of Liberal Arts and Sciences; the Bernard and Anne Spitzer School of Architecture; the School of Education; the Grove School of Engineering, the Sophie Davis School of Biomedical Education, and the Colin L. Powell School for Civic and Global Leadership.  
Set on a striking, 35-acre hilltop campus in upper Manhattan, CCNY has produced more Nobel laureates than any other public institution in the United States. The College has been touted as one of the Best Colleges in the United States as well as one of the Best Value Colleges by the Princeton Review, and ranks among U.S. News' top regional universities.