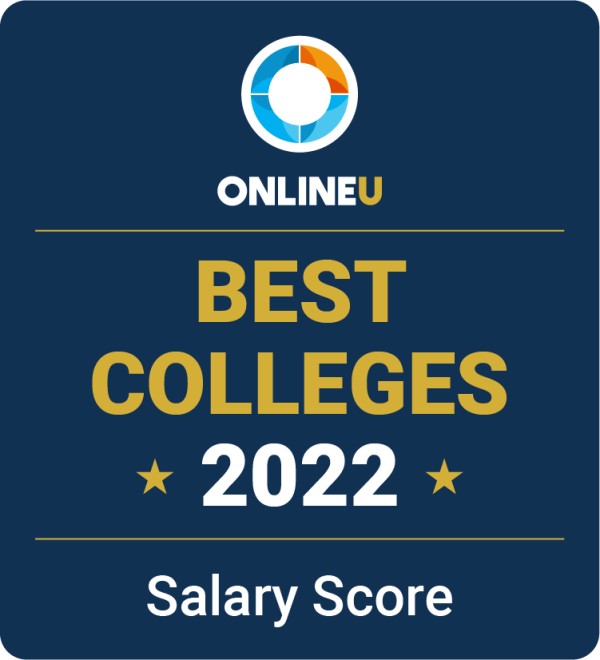 Jumping 12 places from last year's position, The City College of New York is now #9 nationally in OnlineU's 2022 Best Colleges for a Master's Degree by Salary Score rankings. MIT and Stanford University remain #1 and #2, respectively.
Salary Score is based on median alumni earnings in the year after graduating. This overall score is calculated based on the median alumni salary for each program at a school compared to the median alumni salary for the same program at other schools. Data is sourced from the U.S. Department of Education's College Scorecard.
CCNY's massive leap from #21 to #9 is thanks in part to an increase of more than 2 points in Salary Score since 2021. Its annual tuition of $20,832 translates into a Salary Score of 93.57. In comparison, first place MIT, annual tuition $57,059 has a Salary Score of 99.62, while second place Stanford, annual tuition $53,151 scores at 98.3.
'We evaluated graduate schools based on median earnings for master's alumni to find out which have the highest salary outcomes across programs. This list highlights schools whose graduates earn the highest starting salaries for their major, no matter what they studied," said OnlineU.
It cited CCNY for the popularity and value of its graduate degrees in the School of Education – teacher education, special education, bilingual and TESOL programs -- and in Sustainability Studies.

Following is how OnlineU ranks the aforementioned CCNY programs:
Teacher Education and Professional Development:
Median Salary    Salary Score       Change from 2021
$69,172                 98.96                                1.48
Teaching English or French as a Second or Foreign Language:
Median Salary   Salary Score        Change from 2021
$68,077                90.86                               -0.18
Special Education and Teaching:
Median Salary    Salary Score       Change from 2021
$71,049                99.64                              -0.09
Teacher Education and Professional Development, Specific Levels and Methods:
Median Salary    Salary Score        Change from 2021
$57,487               92.52                                9.63
Sustainability Studies:
Median Salary    Salary Score       Change from 2021
$55,692               55.72                            -15.57
About OnlineU
Since 2004, OnlineU has been helping students accomplish their educational goals by finding the online degree with the best value. By providing manually researched tuitions and salary data from alumni in its college rankings, as well as collecting over 13,000 reviews from online students, OnlineU hopes to empower more Americans to go to college while lowering the overall cost of earning a degree. Its rankings have been recognized by over 475 colleges.
About the City College of New York
Since 1847, The City College of New York has provided a high-quality and affordable education to generations of New Yorkers in a wide variety of disciplines. CCNY embraces its position at the forefront of social change. It is ranked #1 by the Harvard-based Opportunity Insights out of 369 selective public colleges in the United States on the overall mobility index. This measure reflects both access and outcomes, representing the likelihood that a student at CCNY can move up two or more income quintiles. In addition, the Center for World University Rankings places CCNY in the top 1.8% of universities worldwide in terms of academic excellence. Labor analytics firm Emsi puts at $1.9 billion CCNY's annual economic impact on the regional economy (5 boroughs and 5 adjacent counties) and quantifies the "for dollar" return on investment to students, taxpayers and society. At City College, more than 16,000 students pursue undergraduate and graduate degrees in eight schools and divisions, driven by significant funded research, creativity and scholarship. CCNY is as diverse, dynamic and visionary as New York City itself. View CCNY Media Kit.