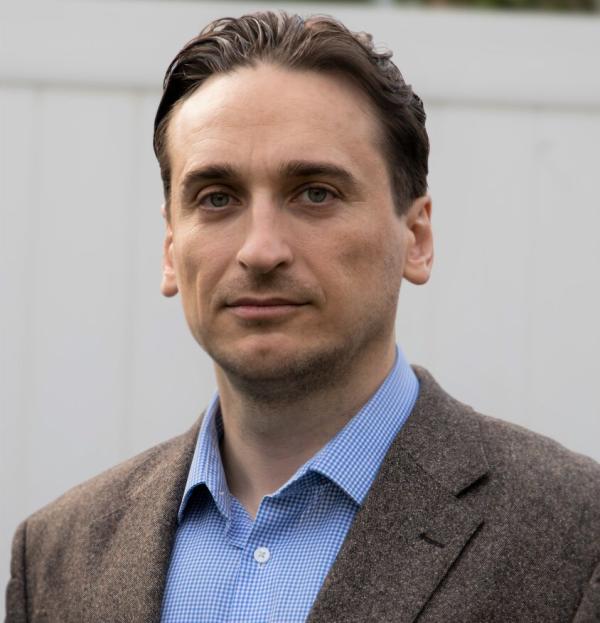 CCNY scientist Alexander Khanikaev has been elected a Fellow Member of the Optical Society of America.
Alexander Khanikaev's groundbreaking research at The City College of New York has earned him election as a Fellow Member of The Optical Society of America (OSA), the foremost professional association in optics and photonics, globally. Fellow membership in OSA is limited to no more than ten percent of the membership and is reserved for members who have served with distinction in the advancement of optics and photonics.
A scientist whose photonics work in metamaterials – specifically in topological photonics – is considered by OSA as one of the most important breakthroughs in the field, Khanikaev is one of 118 new members from 24 countries in OSA's 2021 Fellows Class. It includes scientists from universities and research centers in North America, Europe, the Middle East, Asia, Australia and Africa. 
"Congratulations to the 2021 Fellows," said 2020 OSA President Stephen Fantone. "Your election, by your peers, is affirmation of your impressive accomplishments within our field. Thank you for your dedication to OSA and for advancing the science of light."
Khanikaev's honor is specifically "for pioneering contributions to topological photonics and novel photonic materials," said Meredith Smith, Director, OSA Awards & Honors.
Khanikaev, whose affiliation includes the Graduate Center, CUNY, is the first engineer and the second City College physicist elected an OSA Fellow Member in less than a year.  Vinod Menon, Chair of Physics in the Division of Science, was elected in November 2019.
About the Optical Society
Founded in 1916, The Optical Society (OSA) is the leading professional organization for scientists, engineers, students and business leaders who fuel discoveries, shape real-life applications and accelerate achievements in the science of light. Through world-renowned publications, meetings and membership initiatives, OSA provides quality research, inspired interactions and dedicated resources for its extensive global network of optics and photonics experts.
About the City College of New York
Since 1847, The City College of New York has provided a high-quality and affordable education to generations of New Yorkers in a wide variety of disciplines. CCNY embraces its position at the forefront of social change. It is ranked #1 by the Harvard-based Opportunity Insights out of 369 selective public colleges in the United States on the overall mobility index. This measure reflects both access and outcomes, representing the likelihood that a student at CCNY can move up two or more income quintiles. In addition, the Center for World University Rankings places CCNY in the top 1.8% of universities worldwide in terms of academic excellence. Labor analytics firm Emsi puts at $1.9 billion CCNY's annual economic impact on the regional economy (5 boroughs and 5 adjacent counties) and quantifies the "for dollar" return on investment to students, taxpayers and society. At City College, more than 16,000 students pursue undergraduate and graduate degrees in eight schools and divisions, driven by significant funded research, creativity and scholarship. CCNY is as diverse, dynamic and visionary as New York City itself. View CCNY Media Kit.