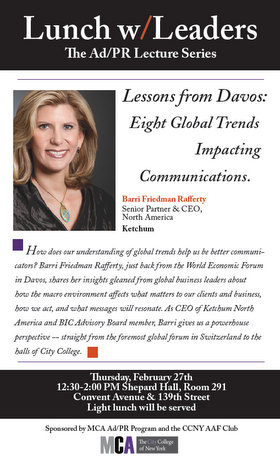 City College of New York advertising/public relations students will get first-hand insights Thursday, February 27, from the recent World Economic Forum held in Davos Switzerland.Barri Friedman Rafferty, senior partner and CEO, North America, Ketchum, will be the speaker that day for the "Lunch With Leaders" lecture series. Her topic will be "Lessons from Davos: Eight Global Trends Impacting Communications."
The event runs 12:30 – 2 p.m., Room 291, Shepard Hall, and a light lunch will be served. The media and communication arts department's AD/PR program and CCNY AAF (American Advertising Federation) Club are sponsoring the event.
Ms. Rafferty, who attended the event in Switzerland, will share what she gleaned from global business leaders there about how the macro environment affects what matters to clients and businesses, how communicators should act and what messages will resonate with different publics.
Ketchum, a division of Omnicom Group, Inc. is a leading global communications firm with operations in more than 70 countries across six continents. As CEO for North America, Ms. Rafferty leads nine offices as well as Ketchum Digital and Ketchum Sports and Entertainment. In addition she oversees two complementary businesses, Access Communications and Harrison & Shriftman and serves on the firm's nine-member worldwide executive committee.
She also serves on the advisory board for CCNY's Branding + Integrated Communications masters program.
About The City College of New York
Since 1847, The City College of New York has provided low-cost, high-quality education for New Yorkers in a wide variety of disciplines. More than 16,000 students pursue undergraduate and graduate degrees in: the College of Liberal Arts and Sciences; the Bernard and Anne Spitzer School of Architecture; the School of Education; the Grove School of Engineering; the Sophie Davis School of Biomedical Education, and the Colin Powell School for Civic and Global Leadership. U.S. News, Princeton Review and Forbes all rank City College among the best colleges and universities in the United States.