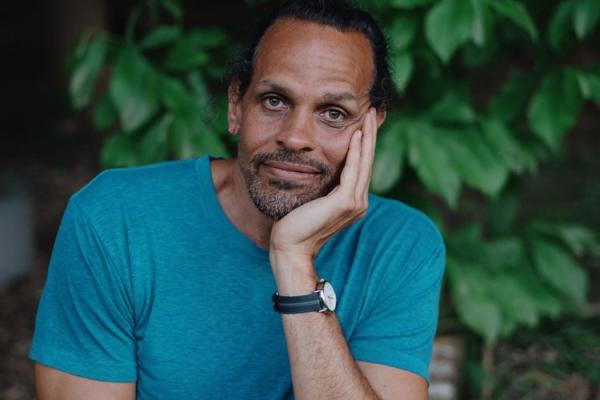 Award-winning poet Ross Gay, whose best-seller "The Book of Delights" is CCNY's latest community read selection. Gay is also the college's fall 2022 freshman convocation keynote speaker. Photo by Natasha Komoda.
The City College of New York's annual "Community Read" project continues this fall for the third year with award-winning poet Ross Gay's New York Times best-seller "The Book of Delights" the selection committee's choice. And as part of the project, Gay will be the keynote speaker at CCNY's 2022 Freshman Convocation, 12:30 p.m. – 2:30 p.m., Thursday, Sept. 22, in The Great Hall, located in Shepard Hall. 

In addition to his virtual address, Gay will discuss essays in his book, which was a National Book Award Finalist and winner of the National Book Critics Circle Award, with the campus community. 

Published in 2019, "The Book of Delights" offers up a genre-defying volume of lyric essays written over one tumultuous year. Gay's first nonfiction book is a record of the small joys most people often overlook in their busy lives.

A  faculty member at Indiana University, Gay wrote the book after disciplining himself to observe the world around him closely to identify things that provide him with delight. While his essays often consider matters such as the complexities and problems of modern life, racial inequality in the United States, and illness, they insistently return to a practice that affirms our connections with each other and the resilience of the human spirit.

About Ross Gay
Ross Gay is the author of four books of poetry: "Against Which;"  "Bringing the Shovel Down;" "Be Holding," winner of the PEN American Literary Jean Stein Award; and "Catalog of Unabashed Gratitude," winner of the 2015 National Book Critics Circle Award and the 2016 Kingsley Tufts Poetry Award. His first collection of essays, "The Book of Delights," was released in 2019 and was a New York Times bestseller. His new collection of essays, "Inciting Joy," will be released by Algonquin next month.

About the "Community Read" Project
City College's "Community Read" project is aimed at pulling the entire CCNY community, including partner organizations throughout Harlem, together around an effort to read, and discuss, a work that carries particular significance to the campus, particularly in these difficult times. Conceived initially as a way to welcome new students to the college by engaging them in a joint exploration of a text, it's open to all on campus.  Previous Community Read selections include "The Warmth of Other Suns," by bestselling author Isabel Wilkerson, winner of the Pulitzer Prize for journalism and the National Humanities Medal; and "The Sum of Us: What Racism Costs Everyone and How We Can Prosper Together," by Heather McGhee. The "Community Read" project is funded, in part, by The Foundation for City College, Inc. 

About the City College of New York
Since 1847, The City College of New York has provided a high-quality and affordable education to generations of New Yorkers in a wide variety of disciplines. CCNY embraces its position at the forefront of social change. It is ranked #1 by the Harvard-based Opportunity Insights out of 369 selective public colleges in the United States on the overall mobility index. This measure reflects both access and outcomes, representing the likelihood that a student at CCNY can move up two or more income quintiles. In addition, the Center for World University Rankings places CCNY in the top 1.8% of universities worldwide in terms of academic excellence. Labor analytics firm Emsi puts at $1.9 billion CCNY's annual economic impact on the regional economy (5 boroughs and 5 adjacent counties) and quantifies the "for dollar" return on investment to students, taxpayers and society. At City College, more than 16,000 students pursue undergraduate and graduate degrees in eight schools and divisions, driven by significant funded research, creativity and scholarship. CCNY is as diverse, dynamic and visionary as New York City itself. View CCNY Media Kit.