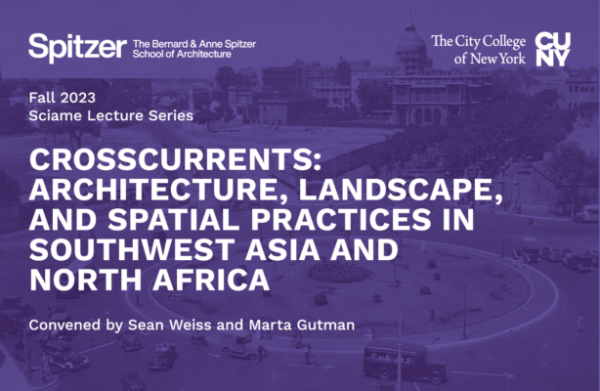 The eight-part series is free and open to the public. Lectures begin at 5:30 p.m. in the Sciame Auditorium.
"Crosscurrents: Architecture, Landscape, and Spatial Practices in Southwest Asia and North Africa" is the theme of the 2023 Fall Sciame Lecture Series the Bernard and Anne Spitzer School of Architecture at The City College of New York. The series assembles designers, scholars, practitioners, and activists who engage the territories of Southwest Asia and North Africa (SWANA) and probes the radical reimagining of the region compelled by the expression SWANA. In recent years, the acronym SWANA has gained currency among architects, landscape architects, urbanists, and historians who conceptualize the territories of the Middle East and North Africa through geography and place rather than colonial frameworks.
The term "Middle East" was a British invention, a tool used to advance colonialism in a region where so many national borders resulted from imperialist interventions. Groundbreaking designers, scholars, practitioners, and activists chart multiple—and sometimes competing—currents in the architecture of the region and its diasporas, while displacing essentializing colonial narratives.
In this series, speakers from across the area shed light on global, transnational, and diasporic human stories about design, space, landscape, and architecture in SWANA, and advance new ideas about territory, buildings, places, histories, and belonging.
The eight-part series is made possible by the Spitzer Architecture Fund and the generous support of Frank Sciame '74, CEO of Sciame Construction and is free and open to the public. Lectures begin at 5:30 p.m. and are held in Sciame Auditorium in the Spitzer School of Architecture building, 141 Convent Avenue, New York, NY 10031, located at West 135th Street and Convent Avenue. 

A list of lecture dates, speakers and their topics follows:
Thursday, 09/21/2023 The Civic Entrepreneur with Selva Gürdoğan
Thursday, 09/28/2023 Gender, Space, and National Belonging: The Women's Mosque of America with Tazeen M. Ali
Thursday, 10/12/2023 Measuring Built Ecologies with Mohamed Aly Etman
Thursday, 10/19/2023 Forms of Power and Mobility in a Bedouin Town with Noam Shoked
Thursday, 11/2/2023 Spitzer Alumni Panel: Future Practice, Diaspora Narratives Hajar Alrifai  '21, Hamees Gabr  '22, Nadeen Hassan  '20, and Benjamin Akhavan  '20
Thursday, 11/9/2023 Living Waste: The City in the Shadow of the Shantytown with Sheila Crane
Thursday, 11/16/2023 Nubian (Dis)places with Menna Agha
For more information, contact Nicholas Smith. Tel: 212-650-6225. Email: Nsmith4@ccny.cuny.edu .
About the City College of New York
Since 1847, The City College of New York has provided a high-quality and affordable education to generations of New Yorkers in a wide variety of disciplines. CCNY embraces its position at the forefront of social change. It is ranked #1 by the Harvard-based Opportunity Insights out of 369 selective public colleges in the United States on the overall mobility index. This measure reflects both access and outcomes, representing the likelihood that a student at CCNY can move up two or more income quintiles. Education research organization Degree Choices ranks CCNY #1 nationally among universities for economic return on investment. In addition, the Center for World University Rankings places CCNY in the top 1.8% of universities worldwide in terms of academic excellence. Labor analytics firm Emsi puts at $1.9 billion CCNY's annual economic impact on the regional economy (5 boroughs and 5 adjacent counties) and quantifies the "for dollar" return on investment to students, taxpayers and society. At City College, more than 15,000 students pursue undergraduate and graduate degrees in eight schools and divisions, driven by significant funded research, creativity and scholarship. This year, CCNY launched its most expansive fundraising campaign, ever. The campaign, titled "Doing Remarkable Things Together" seeks to bring the College's Foundation to more than $1 billion in total assets in support of the College mission. CCNY is as diverse, dynamic and visionary as New York City itself. View CCNY Media Kit.