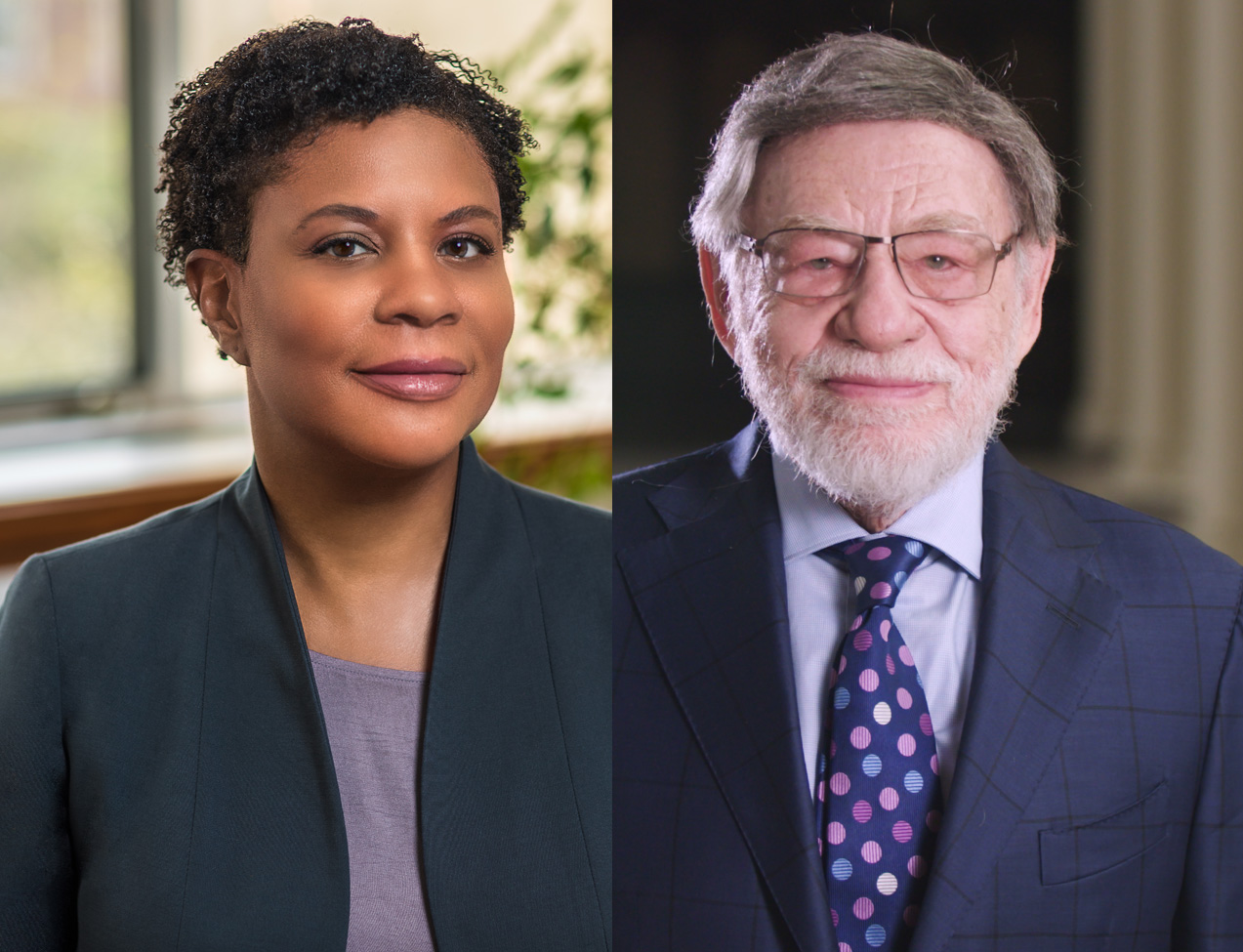 Alondra Nelson, a top researcher and author, and Edward Blank, CCNY Class of 1957, receive honorary doctorate  degrees from City College on June 4.
Alondra Nelson, an acclaimed researcher and author, who explores questions of science, technology, and social inequality, is the keynote speaker at The City College of New York's 168th Commencement on June 4. She will receive the honorary degree Doctor of Humane Letters. 
City College will also honor Edward Blank, '57, one of its distinguished alumni and a telemarketing trailblazer, with the honorary degree Doctor of Humane Letters. 
Following are brief bios of the honorees at what will be CCNY's second consecutive virtual salute because of the Covid-19 pandemic:

Edward Blank:
Upon graduating from CCNY with a BA in economics, Blank attended NYU Graduate School of Business. He founded Edward Blank Associates, Inc. (EBA) in 1968 and served as its CEO. His successful use of the telephone as a powerful direct marketing tool helped launch the telemarketing industry. 
One of the first firms in the industry, EBA helped to define the industry through its innovations in training, quality control, technology, and data security. EBA became a top ten firm selling products and services from 13 call centers in the U.S. and Canada. Major clients included AT&T and Weekly Reader Children's Books. Prior to founding EBA, Ed held senior market research positions in media, advertising, and industry. 
At his alma mater, Blank is a board member of the Foundation for City College and sits on its finance committee. In memory of his late wife, Dr. Sharon Cosloy, a renowned microbial geneticist and CCNY faculty member for 27 years, Blank endowed an annual scholarship to support undergraduate research, a Professorial Fund to recruit and support a faculty member whose research includes microbial genetics and an annual lectureship which brings eminent scientists to CCNY. 
He's active in various philanthropic organizations, including the National Board of the Jewish National Fund (JNF). He served as JNF's NGO Representative at the United Nations and under its auspices, funded a monument in Jerusalem, The 9/11 Living Memorial, dedicated to the victims of 9/11. Click here to read more about Blank.
Alondra Nelson: 
A scholar of science, technology, medicine, and social inequality, Nelson is the Harold F. Linder Professor at the Institute for Advanced Study, in Princeton, New Jersey, and president of the Social Science Research Council. She currently serves as Deputy Director for Science and Society for the White House Office of Science and Technology Policy. Nelson was previously professor of sociology at Columbia University, where she also served as the inaugural Dean of Social Science. 
Nelson has held visiting professorships and fellowships at the Max Planck Institute for the History of Science, the BIOS Centre at the London School of Economics, the Bayreuth Academy of Advanced African Studies, and the Bavarian American Academy. Her research has been supported by the Ford Foundation, the Andrew W. Mellon Foundation, the Alfred P. Sloan Foundation, and the National Science Foundation.
Nelson began her academic career on the faculty of Yale University, where she earned the Poorvu Prize for interdisciplinary teaching excellence.

Her award-winning writing has been translated into Arabic and French. Her books include "The Social Life of DNA: Race, Reparations, and Reconciliation after the Genome" and "Body and Soul: The Black Panther Party and the Fight against Medical Discrimination." She's also co-author of "Genetics and the Unsettled Past: The Collision of DNA, Race, and History."
She's writing a book about science and technology policy in the Obama administration; "Society after Pandemic," an essay collection; and new research exploring the sociology of bioethics. Click here to read more about Nelson.
About the City College of New York
Since 1847, The City College of New York has provided a high-quality and affordable education to generations of New Yorkers in a wide variety of disciplines. CCNY embraces its position at the forefront of social change. It is ranked #1 by the Harvard-based Opportunity Insights out of 369 selective public colleges in the United States on the overall mobility index. This measure reflects both access and outcomes, representing the likelihood that a student at CCNY can move up two or more income quintiles. In addition, the Center for World University Rankings places CCNY in the top 1.8% of universities worldwide in terms of academic excellence. Labor analytics firm Emsi puts at $1.9 billion CCNY's annual economic impact on the regional economy (5 boroughs and 5 adjacent counties) and quantifies the "for dollar" return on investment to students, taxpayers and society. At City College, more than 16,000 students pursue undergraduate and graduate degrees in eight schools and divisions, driven by significant funded research, creativity and scholarship. CCNY is as diverse, dynamic and visionary as New York City itself. View CCNY Media Kit.