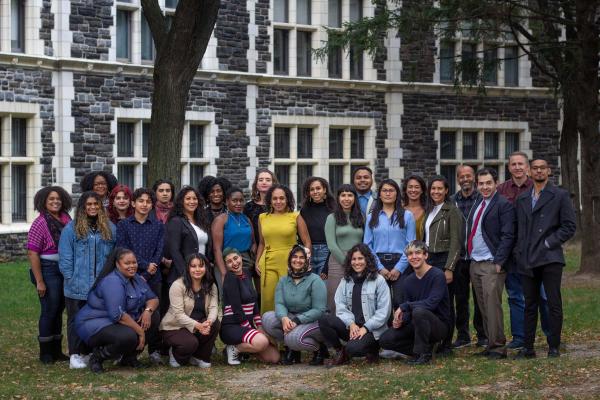 The Colin Powell School's 2022 Leadership Institute Fellows. Photo credit: Laila Stevens.
Two colleges of the City University of New York (CUNY) have launched a new institute to train and support social justice leaders nationally. The institute responds to growing demand for programs focused on how to build, use, and share power to achieve social change. Recently approved by the CUNY Board of Trustees as an official CUNY Institute, the initiative will grow a large cadre of strong, diverse, connected leaders who are capable of thinking across boundaries, developing imaginative new approaches to old problems, and managing and executing large-scale change.
Leadership for Democracy and Social Justice is housed at the Colin Powell School for Civic and Global Leadership at The City College of New York and the CUNY School of Labor and Urban Studies (SLU). Its national-level programming is focused on early and mid-career leaders in social justice movements who want to build power across disciplines and with the communities that are at the forefront of social change.
"We're facing a series of interconnected crises, from climate change to economic inequality and assaults on civil and human rights," said Deepak Bhargava, a Distinguished Lecturer at the CUNY School of Labor and Urban Studies and former president of Community Change and Community Change Action, who co-chairs the advisory board with Gara LaMarche, Senior Fellow and Instructor at the Colin Powell School and former President of The Atlantic Philanthropies and the Democracy Alliance. "Advancing social justice and democracy means building up diverse leaders who represent the communities on the front lines of these struggles, particularly women, people of color and people from low-income and working class backgrounds."
The institute's programming is based on extensive research about leadership development and needs across dozens of organizations and movements. It's staffed by long-time social justice leaders and its advisory board represents a cross section of leaders in labor organizing, civil rights, racial justice, environmental protection, and local and national-level organizing, including the executive directors and founders of more than a dozen leading national advocacy and campaign organizations. 
"This is the kind of leadership building infrastructure we need for our movements. The institute provides training that is vital to support the current and future generations of leaders of color to take our movements and organizations to the next level," said Cristina Jiménez, the co-founder of United We Dream, the largest immigrant youth-led network in the country, an advisory board member and instructor for the new institute, and a CUNY graduate.
The initiative was created to fill a gap in current leadership training in social justice movements and provide a long-term home for training and research in social justice leadership. So far, it has secured more than $7 million in funding and has held its first trainings for 24 early-career Social Change Fellows and 24 mid-career Movement Leader Fellows. 
"The new institute serves an essential role in our society," said Vincent Boudreau, President of The City College of New York. "It recognizes that our city and nation become stronger if we invest in young leaders who are organizers and movement builders. We are pleased to be partnering with the CUNY School of Labor and Urban Studies on this important initiative." 
"We're excited to be partnering with CCNY and the Colin Powell School to establish the Leadership Center For Democracy and Social Justice. This collaboration is truly a unique approach to building a pipeline for emerging leaders who are focused on social and economic movements that will advance us as a city and a nation," said Gregory Mantsios, founding Dean of the CUNY School of Labor and Urban Studies.
Over the next five years, the plan is to reach nearly 10,000 emerging leaders through expanded programs such as online courses and regional workshops, with a focus on leaders who represent diverse communities, including people of color, women, LGBTQ+ leaders and leaders from working class and low-income backgrounds.
"This is the sort of work that public universities — and CUNY, in particular — were built to provide," said Andrew Rich, Dean of the Colin Powell School for Civic and Global Leadership at CCNY. "The future of public service and social justice leadership is collaborative and requires training, support, and partnerships across movements."
About the CUNY School of Labor and Urban Studies
The CUNY School of Labor and Urban Studies, established in 2018, is explicitly dedicated to public service and social justice. Offering the only interdisciplinary curriculum in labor and urban studies in the nation, SLU awards undergraduate and graduate degrees in those fields, as well as credit-bearing professional certificates in areas such as public administration, public policy, health care administration, and labor relations.  SLU also collaborates with New York City's labor unions and other CUNY schools to offer a broad range of college-credit programs designed to give workers the academic and technical skills they need for professional advancement and economic mobility. Click here for more information. 
About the Colin Powell School for Civic and Global Leadership
Established in April 2013, the Colin Powell School is home to the social science departments at CCNY as well as the core leadership development and public service programs of the College. With almost 4,000 students, and graduating the most CCNY students annually, the Colin Powell School's mission is to transform the nation's most diverse student body into tomorrow's global leaders. Half of our students are immigrants; most come from lower income backgrounds. More than seventy percent are first-generation college students, and eighty percent are people of color. The Colin Powell School and City College remain among the most effective engines of economic and social mobility in the United States. The School is led by a faculty dedicated to the highest standards of research and to the university's democratic and public obligations. Read more about the Colin Powell School.
About the City College of New York
Since 1847, The City College of New York has provided a high-quality and affordable education to generations of New Yorkers in a wide variety of disciplines. CCNY embraces its position at the forefront of social change. It is ranked #1 by the Harvard-based Opportunity Insights out of 369 selective public colleges in the United States on the overall mobility index. This measure reflects both access and outcomes, representing the likelihood that a student at CCNY can move up two or more income quintiles. In addition, the Center for World University Rankings places CCNY in the top 1.8% of universities worldwide in terms of academic excellence. Labor analytics firm Emsi puts at $1.9 billion CCNY's annual economic impact on the regional economy (5 boroughs and 5 adjacent counties) and quantifies the "for dollar" return on investment to students, taxpayers and society. At City College, more than 16,000 students pursue undergraduate and graduate degrees in eight schools and divisions, driven by significant funded research, creativity and scholarship. CCNY is as diverse, dynamic and visionary as New York City itself. View CCNY Media Kit.