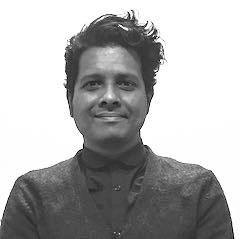 CCNY engineer Prathap Ramamurthy is the recipient of a $360K Army grant to study urban fluid dynamics that impact the air flow and exchange of heat over cities.
A still uncharted research field of much relevance beyond summer's inevitable heatwaves is coming under the intense scrutiny of City College of New York mechanical engineer Prathap Ramamurthy, thanks to a $360,000 grant from The US Army Research Office (ARO).  He's tasked with unlocking the mysteries of urban fluid dynamics that impact the air flow and exchange of heat over cities. Ramamurthy's three-year project is in collaboration with the Army Research Lab.
"Urban areas have distinct landcover characteristics that impact the air flow and exchange of heat over cities," said Ramamurthy, assistant professor in City College's Grove School of Engineering. "The key processes that impact these exchanges are currently unknown and hence the subject of this study."
Ramamurthy, whose affiliation includes the CCNY-based NOAA–CESSRST, will use state-of-the-art remote sensing techniques that incorporate ground and space-based sensors to investigate the mean and turbulent characteristics of the urban atmosphere. "Overall, the study will lead to better understanding of flows over urban areas and will improve computational fluid dynamics models that simulate flow over cities," he added.

"Dr. Ramamurthy's research to characterize urban topography and its effect on the atmospheric is important for the prediction of environmental conditions in the dense urban environment," said Dr. Julia Barzyk, program manager, Army Research Office, an element of the U.S. Army Combat Capabilities Development Command's Army Research Laboratory.
An expert in the study of the relationship between climate and human activity in urban areas, Ramamurthy's project is part of his current research thrust. This includes understanding the mechanisms that exacerbate urban heat island intensity in large cities and their synergistic interaction with heat waves, and developing mitigation strategies to moderate the urban climate.
About the City College of New York
Since 1847, The City College of New York has provided a high-quality and affordable education to generations of New Yorkers in a wide variety of disciplines. CCNY embraces its position at the forefront of social change. It is ranked #1 by the Harvard-based Opportunity Insights out of 369 selective public colleges in the United States on the overall mobility index. This measure reflects both access and outcomes, representing the likelihood that a student at CCNY can move up two or more income quintiles. In addition, the Center for World University Rankings places CCNY in the top 1.8% of universities worldwide in terms of academic excellence. Labor analytics firm Emsi puts at $1.9 billion CCNY's annual economic impact on the regional economy (5 boroughs and 5 adjacent counties) and quantifies the "for dollar" return on investment to students, taxpayers and society. At City College, more than 16,000 students pursue undergraduate and graduate degrees in eight schools and divisions, driven by significant funded research, creativity and scholarship. CCNY is as diverse, dynamic and visionary as New York City itself. View CCNY Media Kit.