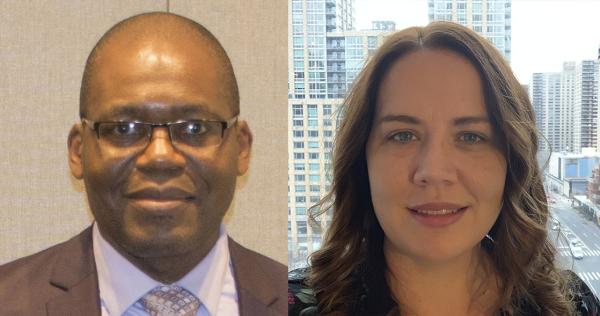 Camille Kamga (left) and Alison Conway, director and deputy director, respectively, of CCNY's University Transportation Research Center, which has received more than $15 million from the USDOT.
The City College of New York is the recipient of two grants totaling more than $15 million under the U.S. Department of Transportation's University Transportation Centers (UTC) Program.  The congressionally mandated UTC program was created in 1987 to support the formation of university consortia to advance transportation research, technology development, and education and workforce development in the United States.  

CCNY's University Transportation Research Center (UTRC) will lead the regional UTC for USDOT Region 2, which includes New York State, New Jersey, Puerto Rico and the US Virgin Islands. The Center for Social and Economic Mobility for People and Communities through Transportation (SEMPACT) will be housed at CCNY and will receive $3 million annually for five years to support research in four key areas:
Accessible tools for informed transportation decision-making; 
Inclusive advanced technology applications; 
Climate resilient infrastructure; and 
Green and resilient supply chains – as well as education, workforce development, and technology transfer activities. 
"As New Yorkers, we understand the great need to ensure the safety, efficiency, reliability and sustainability of the region's transportation systems. CUNY is proud to play a role in the advancement of research, technology and workforce development for this critical sector," said CUNY Chancellor Félix V. Matos Rodríguez.
"Transportation, research and education have always been an area of paramount concern at The City College," said CCNY President Vincent Boudreau. "Elevating our campus to a regional transportation hub allows us to play a stronger role in workforce development in the transportation sector and to more efficiently leverage the capacity of our partner institutions in elevating American transportation."
Meera Joshi, New York City Deputy Mayor, applauded the awards to CCNY's UTRC and said the center will serve New Yorkers well with new research funding to address critical questions and issues with our transportation infrastructure. "This investment underscores the collaboration between our federal partners at the U.S. Department of Transportation and our partner universities and governments across the region."
Alison J. Conway, UTRC deputy director and research lead at CCNY, hailed the collaboration with the Mayor's Office and the New York City DOT.  "They will be important partners in the center's work to connect with community stakeholders, to develop solutions to the transportation challenges that New Yorkers face every day, and to move those solutions into practice," said the Grove School of Engineering associate professor. 
UTRC Director and Grove School associate professor Camille Kamga said CCNY looked forward to "working with stakeholders in our Region to not only perform meaningful research that support  innovations to improve our transportation system, but also to develop the next generation of transportation professionals to serve our communities."
Key education programs will be conducted in collaboration with the CCNY Stem Institute, the Charles Rangel Infrastructure Workforce Initiative and CUNY's Bronx Community College (BCC).  In addition to CCNY and BCC, the SEMPACT consortium includes the New Jersey Institute of Technology, New York University, Princeton University, Rensselaer Polytechnic Institute, Rutgers University, SUNY Polytechnic Institute, Stony Brook University, the University at Albany, and the University of Puerto Rico – Mayaguez. 

In addition to leading SEMPACT, CCNY will also be a partner in the Center for Understanding Future Travel Behavior and Demand, a national UTC that is a consortium of eight universities led by the University of Texas at Austin.
For more information on the UTC awards, see the program awards announcement from USDOT and the complete list of awarded centers. 

About The City College of New York
Since 1847, The City College of New York has provided a high-quality and affordable education to generations of New Yorkers in a wide variety of disciplines. CCNY embraces its position at the forefront of social change. It is ranked #1 by the Harvard-based Opportunity Insights out of 369 selective public colleges in the United States on the overall mobility index. This measure reflects both access and outcomes, representing the likelihood that a student at CCNY can move up two or more income quintiles. Education research organization Degree Choices ranks CCNY #1 nationally among universities for economic return on investment. In addition, the Center for World University Rankings places CCNY in the top 1.8% of universities worldwide in terms of academic excellence. Labor analytics firm Emsi puts at $1.9 billion CCNY's annual economic impact on the regional economy (5 boroughs and 5 adjacent counties) and quantifies the "for dollar" return on investment to students, taxpayers and society. At City College, more than 15,000 students pursue undergraduate and graduate degrees in eight schools and divisions, driven by significant funded research, creativity and scholarship. This year, CCNY launched its most expansive fundraising campaign, ever. The campaign, titled "Doing Remarkable Things Together" seeks to bring the College's Foundation to more than $1 billion in total assets in support of the College mission. CCNY is as diverse, dynamic and visionary as New York City itself. View CCNY Media Kit.