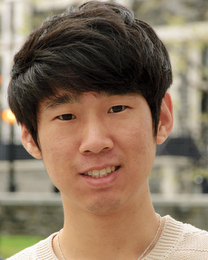 Mexican-born Violeta Contreras Ramirez, a student in The City College of New York's Honors Program graduating with a double major in biology and psychology, will be the Class of 2015 Valedictorian at CCNY's 169th Commencement Exercises, May 29. Da Wi Shin, a Korean immigrant and biomedical engineering major in the Macaulay Honors College at City College, will be the Salutatorian.
 
The honors cap award-laden undergraduate work at City College by the two standouts. Both are graduating with 3.99 GPAs.  
Contreras Ramirez, a Westchester, N.Y., resident who plans a career in both research and medicine, has been the recipient of numerous accolades. The most recent include:
The Joseph H. Flom Award for Academic Excellence (2014);
The Ward Medal in Biology (2014);
The Olivia Mckenna Award (2014);
The FASEB MARC Travel Award (2013).
Da Wi, who also plans to pursue a medical career, has received the Biomedical Engineering Department Academic Excellence Award every year at CCNY since he was a freshman. 
The Douglaston, Queens, resident was also named a University Scholar (2015) and won the Zemansky Introductory Physics Prize (2012) among his other honors. 
 
City College will award honorary degrees at Commencement to three distinguished individuals in recognition of their professional accomplishments. The three recipients are:
Ursula Burns, Chair and CEO of Xerox;
John O'Keefe, '63, Nobel Laureate and neuroscience researcher;
Michael Pope, '44BEE. 
O'Keefe and Pope are City College alumni.
About The City College of New York
Since 1847, The City College of New York has provided low-cost, high-quality education for New Yorkers in a wide variety of disciplines. More than 16,000 students pursue undergraduate and graduate degrees in: the College of Liberal Arts and Sciences; the Bernard and Anne Spitzer School of Architecture; the School of Education; the Grove School of Engineering; the Sophie Davis School of Biomedical Education, and the Colin Powell School for Civic and Global Leadership. U.S. News, Princeton Review and Forbes all rank City College among the best colleges and universities in the United States.