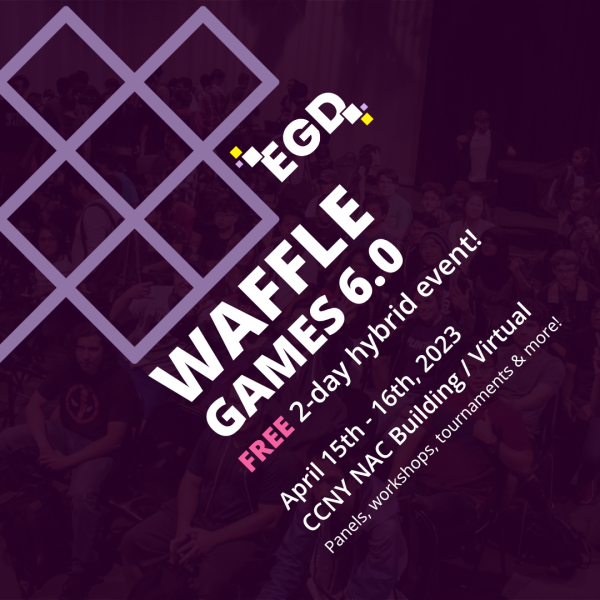 EGD Collective's Waffle Games 6.0 is a 2-day hybrid event that takes place in CCNY's NAC building and virtually on April  15-16.
After three years of a virtual-only experience, Waffle Games 6.0 returns to New York City on April 15-16 at The City College of New York as a hybrid event. The gaming convention and conference celebrates the gaming industry as well as what it means to be involved in games, chase dreams and change the industry. The event is free and open to the public.
The Saturday, April 15 event will take place in the North Academic Center (NAC) building located at West 138th Street and Convent Avenue. Sunday, April 16 will be completely online and broadcasted virtually through Eventee with portions also streamed to Twitch throughout the day. 
In total, over 40 speakers have been curated by the event committee, which is entirely composed of college students and recent graduates. In addition to career exploration and technical sessions to develop and expand fundamental skills, sessions will dive into today's industry innovations with topics such as inclusivity, esports, the metaverse, education and socially oriented experiences. Featured speakers include:
Josh Mancell, best known for his work on the Crash Bandicoot and Jak and Daxter series
Tori Schafer, senior narrative designer on World of Warcraft
Thomas Winkley, senior technical marketing advocate at Unity
Mason Capitano, senior research manager at Nuverse Games
There are 30 confirmed exhibitors, ranging from student projects to local game studios. Other features of the event include competitive tournaments, board games, an escape room-style experience, a theatrical interactive panel, and a room with donated clothing and essential items for students in need. In addition, 90 students and recent graduates will volunteer either in person or virtually over the two days of the event.
"We all have the power - and responsibility - to do right by games, the people that make them, and the people that play them. Technology, media, and the arts have the ability to change the world, and by extension, so do we," said Kyra Wills-Umdenstock, the founder and CEO of EGD Collective said. "Waffle Games is one piece of the puzzle in our revolutionary approach to addressing the issues facing our industry and young people."
Wills-Umdenstock was recently named a 2023 Heartwarming Young Heroes Grantee by Youth Service America and the Hershey Heartwarming Project, an award for youth-led service projects and community-building activities focused on inclusion, empathy, and connection. The grant will provide additional support for the event. 
The event is sponsored by the Gaming Pathway Program, the Digital Game Design Program at City College and the Harlem Gallery of Science and Urban Arts. Donations from the event will support EGD's ongoing programs.
For more information, contact Kyra Wills-Umdenstock at 516-491-4188, or kyra@egdcollective.org . The EGD Collective website offers more information about Waffle Games 6.0.
About EGD Collective
Founded in 2016, the EGD Collective is a one-of-a-kind leadership development experience that not only prevents students from dropping out or getting academically dismissed, but prepares and propels students into STEM and arts careers within the games industry. EGD supports casual gaming communities, as well as aspiring and early-career games professionals by providing free events, educational programming, and support systems to help students navigate through academic, financial, and emotional crises - ensuring students can complete their education and are prepared to establish healthy workplace boundaries in whichever field they choose. 
About the City College of New York
Since 1847, The City College of New York has provided a high-quality and affordable education to generations of New Yorkers in a wide variety of disciplines. CCNY embraces its position at the forefront of social change. It is ranked #1 by the Harvard-based Opportunity Insights out of 369 selective public colleges in the United States on the overall mobility index. This measure reflects both access and outcomes, representing the likelihood that a student at CCNY can move up two or more income quintiles. Education research organization Degree Choices ranks CCNY #1 nationally among universities for economic return on investment. In addition, the Center for World University Rankings places CCNY in the top 1.8% of universities worldwide in terms of academic excellence. Labor analytics firm Emsi puts at $1.9 billion CCNY's annual economic impact on the regional economy (5 boroughs and 5 adjacent counties) and quantifies the "for dollar" return on investment to students, taxpayers and society. At City College, more than 15,000 students pursue undergraduate and graduate degrees in eight schools and divisions, driven by significant funded research, creativity and scholarship. This year, CCNY launched its most expansive fundraising campaign, ever. The campaign, titled "Doing Remarkable Things Together" seeks to bring the College's Foundation to more than $1 billion in total assets in support of the College mission. CCNY is as diverse, dynamic and visionary as New York City itself. View CCNY Media Kit.