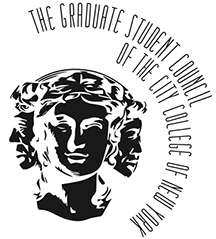 The Graduate Student Council is the governing body of the graduate students at the City College. We represent the interests of all graduate students and function as a liaison between the graduate student body and the College's administration. The GSC is composed of two main bodies: the Executive Board and the General Membership. The Executive Board is comprised of seven elected members and the General Membership is made up of appointed members from the various departments at the College. 
The GSC works diligently to improve the quality of graduate student life on campus. We provide four main services:
Assistance in Forming and Funding Graduate Student Clubs: the GSC assists graduate students interested in forming clubs to register with the Office of Student Life
Annual Graduate Student Research Symposium: every year the GSC gives graduate students the opportunity to showcase groundbreaking research to their peers, faculty, and staff.
| | | |
| --- | --- | --- |
| Executives | Position | Contact |
| Tinnycua Williams | Executive Chair | |
| Shivangini Pandey | Executive Vice Chair | |
| Gina Rodriguez | Treasurer | |
| Bianca Jones |  Secretary | gsc@gtest.ccny.cuny.edu |
| Kevin brown | Vice Chair of Legislative Affairs | gsc@gtest.ccny.cuny.edu |
| Sonia Uthuph | Vice Chair of Academic Affairs | |
| Tinnycua Williams | USS Delegate |   |
|   | USS Alternate |   |
|   |   |   |
|   |   |   |
MEET THE DEANS
Overview:
The Meet the Deans series is collaboration between the Undergraduate Student Government(USG) and Graduate Student Council (GSC), where students have the chance to meet the Dean of their division. This event opens up a forum where students can voice questions, concerns, comments, or suggestions that could potentially help other students in your division.
The Schools Are:
Last Updated: 10/12/2023 13:00