GRADUATE STUDENT CLUBS
One of the primary ways by which the Graduate Student Council helps graduate students become more involved and engaged in student activities is by assisting them in forming and funding clubs. We work closely with the Office of Student Life Club Registration Committee to ensure that graduate student clubs are fully registered and eligible to receive funding before the Fall deadline. The process is usually as follows:
Orientation: all clubs must attend one before they can be official. Orientation sessions happen early in the Fall Semester on a weekly basis. At least one of your representatives must attend on behalf of the club. 
Registration: after attending orientation, every club must be registered. The process is outlined during the Orientation, as well as, the requirements. If you have any additional questions, contact the Welcome Center located in Room NAC1/205B, or email clubreg@ccny.cuny.edu .
Application: The next step is to complete a funding proposal. Please see below. Once your application is complete, you can drop it off in the Graduate Student Council office in Room NAC 1/113 or send us a digital copy at GSC@gtest.ccny.cuny.edu .  We will notify you once we have received your application.
GRADUATE STUDENT COMPUTER LAB
The Graduate Student Computer Lab is an exclusive facility reserved solely for graduate students and administered by the Graduate Student Council. It is located in NAC 1/207.
Policies
The lab is for graduate students only.
Please show your ID and sign-in at the front desk.
No food or drinks, except water.
Printing limit 50 pages per day.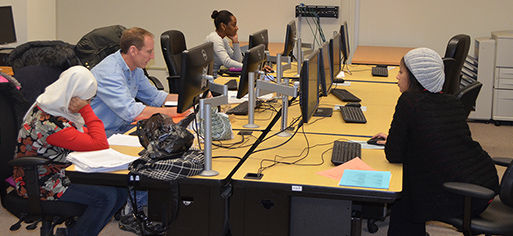 | | |
| --- | --- |
|  Monday |  10:00am-9:00pm |
|  Tuesday |  10:00am-9:00pm |
|  Wednesday |  10:00am-9:00pm |
|  Thursday |  10:00am-9:00pm |
|  Friday |  11:00am-5:00pm |
GRADUATE STUDENT LOUNGE 
The Lounge is located in NAC 6/201 and is available exclusively to graduate students for meetings, events, and club activities. Only currently registered students and clubs are permitted to reserve the lounge. Priority reservation shall be given to GSC sponsored events. For all other events, reservations shall be made on a first come first served basis, so it is wise to apply at least two weeks before the intended invent.
Students utilizing the lounge must ensure the security and the cleanliness of the space. All those in violation of these responsibilities may be charged the cost of property damage or the cost of cleaning fees and have their access to the lounge revoked.
To reserve the Graduate Student Lounge, click the following the link: Graduate Lounge Application.