All the Ladies Say 2020-- Celebrating the Bgirl in Hip hop Culture
Dates
Fri, Sep 18, 2020 - 06:00 PM — Fri, Sep 18, 2020 - 08:00 PM
Event Address
ONLINE - City College
Phone Number
212 947-9277
Event Details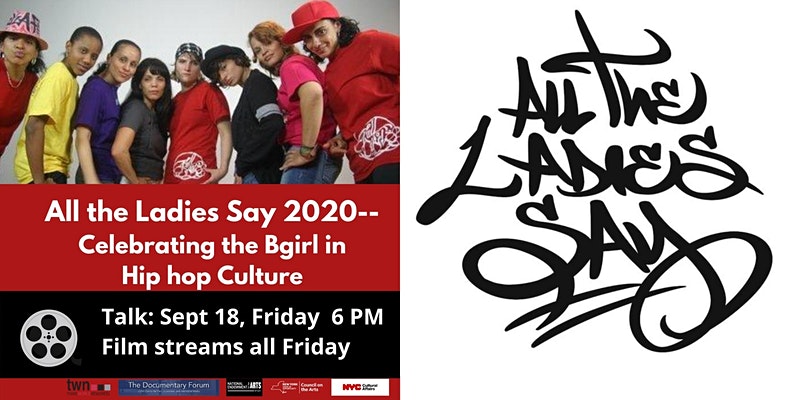 On Friday, September 18th at 6 PM,  join us in a zoom conversation with the filmmakers of ALL THE LADIES SAY, a groundbreaking documentary about the Bgirls in Hip Hop - made by the filmmaker, breakdancer, enterpreneur, educator and activist, Rokafella and editor/filmmaker Melissa Ulto.
All the Ladies Say highlights the lives of 6 iconic female Break dancers- Bgirls- and the challenges and triumphs of carving a niche in a male dominated genre from 2006 to 2011. Dancers from the global scene make cameos as well as female Graffiti writers, MC's and the late DJ Pam The Funkstress/RIP.
Stream the film on Friday and then join us for a discussion about the making of the film, how the issues for women in the Hip Hop world have/or have not changed, hear from two of the featured dancers - Aiko Shirakawa and Lady Champ on their lives now- and the plans for a Part Two of the film.  When you RSVP for this event, you will be emailed a link to the film that will free stream all day Friday the 18th, and a zoom link for the talk at 6 PM.
Friday, September 18th at 6 PM -  Talk, with film streaming during the day and after the talk.
RSVP at https://bit.ly/31JinQJ
Questions to workshop@twn.org
A presentation of the Documentary Forum at CCNY and Third World Newsreel and Full Circle Productions.
Back to Departmental Calendar
Back to calendar of events