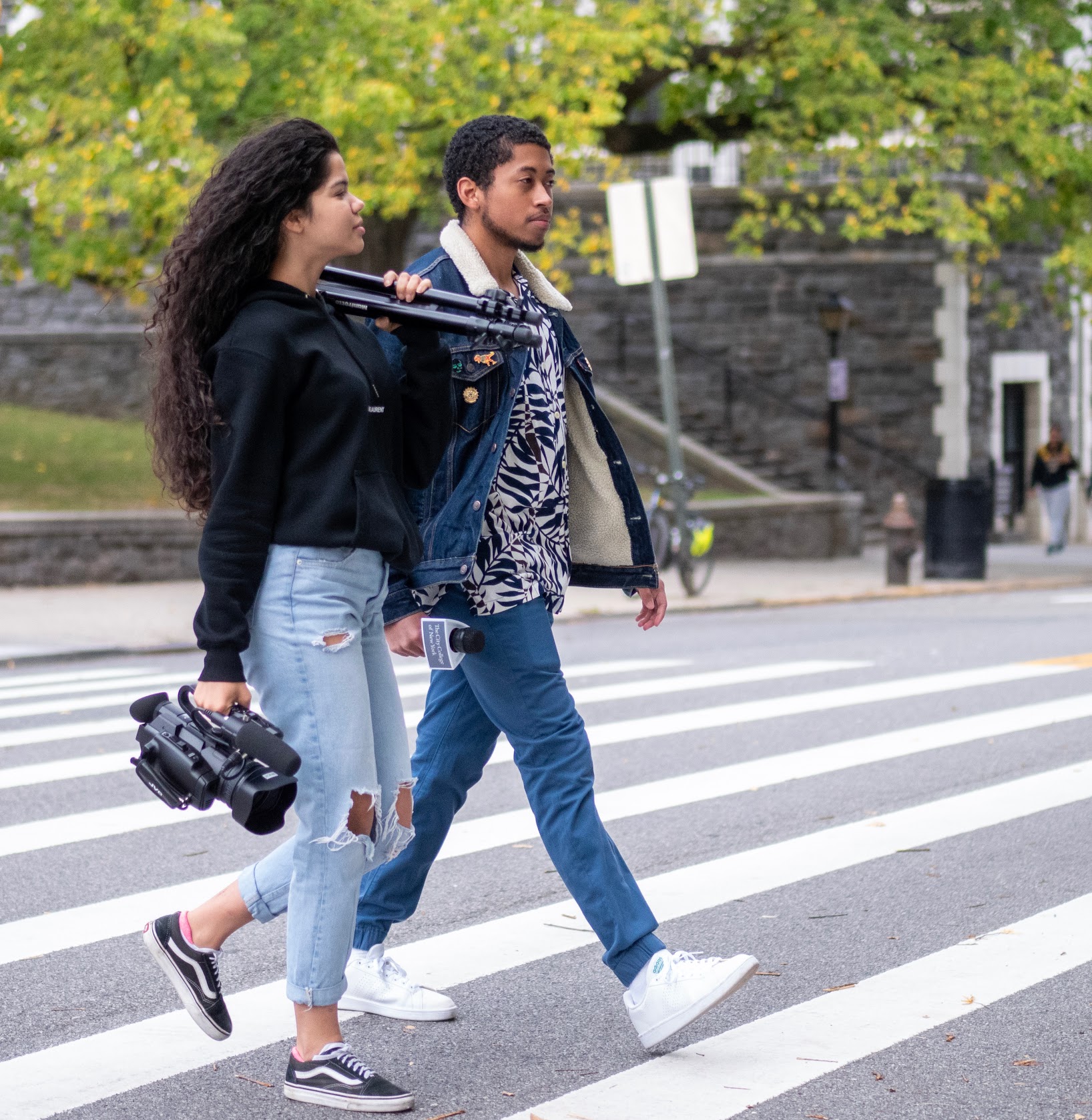 Journalism at City College shares a mission with journalists in New York City, throughout the U.S. and the world to report and tell truthful stories with meaning and impact. This is a difficult time in our nation's history as we struggle with political turmoil, environmental danger, demands for racial and social equity and a pandemic that continues to take lives and upend the way we live. 
The Journalism Minor at City College gives students the opportunity to use New York City as their journalism laboratory to explore issues and cover the cultural community. Journalism courses, taught by award-winning professionals, provide students with the theoretical and practical knowledge they need to become professional journalists, knowledgeable news consumers and informed citizens.
For Spring 2022 we have openings in key journalism classes that do not require prerequisites.
Introduction to Journalism - MCA 233 4PR on Thursdays from 2:00 p.m. to 4:45 p.m.
Students learn basic journalistic skills including how to identify stories, reporting techniques, how to synthesize information and write clearly and concisely. The best student work will appear on our journalism website HarlemView.
Radio Journalism/Podcasting- MCA 341 on Thursdays from 6:30 p.m. to 9:00 p.m.
Students learn the principles of audio journalism including reporting, interviewing, editing and writing for podcasts and radio. They will also learn the basics of running a broadcast radio studio and the producing techniques to create long form podcasts.
Race & Media - MCA 31006 on Tuesdays from 2 to 4:45 p.m.
Students will examine the media's role in shaping perceptions about social groups and the inequities that trouble our nation, the root causes, and potential solutions. 
Students From All Divisions
The minor attracts students from all departments and disciplines and their enriched background gives them broader perspective for their work as journalists. Our courses reflect the rapidly changing news and media environment and help prepare young journalists to use the latest journalism and social media tools for every news platform.
Students get hands-on experience in reporting and writing, shooting, editing, and producing video.  They shoot still photography and produce podcasts.  Their outlets include The Campus, the award-winning student magazine; The Paper, the digital student publication that emphasizes social justice reporting; and the community-oriented online platform HarlemView. The state-of-the-art campus and community radio station WHCR gives students practical experience producing radio programs and podcasts as well as working on-air.
Our classes visit major media outlets and leading professionals give guest lectures on campus in our classrooms during the semester. We encourage students to take advantage of the wide range of internships in the media capital of the world.
City College graduates work for major news organizations in print, digital, TV and video, radio and podcasting. Others become writers, editors, video producers, documentarians and filmmakers. We have a long history of producing award-winning journalists who work in big cities and small communities around the globe.
We are proud that NBC Universal selected City College to become part of the NBCU Academy Fellows Program. 
NBCU ACADEMY FELLOWS PROGRAM
The NBCU Academy Fellows Program is designed to educate and support outstanding students who are on a path to become leaders, journalists, and content creators. Fellows will participate in intensive mentoring, professional development, and paid internships, opportunities provided to fellows by the faculty and staff of CCNY with generous financial support from NBCUniversal News Group. Journalism runs the program with the Colin Powell School for Civic and Global Leadership.
SUPPORT
Fellows will each receive $5,000 stipends during the school year and up to $5,000 to support journalism internships during the summer.
The fellowship is made possible by a partnership among the NBCUniversal News Group, NBCU Academy, the Colin Powell School, and the Journalism Program and the Department of Media and Communication Arts in CCNY's Division of Humanities and Arts.
CLASSES
Students are required to take classes offered in the journalism curriculum and to participate in a monthly NBCU Academy Fellows workshop.
By the end of the year-long experience, fellows will have learned the foundational skills of journalism; acquired a deeper understanding of the media landscape and of media and news literacy; delved into key theoretical issues and debates in journalism; mastered the core skills of producing television stories for broadcast and digital; learned the nuts and bolts of data analysis and visualization; studied methods to build an audience; and enjoyed extensive mentoring and direct professional experience.
SUMMER INTERNSHIPS
Fellows will be supported by the program's leadership at CCNY to apply for and obtain internships across a range of journalistic organizations in Summer 2022. Those that take positions that are otherwise unpaid will receive stipends through the program.
The kinds of places where students might apply for internships include everything from The Wall Street Journal to The New York Times, the Amsterdam News to ProPublica. Students will also be able to compete for a limited number of internships at NBC News. In the past, CCNY students have had internships at media outlets that include:
BronxNet
NBC
The Nation
The Guardian
ABC
CBS
The Wall Street Journal
Democracy Now
Good Morning America
Hunts Point Express
NPR
NY1
Queens Daily Eagle
Telemundo 47
Univision 41
Vice
WNYC
ELIGIBILITY
Applicants to the NBCU Academy Fellows program must be undergraduate students who are interested in pursuing careers as journalists and who are committed to diversity, equity, and inclusion in the news media.
We welcome applications from students in all CCNY schools and divisions. Students must be enrolled full- time at CCNY during the 2022-2023 school year, have at least 48 credits by the beginning of Fall 2022 have at least a 2.8 GPA at the time that they apply, and plan to graduate in May 2022 or later. Applicants must be available to participate in two required classes during the 2022-2023 school year (one each semester), public events that are associated with this program, and full-time journalism/media internships in Summer 2022.
APPLICATIONS AND DEADLINES
Completed applications must include the following:
This applicant information form;
Responses to the four questions;
A resume; and
A transcript (can be the unofficial version from CUNYfirst).
All applications must be emailed to the Colin Powell School Office of Fellowships at cpsfellowships@gmail.com . Please submit all your materials in one email. We will confirm that we have received your application two to four weeks after submission.
For more information about the Colin Powell School Fellowships, visit this website: bit.ly/cps_fellowships
Questions?
 Contact Deborah Cheng, Director of Fellowships, Colin Powell School Office of Fellowships, dcheng@ccny.cuny.edu
Frequently Asked Questions About Our Journalism Program: 
What's the best time to take journalism classes?
We suggest that you enroll in Introduction to Media during your sophomore year.
That gives you a chance to get a broader view of media and journalism. You must take this required course before you get approval to enroll in Introduction to Journalism and the courses that follow in our sequence.
How many credits are required?
You need 18 credits to complete the journalism minor. This includes four required three-credit courses and two electives. 
Can I do an internship?
We encourage students to do at least one internship for academic credit.
Journalism Minor Curriculum
Students take four required three-credit courses in the journalism minor and two three-credit electives.
Required:
MCA 101: Introduction to Media Studies 
 
MCA 233: Introduction to Journalism 
 
MCA 333: Reporting and Writing
Students can take either Television/Video Journalism or Radio Journalism as the fourth required course. Or they can take both and apply one as an elective. 
MCA 343: Television/Video Journalism
MCA 341: Radio Journalism
Electives
Students choose two electives. This can include either Television/Video Journalism or Radio Journalism
MCA 31148 Digital Graphic Journalism
MCA 31146 Journalism and Society: Covering Power  (Not offered Spring 2022.)
BLST 31136: Race & Media
MCA 31147: Latinx Media Studies   (Not offered Spring 2022.)
MCA 105: Introduction to Media Production 
MCA 365: Social Media Strategies
MCA 31013: Supervised Radio Station Study (by permission)
MCA 401: Ethics and Values in Communication
English 230: Writing Workshop in Prose
English 342: Advanced Grammar
Soc 250: Theory of Mass Culture and Mass Communications
Art 24020 Photojournalism
Media Internship – You need permission from the program director.
Independent Study – You need permission from the program director.