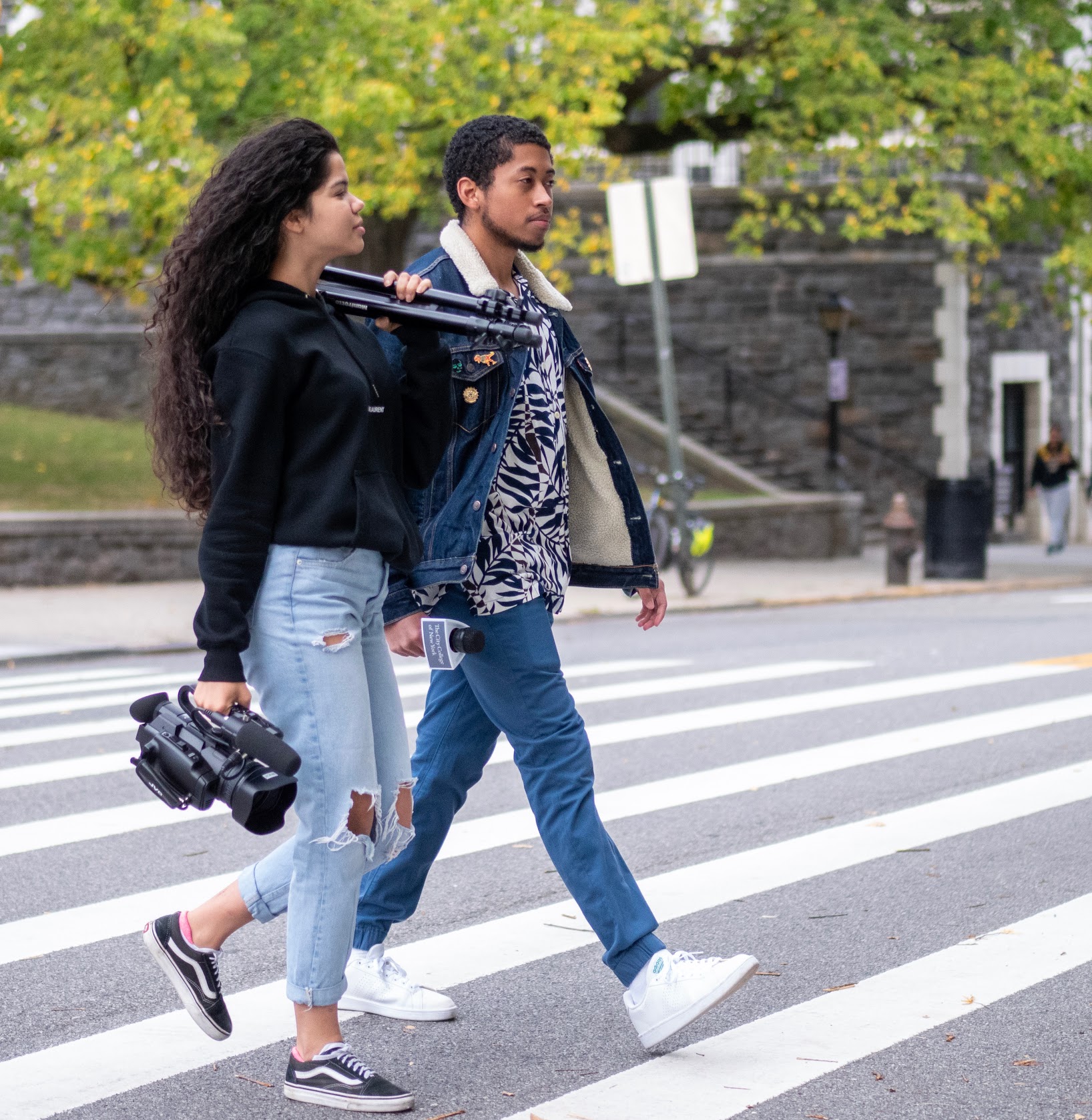 The Journalism Minor at City College gives students the opportunity to use New York City as their journalism laboratory to explore social, political and cultural issues. Our journalism courses, taught by award-winning professionals, provide students with the theoretical and practical knowledge they need to become professional journalists, knowledgeable news consumers and informed citizens. We encourage students to use their diverse backgrounds, life struggles and triumphs to inform their reporting and storytelling.
The minor attracts students from all departments and disciplines and their enriched background gives them broader perspective for their work as journalists. Our courses reflect the rapidly changing news and media environment and helps to prepare young journalists to use the latest journalism and social media tools for every news platform.
Students get hands-on experience in reporting and writing, shooting, editing, and producing video.  They shoot still photography and produce podcasts.  Their outlets include The Campus, the award-winning student magazine, The Paper, the digital student publication that emphasizes social justice reporting, and the community-oriented online platform HarlemView. The state-of-the-art campus and community radio station WHCR gives students practical experience producing radio programs and podcasts as well as working on-air.
Our classes visit major media outlets and leading professionals give guest lectures on campus in our classrooms during the semester. We encourage students to take advantage of the wide range of internships in the media capital of the world.
City College graduates work for major news organizations in print, digital, TV and video, radio and podcasting. Others become writers, editors, video producers, documentarians and filmmakers. We have a long history of producing award-winning journalists who work in big cities and small communities around the globe.
Frequently Asked Questions:
What's the best time to take journalism classes?
We suggest that you enroll in Introduction to Media during your sophomore year.
That gives you a chance to get a broader view of media and journalism. You must take this required course before you get approval to enroll in Introduction to Journalism and the courses that follow in our sequence.
How many credits are required?
You need 18 credits to complete the journalism minor. This includes four required three-credit courses and two electives. 
Can I do an internship?
We encourage students to do at least one internship for academic credit.
Journalism Minor Curriculum
Students take four required three-credit courses in the journalism minor and two three-credit electives.
Required:
MCA 101: Introduction to Media Studies 
 
MCA 233: Introduction to Journalism 
 
MCA 333: Reporting and Writing
Students can take either Television/Video Journalism or Radio Journalism as the fourth required course. Or they can take both and apply one as an elective. 
MCA 343: Television/Video Journalism
MCA 341: Radio Journalism
Electives
Students choose two electives. This can include either Television/Video Journalism or Radio Journalism
MCA 105: Introduction to Media Production
MCA 365: Social Media Strategies
MCA 31013: Supervised Radio Station Study (by permission)
MCA 401: Ethics and Values in Communication
BLST 31136: Race & Media
English 230: Writing Workshop in Prose
English 342: Advanced Grammar
Soc 250: Theory of Mass Culture and Mass Communications
Art 24020 Photojournalism
Media Internship – You need permission from the program director.
Independent Study – You need permission from the program director.