Editing the Documentary with Carla Gutierrez
Dates
Tue, Oct 12, 2021 - 06:30 PM — Tue, Oct 12, 2021 - 08:30 PM
Event Address
City College of NY
Phone Number
212 947-9277 x 16
Event Details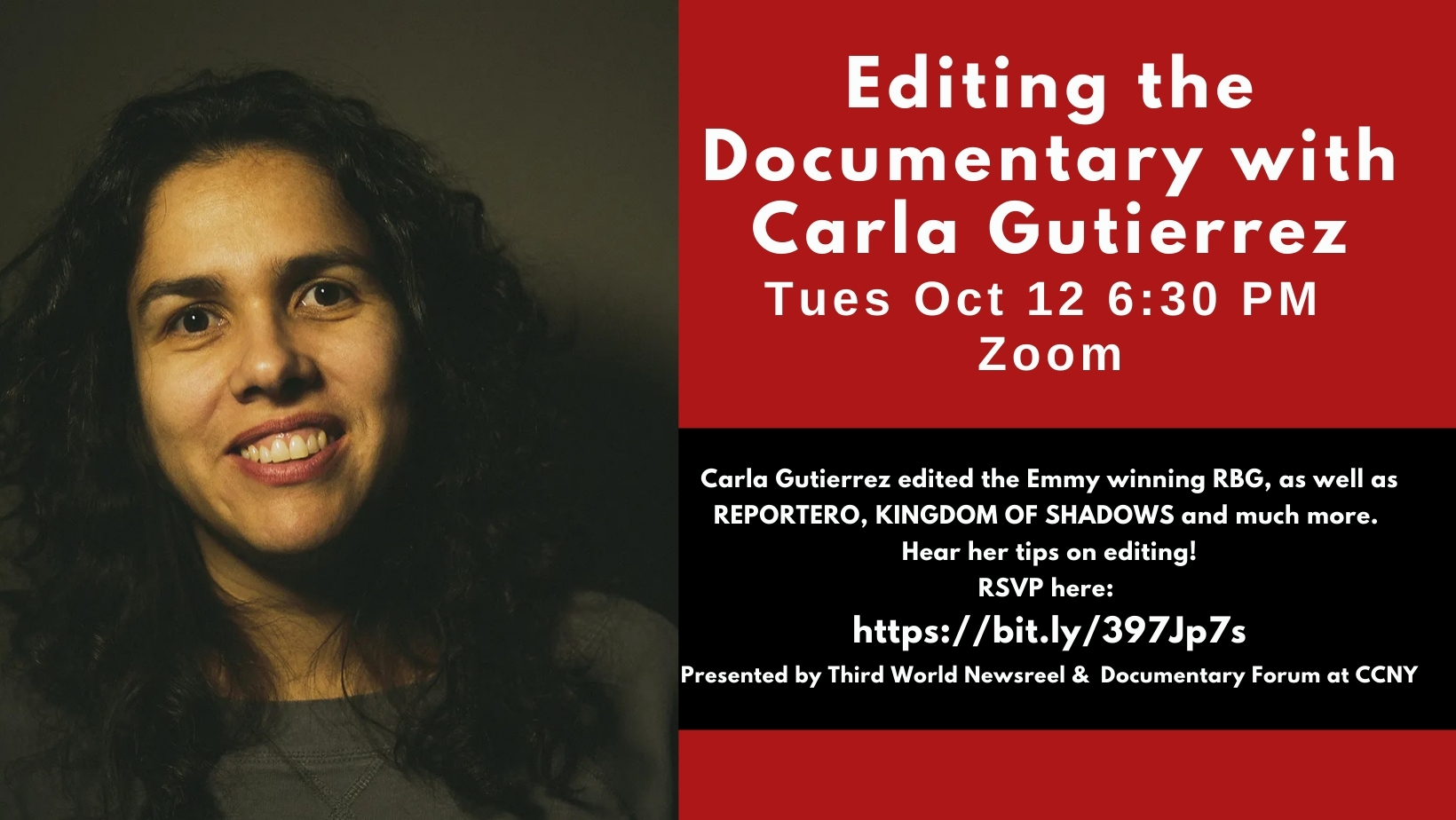 Carla Gutierrez edited the Emmy winning RBG, as well as REPORTERO, KINGDOM OF SHADOWS and much more. Hear her tips on editing!
Carla Gutierrez is an ACE Eddie nominated editor, who will share her advice on approaching an editing project, with helpful information for emerging filmmakers about working with editors, and with editors on working with directors.
Carla edited the Oscar nominated and Emmy winning documentary RBG, about the life of Supreme Court Justice Ruth Bader Ginsburg, which premiered at Sundance and was theatrically released by Magnolia Pictures and Participant Media. She also edited LA CORONA (Oscar nomination); the Emmy nominated films REPORTERO, KINGDOM OF SHADOWS and FAREWELL FERRIS; WHEN TWO WORLDS COLLIDE (Sundance Special Jury Award, Cinema Eye nomination), and CHAVELA (Berlinale - and made by a TWN workshop grad!).
Carla has been an adviser for the Sundance Edit Lab, a mentor for the Firelight Producers' Lab and she is a member of the Academy of Motion Pictures.
Join us in this virtual workshop as Carla shows clips, talks about style and process and negotiating in editing and about the new initiative to promote BIPOC editors.
RSVP to: https://bit.ly/397Jp7s
A presentation of Third World Newsreel and the Documentary Forum at CCNY.
Back to Departmental Calendar
Back to calendar of events