The Department of Classical and Modern Languages & Literatures,
the M.A. Program in Spanish, and Routledge, Taylor & Francis Group
are pleased to invite the general public
to the Launch of
Review: Literature and Arts of the Americas
Arab Latin America (no. 99, December 2019)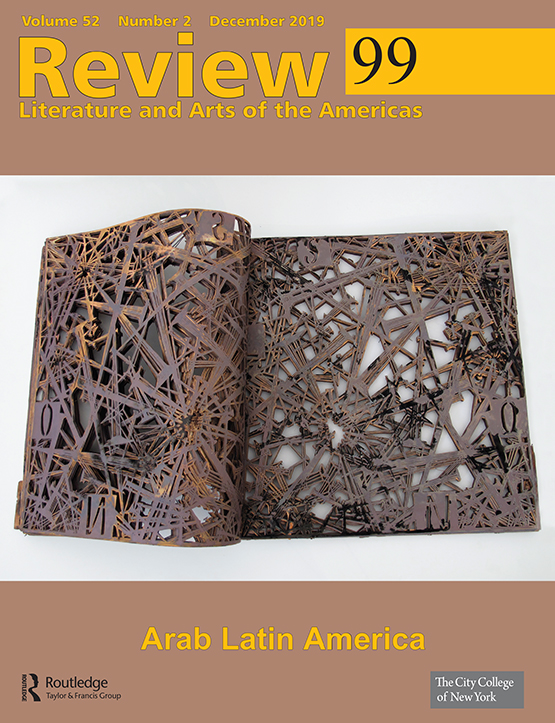 The event will be led by Daniel Shapiro, Editor; with comments by Waïl S. Hassan, Guest Editor; and comments/readings by scholars and authors Christina Civantos and Eduardo Mitre; and translators Elizabeth Lowe, Gregary Racz and Christopher Winks.  The speakers will read selections of poetry and prose featured in the issue.  Copies of Review 99 will be available for purchase. Reception to follow.
Wednesday, April 22, 2020, 5:00-8:00 p.m.
The City College of New York
Shepard Hall 95
160 Convent Avenue (@138th Street)
RSVP: dshapiro@ccny.cuny.edu or rmartinez@ccny.cuny.edu
Review is published by Routledge, Taylor & Francis Group, in association with The City College of New York, CUNY, Department of Classical and Modern Languages & Literatures.  
Review 99, guest-edited by Waïl Hassan (University of Illinois at Urbana Champaign), explores the topic of Arab Latin America. The issue opens with Hassan's introduction, followed by critical essays by leading scholars on emblematic topics—Arab themes in José Martí's Oriente; Juan José Saer as an Arab Argentine writer; human-animal entanglements in Marcelo Maluf's fiction; and Palestinian Chilean cinema—as well as fiction, poetry, creative essays, crônicas, and interviews featuring writers hailing from Argentina, Bolivia, Brazil, Chile, Colombia, Mexico, and Peru who are descendants of immigrants from Lebanon, Palestine and Syria. In addition to those represented in this event, the roster includes authors Esther Andradi, Jeannette Clariond, Luis Fayad, Mamede Mustafa Jarouche, Alberto Mussa, Alonso Rabí-do-Carmo, Waly Salomão, and cover-artist Hilal Sami Hilal. Together, their contributions address themes not only particular to Arab Latin America but to universal culture—relating to identity, language, community, and exile. The issue includes feature-pieces as well as reviews of the films Christian Palestine in Chile, directed by Heba El Attar, and Khalil Gibran's The Prophet, produced by Salma Hayek; and book reviews of new titles, among them, Christina Civantos's The Afterlife of al-Andalus.
For information about Review please visit:
http://www.tandfonline.com/toc/rrev20/current
Daniel Shapiro, at dshapiro@ccny.cuny.edu 212-650-6338
CHECK OUT UPDATES FOR REVIEW ON SOCIAL MEDIA:
https://www.facebook.com/ReviewCmll/ & https://twitter.com/ReviewCmll.
For the M.A. Program in Spanish & the CMLL Department, contact:  dpaolini@ccny.cuny.edu ; aestevez@ccny.cuny.edu
Grateful acknowledgment is made to CCNY's Division of Humanities and the Arts
for its generous support of Review.
Biographical notes:

Daniel Shapiro is Editor of Review:  Literature and Arts of the Americas and is a Distinguished Lecturer at The City College of New York, Department of Classical and Modern Languages & Literatures. In addition to publishing poetry collections, he has translated Latin American authors and has received translation grants from PEN and the National Endowment for the Arts.

Waïl S. Hassan, Guest Editor of Review 99, is a Professor of Comparative Literature at the University of Illinois at Urbana-Champaign and the President of the American Comparative Literature Association. His latest publications include the Arabic translation of Alberto Mussa's O enigma de Qaf (2015) and the edited volume The Oxford Handbook of Arab Novelistic Traditions (2017), which includes five chapters on the Americas. He is currently writing a book provisionally entitled "Arab Brazil: Literature, Culture, and Orientalism."

Christina Civantos is a professor in the Department of Modern Languages and Literatures at the University of Miami. Her publications include Between Argentines and Arabs: Argentine Orientalism, Arab Immigrants, and the Writing of Identity (2006) and The Afterlife of al-Andalus: Muslim Iberia in Contemporary Arab and Hispanic Narratives (2017).
 
Eduardo Mitre (Bolivia, 1943) is a poet, scholar, translator, and professor of Spanish at St. John's University in New York. He is a member of the Bolivian Academy of Language and the Spanish Royal Academy. His poems in Review 99 have been translated from El peregrino y la ausencia (1988; The Traveler and Absence) and Al paso del instante (2009; A Moment's Passing). His "Del sueño en la pesadilla" previously appeared in The Hostos Review (issue 7, 2010).

Elizabeth Lowe translates classical and contemporary Brazilian and Lusophone literature, and earned recognition from the Brazilian Academy of Letters for her re-translations of Euclides da Cunha's iconic Os Sertões (Back-lands: the Canudos Campaign, 2010). She is co-author with Earl E. Fitz of Translation and the Rise of Inter-American Literature (2007). She has translated texts by Milton Hatoum for Review 99.

Gregary J. Racz is a professor of English, Philosophy and Languages at LIU Brooklyn, review editor for Translation Review, and former president of the American Literary Translators Association. His translations of Golden Age plays appear in The Golden Age of Spanish Drama: A Norton Critical Edition (2018). A Brief History of Music and "Fourteen Forms of Melancholy," his translation of Eduardo Chirinos's poetry, is forthcoming.

Christopher Winks is Chair of the Department of Comparative Literature at Queens College, CUNY. He is the author of Symbolic Cities in Caribbean Literature (2009). Labyrinth, his translated anthology of texts by Cuban poet Lorenzo García Vega, is forthcoming from Junction Press.  He has translated texts by Mahfúd Massís in Review 99.
                           
All the participants above are contributors to Review 99 (Arab Latin America).