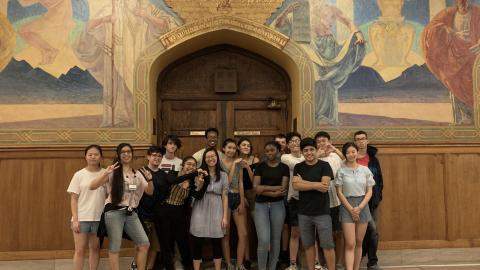 College Now at CCNY allows qualified New York City public high school students to enroll in courses that earn college credit and provides academic enrichment workshops and programs to its 35 partner high schools, strengthening students' foundation for academic success. Students have the opportunity to experience the richness of our campus by enjoying access to our facilities and by participating in academic, social, and cultural events. Interaction with CCNY faculty and students gives College Now students an authentic college experience, eases their transition from high school, and prepares them for a successful academic career.
The College Now office at CCNY serves as the program nexus for the individual high school principals, high school guidance counselors, College Now liaisons, students, parents, and the City College faculty and tutors. College Now at CCNY ensures that students are academically challenged by providing rigorous coursework taught by highly regarded and astute faculty.
In order to take a CCNY College Now course, a student must have:

A minimum major course average of 80
AND
A minimum score of 75 on the English Language Arts Regents exam
OR
A minimum score of 480 on the PSAT E-BRW; 
OR
A minimum score of 480 on the SAT E-BRW; 
OR
A minimum score of 20 on the ACT



Due to COVID-19 the CN staff are working remotely. 
We can be contacted via  email:  collegenow@ccny.cuny.edu
CONTACT INFORMATION
Andrénetta Collins
Director, College Now
NAC 5/113

ancollins@ccny.cuny.edu

Alejandro Lázaro
Academic Advisor, College Now

NAC 5/114