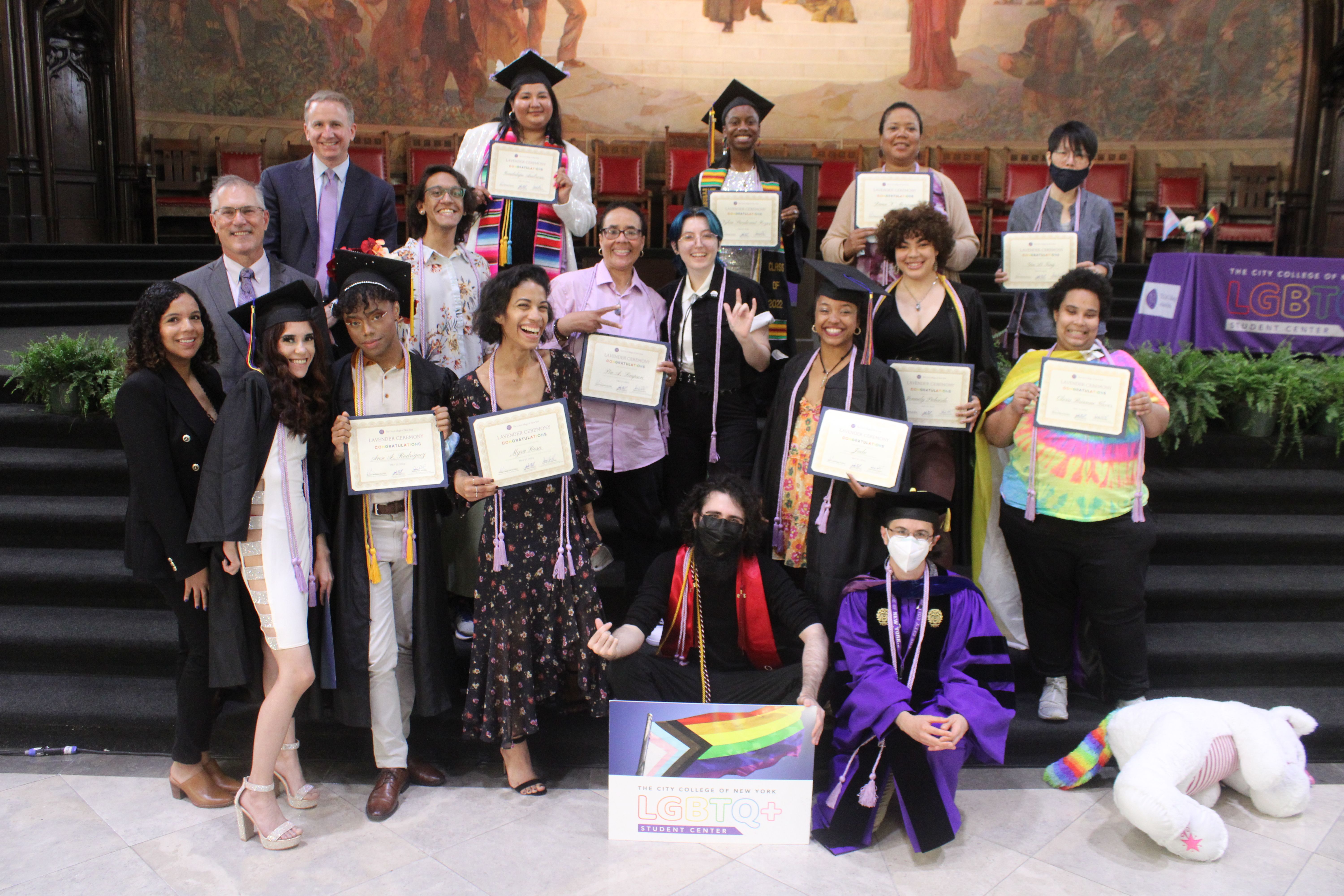 Established at CCNY during Spring 2022, Lavender Graduation is a graduation ceremony celebrating our LGBTQIA+ student graduates, alumni and allies from the current and past academic years. This includes those who completes Bachelors, Masters, and PhDs during their time at City College. We also invite faculty and staff to participate in the celebration if they were not able to have a Lavender Ceremony.  
Date, time, and location of The 3rd Annual Lavender Graduation Ceremony (2024) is TBA. Check back soon or join our email list for updates.
This will include information on how graduates, alumni and faculty/staff can participate or volunteer.
Graduate registration deadline is May 1st.
What is a Lavender Graduation?
Lavender Graduation is an annual ceremony conducted on numerous campuses to honor lesbian, gay, bisexual, transgender, queer, asexual, intersex, and ally students and to acknowledge their achievements and contributions to the University. The Lavender Graduation Ceremony was created by Dr. Ronni Sanlo at the University of Michigan in 1995.  Today, there are thousands of Lavender Graduation Ceremonies at Colleges and Universities nationwide.  Graduating students, including undergraduates and graduates, are invited to take part in the celebration.  Stay tuned for more information on how to participate in CCNY's first lavender graduation.  If you have any questions, please contact lgbtq@ccny.cuny.edu
Why a Lavender Graduation Ceremony?
Lavender Graduation is a cultural celebration that recognizes LGBTQ+ students and acknowledges their achievements and contributions to the university. Through such recognition, LGBTQ+ students may leave the university with a positive last experience of the institution thereby encouraging them to become involved mentors for current students, as well as contributing alumni.
Lavender Graduation is an event to which LGBTQ+ students share their hopes and dreams with one another, and are officially recognized by the institution for their leadership and their successes and achievements.
The significance of "Lavender"
Lavender isn't just an official CCNY school color (go Beavers!). Lavender is important to LGBTQ+ history! It is a color combination of the pink triangle that gay men were forced to wear in concentration camps and the black triangle designating lesbians as political prisoners in Nazi Germany.  The LGBTQ+ civil rights movement took these symbols of hatred and combined them to make symbols and color of pride and community. 
Last Updated: 09/05/2023 14:41