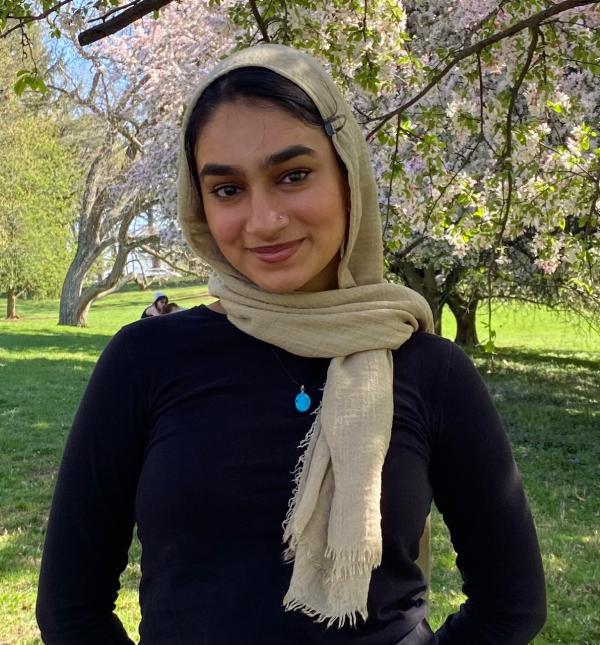 CCNY's Ayesha Khan is a 2023 Harry S. Truman Scholar.
Ayesha Khan, a member of The City College of New York's Class of 2023, has been named a Harry S. Truman Scholar. She is one of 62 exceptional students from 60 U.S. colleges and universities selected as 2023 Scholars by the Board of Trustees of the Harry S. Truman Scholarship Foundation.
The highly competitive Truman Scholarship is the premier graduate scholarship for aspiring public service leaders in the nation. Selection is based on a combination of career and graduate study interests, community service and academic achievement.
"We have confidence that these 62 new Trumans will meet their generation's challenges together," said Dr. Terry Babcock-Lumish, the Foundation's Executive Secretary and a 1996 Truman Scholar from Pennsylvania. "Selected from across America, the 2023 Truman Scholars reflect our country as innovative, purposeful, patriotic problem-solvers, never shying away from a challenge."
Truman Scholars demonstrate outstanding leadership potential, a commitment to a career in government or the nonprofit sector, and academic excellence. Each Truman Scholar receives funding for graduate studies, leadership training, career counseling, and special internship and fellowship opportunities within the federal government.
Khan is CCNY's seventh Truman Scholars since 2005. Claudio Simpkins (2005), David Bauer (2008), Don Gomez (2009), Ayodele Oti (2011), Gareth Rhodes (2011), and Claire Lynch (2017) were the previous recipients.
Born of Indian immigrant parents, Khan is receiving a BS in biomedical sciences from the Sophie Davis Biomedical Education Program in the CUNY School of Medicine at CCNY. She's also completed a minor in public policy from the Colin Powell School for Civic and Global Leadership and will earn her MD from CUNY School of Medicine in 2027.
Khan's other honors at CCNY include the Edward Koch Fellowship and the Colin Powell Fellowship in Leadership and Public Service. 
About Ayesha Khan
The Bellerose, Queens, resident studies medical sciences and public policy. As a BS/MD student and community organizer, she wants to address health needs and provide primary care for underserved communities, especially global communities adversely affected by the climate crisis. She is deeply interested in how people are physiologically impacted by their physical environment and how programs can be developed to prepare and care for regions facing environmental devastation. Khan has participated in field work for several local progressive campaigns and worked on community health canvassing efforts around New York City. She helped start a medical clinic in her family's rural village in India, increasing access to primary health care for local farmers. Khan also worked on a manuscript to help preserve knowledge on how Micronesian communities use plants for healing and daily activities. Along with medical school, Khan plans to pursue an MSc in international health and tropical medicine to learn how to better address health challenges in resource-limited communities, especially those facing the brunt of climate catastrophes. 
About the Truman Scholarship Foundation
The Truman Scholarship Foundation was established by Congress in 1975 as a living memorial to Harry S. Truman, the 33rd President of the United States. Its mission is to find and recognize college juniors with exceptional leadership potential who are committed to careers in government, the nonprofit or advocacy sectors, education or elsewhere in public service; and to provide them with financial support for graduate study, leadership training, and fellowship with other students who are committed to making a difference through public service.
The  62 awardees this year join a community of 3,504 Truman Scholars named since the first awards in 1977. Prominent Truman Scholars in government service include United States Supreme Court Associate Justice Neil Gorsuch (1987), Senator Chris Coons (1983), Representative Ted Deutch (1986), Representative Tom Malinowski (1985), White House Domestic Policy Advisor Susan Rice (1984), National Security Advisor Jake Sullivan (1997), former Arizona Governor and Secretary of Homeland Security Janet Napolitano (1977), and former Secretary of Education John King (1995).  
About the City College of New York
Since 1847, The City College of New York has provided a high-quality and affordable education to generations of New Yorkers in a wide variety of disciplines. CCNY embraces its position at the forefront of social change. It is ranked #1 by the Harvard-based Opportunity Insights out of 369 selective public colleges in the United States on the overall mobility index. This measure reflects both access and outcomes, representing the likelihood that a student at CCNY can move up two or more income quintiles. Education research organization Degree Choices ranks CCNY #1 nationally among universities for economic return on investment. In addition, the Center for World University Rankings places CCNY in the top 1.8% of universities worldwide in terms of academic excellence. Labor analytics firm Emsi puts at $1.9 billion CCNY's annual economic impact on the regional economy (5 boroughs and 5 adjacent counties) and quantifies the "for dollar" return on investment to students, taxpayers and society. At City College, more than 15,000 students pursue undergraduate and graduate degrees in eight schools and divisions, driven by significant funded research, creativity and scholarship. This year, CCNY launched its most expansive fundraising campaign, ever. The campaign, titled "Doing Remarkable Things Together" seeks to bring the College's Foundation to more than $1 billion in total assets in support of the College mission. CCNY is as diverse, dynamic and visionary as New York City itself. View CCNY Media Kit.