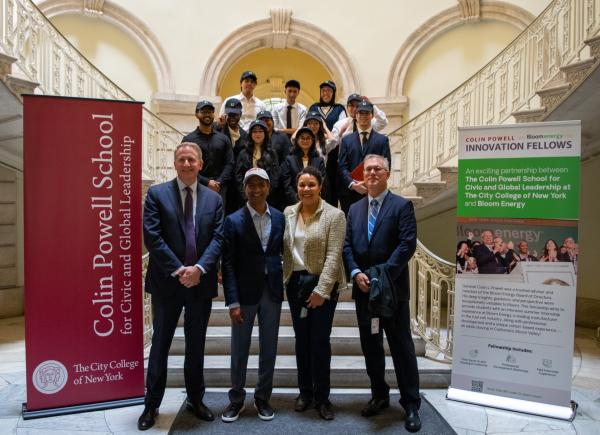 The Colin Powell Bloom Energy Innovation Fellows with (front row, left to right); Colin Powell School Dean Andrew Rich; Bloom Energy CEO KR Sridhar; Colin Powell School Board of Visitors Chair Linda Powell; and CCNY President Vince Boudreau.
In partnership with the Colin Powell School for Civic and Global Leadership at The City College of New York, Bloom Energy introduced the first cohort of Colin Powell Bloom Energy Innovation Fellows at a ceremony in the rotunda of New York City Hall.
The 11 Fellows will gain extensive work and professional development experience through a cohort-based program at Bloom's San Jose, Calif. headquarters this summer. The program will provide students with experience in various business areas at Bloom Energy, a leading manufacturer in the fuel cell industry, including: mechanical, electrical and manufacturing engineering; human resources; marketing; finance; legal; business and data analytics; and information technology.
Bloom Energy and CCNY created this internship program to invest in the future of the clean energy workforce and to honor General Powell, a 1958 graduate of CCNY and a Bloom Energy Board member, as well as the company's chief mission and values officer. By training students for success in the clean energy field, Bloom and CCNY are carrying out Powell's vision of fostering the next generation of diverse global leaders.
"This initiative is an important new component of the efforts by CUNY and the City of New York to diversify the ranks of teach and clean energy. Efforts that aim to position to New York City and New Yorkers – and especially younger New Yorkers – at the center of these industries and the good jobs they produce for our city and society," Colin Powell School Dean Andrew Rich said in introducing the program. "Over the last two decades, Bloom Energy has become one of the leading producers of platforms for distributing lower carbon energy. It is a company that believes that a diverse workforce – and diverse leaders – are essential to building a better company and a stronger."
Dean Rich was followed by Linda Powell, Gen. Powell's daughter and the chair of the Colin Powell School Board of Visitors. She recalled how much time her father spent with CCNY students in his last years because, as she said, "they reminded him so much of himself." She said that he spoke about his students often with Bloom Energy CEO KR Sridhar. "He believed in Bloom's mission to expand the uses of technology, to leverage our innovative spirit to produce cleaner energy and a better environment," she said. "Dad would be thrilled with this new fellowship program, and I am so proud that we are continuing his mission -- one of his most important missions – to provide our students with quality of access to a wide range of opportunities."
In his remarks, CCNY President Vince Boudreau noted Gen. Powell's enthusiasm for new technologies, saying that it was akin to that of "a kid with an erector set."
"General Powell had a tremendous affinity and excitement for new technology—not just the interest of a policymaker solving problems, but kid in a candy store excitement," he said.  "The first time I ever saw a Kindle was a beta version that he'd been given to test, and he lay down on the desk and said with amazement that all his books were on this new device.  He had one of the first 10 Fisker electric cars to roll off the lot and loved to talk about its range and battery capacity. At about that same time, though, he started describing something he called a "Bloom Box," and a company, Bloom Energy, on which he served. The device could revolutionize energy—it was a box you could put outside your office or home to generate power using totally new technology."
Gen. Powell's not entirely accurate description of Bloom's microgrid technology drew a smile from Bloom Energy CEO KR Sridhar. "He was so excited at the prospect of what this could open up for society and for humanity and thrilled to be part of it," continued Boudreau. "This is the kind of thing that City College students, in his School, could work on. It was thrilling to him and thrilling to us as well."
Sridhar spoke of his respect and affection for Gen. Powell during their long association. "He really believed in the mission of clean energy for people around the world," he said.
Seeing himself in the 11 student fellows standing on the steps behind him, he added, "They remind me, in many ways, of me," as many of them were people of color and immigrants. "That's me. Carrying a suitcase and coming here in search of my fortune. Only in this country. I look forward to learning with you, teaching you and learning from you."
Two of the Fellows also spoke.
Economics junior Kazi Ahmed said that he was inspired to attend CCNY by his sister's achievements as a CCNY student. "I am grateful for the decision I made," he said.
"As I prepare to embark on this fellowship journey, I am overwhelmed with excitement," he said. "The opportunity to immerse myself in this environment, connect with like-minded individuals, and contribute to Bloom Energy's mission of driving renewable energy practices fills me with enthusiasm and determination."
Another economics junior, Steven Fernandez, spoke of his family's journey from rural Dominican Republic in search of a better future. He will support the accounting team at Bloom as a finance intern.
"This opportunity will provide me with the support and hands-on experience needed to break into corporate America," he said. "I aspire to leverage my skills for the benefit of my community and economic development, helping individuals and corporations make good and ethical decisions that promote equity, equality, and growth."
The event concluded with the introduction of the rest of the fellows: Amreen Nasir, an business administration major and university relations intern; Aysha Asif, a business administration junior and marketing intern; Henry Suarez, a computer science junior and IT automation intern; Jannatoul Ferdous, a mechanical engineering junior and engineering intern; Laiba Laisee, a mechanical engineering senior and mechanical engineering intern; Lhakpa Sherpa, a psychology junior and human resources intern; Nyi Zin, an electrical engineering junior and electrical engineering intern; Nymul Islam, an economics junior and supply chain intern; and Ondrea Kanwhen, an electrical engineering junior and product management intern.
About Bloom Energy
Bloom Energy empowers businesses and communities to responsibly take charge of their energy. The company's leading solid oxide platform for distributed generation of electricity and hydrogen is changing the future of energy. Fortune 100 companies around the world turn to Bloom Energy as a trusted partner to deliver lower carbon energy today and a net-zero future. For more information, visit www.bloomenergy.com.
About the Colin Powell School for Civic and Global Leadership
Established in 2013, the Colin Powell School is home to the social science departments at CCNY as well as the core leadership development and public service programs of the College. With almost 4,000 students, and graduating the most CCNY students annually, the Colin Powell School mission is to transform the nation's most diverse student body into tomorrow's global leaders. Half of our students are immigrants; more than seventy percent are first-generation college students. Eighty percent are people of color. Most come from lower income backgrounds. The Colin Powell School and City College remain among the most effective engines of economic and social mobility in the United States. The School is led by a faculty dedicated to the highest standards of research and to the university's democratic and public obligations. Read more about the Colin Powell School
About the City College of New York
Since 1847, The City College of New York has provided a high-quality and affordable education to generations of New Yorkers in a wide variety of disciplines. CCNY embraces its position at the forefront of social change. It is ranked #1 by the Harvard-based Opportunity Insights out of 369 selective public colleges in the United States on the overall mobility index. This measure reflects both access and outcomes, representing the likelihood that a student at CCNY can move up two or more income quintiles. Education research organization Degree Choices ranks CCNY #1 nationally among universities for economic return on investment. In addition, the Center for World University Rankings places CCNY in the top 1.8% of universities worldwide in terms of academic excellence. Labor analytics firm Emsi puts at $1.9 billion CCNY's annual economic impact on the regional economy (5 boroughs and 5 adjacent counties) and quantifies the "for dollar" return on investment to students, taxpayers and society. At City College, more than 15,000 students pursue undergraduate and graduate degrees in eight schools and divisions, driven by significant funded research, creativity and scholarship. This year, CCNY launched its most expansive fundraising campaign, ever. The campaign, titled "Doing Remarkable Things Together" seeks to bring the College's Foundation to more than $1 billion in total assets in support of the College mission. CCNY is as diverse, dynamic and visionary as New York City itself. View CCNY Media Kit.