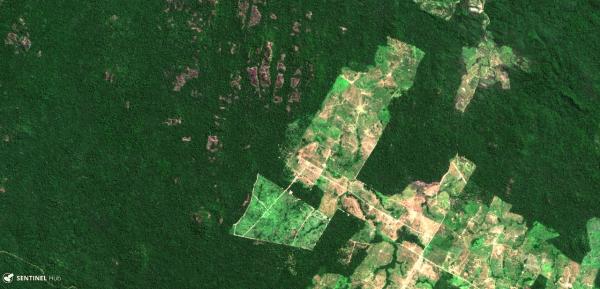 Deforestation in the Amazon.
The global climate crisis has altered every ecosystem on planet Earth. In the Amazon, the rate of change is accelerating. 
The Amazon is home to more than 10% of all named and plant and vertebrate species. It is the core of biogeographic realm that is home to about one-third of all known species. Habitat conversion – driven by logging, forest fires, and canopy clearing, threaten this biodiversity. Global warming, climate variability, and extreme weather events amplify these threats.
City College of New York biologist Ana Carnaval along with collaborators from multiple institutions in North America, South America and Europe has determined that these anthropogenic events are pushing the entire Earth System across a critical threshold to a qualitatively different global climate scenario. Their study, entitled: "Human impacts outpace natural processes in the Amazon," appears in the journal "Science."
Carnaval and her colleagues compared rates of anthropogenic and natural environmental changes in the Amazon to other regions of South America. They then compared these rates with other processes in the larger Earth System. They compiled South America data from the Science Panel for the Amazon (SPA) Assessment Report which details the dimensions of the Amazon as a regional entity of the Earth System and documents Amazonian biodiversity, ecosystem function and cultural diversity. 
Among other key takeaways, they found the rate at which modern human activity drives extinction in the Neotropics is between 1,000 times and 10,000 times higher than the natural rate as estimated from the fossil record.
The Amazon is transitioning from a largely natural to a degraded landscape. After millions of years of serving as a global carbon pool, the Amazon rainforest is poised to become a net carbon source. In some areas, forest respiration and burning are outpacing photosynthesis.
Carnaval and her colleagues believe the global community must enhance conservation through legal protections and punish illegal activities for areas under public, private community, and Indigenous management. They call for international financial institutions to suspend funding for mega-infrastructure projects such as roads, bridges, railways, dams and mines in Amazonia pending independent regional environmental assessment.
They conclude: "To fail the Amazon is to fail the biosphere, and we fail to act at our own peril."

About the City College of New York
Since 1847, The City College of New York has provided a high-quality and affordable education to generations of New Yorkers in a wide variety of disciplines. CCNY embraces its position at the forefront of social change. It is ranked #1 by the Harvard-based Opportunity Insights out of 369 selective public colleges in the United States on the overall mobility index. This measure reflects both access and outcomes, representing the likelihood that a student at CCNY can move up two or more income quintiles. Education research organization DegreeChoices ranks CCNY #3 nationally for social mobility. In addition, the Center for World University Rankings places CCNY in the top 1.8% of universities worldwide in terms of academic excellence. Labor analytics firm Emsi puts at $1.9 billion CCNY's annual economic impact on the regional economy (5 boroughs and 5 adjacent counties) and quantifies the "for dollar" return on investment to students, taxpayers and society. At City College, more than 15,000 students pursue undergraduate and graduate degrees in eight schools and divisions, driven by significant funded research, creativity and scholarship. This year, CCNY launched its most expansive fundraising campaign, ever. The campaign, titled "Doing Remarkable Things Together" seeks to bring the College's Foundation to more than $1 billion in total assets in support of the College mission. CCNY is as diverse, dynamic and visionary as New York City itself. View CCNY Media Kit.
Erica Rex
p: 845.668.0322
e: erex.ccny.cuny.edu