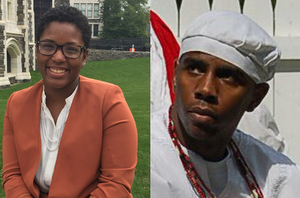 Two City College of New York students, Victoria Juste and Timothy McGhee, have been awarded two-year Mellon Mays Undergraduate Fellowships by the Andrew W. Mellon Foundation.
The MMUF program is designed to encourage the most talented students from groups traditionally underrepresented in graduate education to enter PhD programs and to pursue careers in research and college teaching.
Juste, a junior with a double major in biology and black studies, served as a Leonard Davis Fellow and a Colin Powell Community Engagement Fellow. As a fellow, she created a chapter of Peer Health Exchange, which helps teens to make healthy and informed decisions. She will use her Mellon Mays fellowship to examine the social determinants that influence black adolescents' engagement in life-altering behaviors. After graduation, she plans to apply to doctoral programs in African Studies that specialize in public health.
McGhee, a double major in black studies and anthropology, earned a certificate of achievement for the Best Black Studies Essay of 2015. In addition to his service as a youth counselor and EMT, McGhee is studying the ancient Yoruba religion and its diasporic variants. He also is studying for the priesthood. A junior, he travels to Cuba this summer to conduct additional research as he pursues a doctorate in black studies.
About The City College of New York
Since 1847, The City College of New York has provided low-cost, high-quality education for New Yorkers in a wide variety of disciplines. More than 15,000 students pursue undergraduate and graduate degrees in the College of Liberal Arts and Science; Bernard and Anne Spitzer School of Architecture; School of Education; Grove School of Engineering; Sophie Davis Biomedical Education/CUNY School of Medicine; and the Colin Powell School for Civic and Global Leadership. U.S. News, Princeton Review and Forbes all rank City College among the best colleges and universities in the United States.