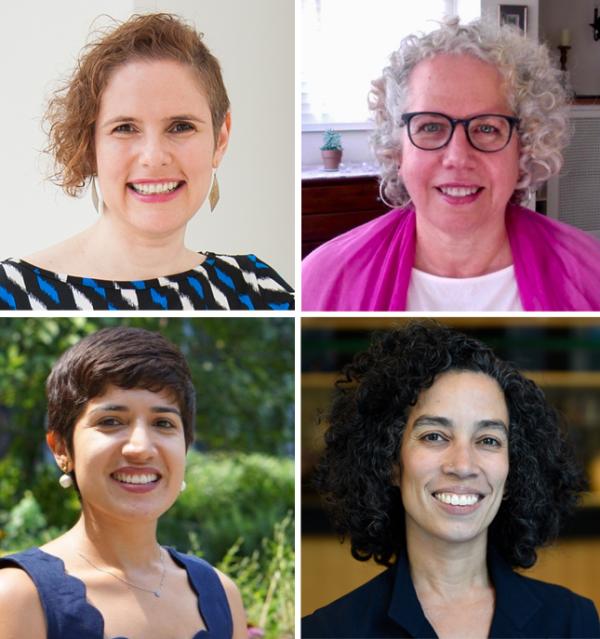 CUNY-IIE's leadership team [clockwise from the top] Tatyana Kleyn, Nancy Stern, Ariana Mangual Figueroa and Cynthia Nayeli Carvajal. 
With a student body representing more than 150 nationalities, The City College of New York is one of the most diverse campuses in the nation. CCNY is now helping steer a unique $6 million state-funded City University of New York (CUNY) project, intersecting education and immigration, in the world's most diverse city. 
Tatyana Kleyn and Nancy Stern, faculty in the CCNY School of Education's Programs in Bilingual Education and TESOL, are principal and co-principal investigators, respectively, of the five-year CUNY- Initiative on Immigration and Education (CUNY-IIE) supported by the New York State Department of Education. Ariana Mangual Figueroa, educational anthropologist, at the Graduate Center, CUNY; is the other co-principal investigator. Cynthia Nayeli Carvajal, an educational leadership researcher, serves as project director. Click here for the entire CUNY-IIE team, which includes educators and activists from across NYS.
 
"CUNY-IIE is a project that works at the intersection of immigration and education to learn, act, and advocate for equitable educational opportunities and policies for immigrant communities in New York State and beyond," said Kleyn, who works with undocumented youth as an advisor to the CCNY Dream Team.
A collaboration of CUNY educators; researchers, families and community leaders, the project aims to improve the lot of all, regardless of immigration status, using education as a tool.  
In its first year, CUNY-IIE produced professional development materials for a four-part video series, which provides information and illustrates successful practices that educators are enacting to create safe and welcoming environments for immigrant students and families. The professional development units each feature a set of activities to help educators understand the immigration realities of their students, families, and communities; take actions both in and outside their classrooms; and advocate for equitable policies, especially amidst the current anti-immigrant political climate. The materials will be posted to the CUNY-IIE website for educators to access in 2021.
In addition, New York State educators will be offered professional development workshops where they can earn Continuing Teacher and Leader Education (CTLE) credits free of charge, said Kleyn. "We will also be working with 10 CUNY-IIE partner schools around the State to support professional learning, engage in data exchange and develop immigration and education-focused action projects," she added.
Other 2020-21 targets are:
Developing a framework for immigrant liaison positions in K-12 schools to create a pipeline between secondary and tertiary education;
Creating short films and a report about current and future New York educators who are presently undocumented or recipients of DACA; and
Hosting a virtual CUNY-IIE speakers series starting this fall.
For Kleyn, her role in the CUNY-IIE project is a progression of her strong advocacy for immigrants. Her previous work includes the documentaries "Una Vida, Dos Países: Children and Youth Back in Mexico" and the "Living Undocumented Series" on the plight of undocumented youth in New York and return migration between the US and Mexico.
About the City College of New York
Since 1847, The City College of New York has provided a high-quality and affordable education to generations of New Yorkers in a wide variety of disciplines. CCNY embraces its position at the forefront of social change. It is ranked #1 by the Harvard-based Opportunity Insights out of 369 selective public colleges in the United States on the overall mobility index. This measure reflects both access and outcomes, representing the likelihood that a student at CCNY can move up two or more income quintiles. In addition, the Center for World University Rankings places CCNY in the top 1.8% of universities worldwide in terms of academic excellence. Labor analytics firm Emsi puts at $1.9 billion CCNY's annual economic impact on the regional economy (5 boroughs and 5 adjacent counties) and quantifies the "for dollar" return on investment to students, taxpayers and society. At City College, more than 16,000 students pursue undergraduate and graduate degrees in eight schools and divisions, driven by significant funded research, creativity and scholarship. CCNY is as diverse, dynamic and visionary as New York City itself. View CCNY Media Kit.