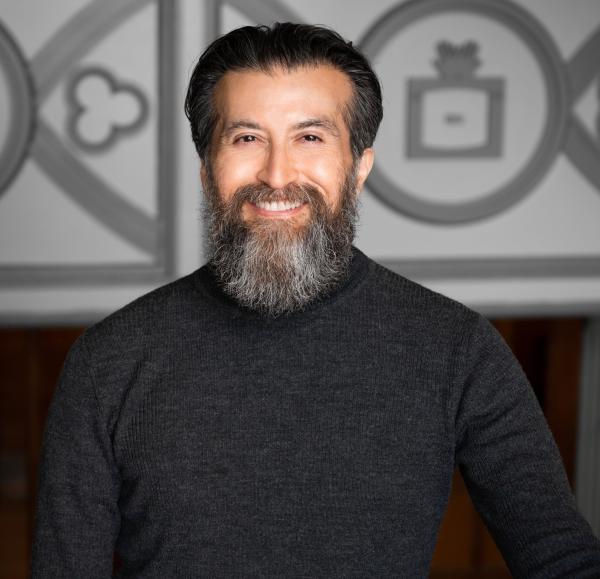 Mario Ramirez is CCNY's new Associate Dean and Chief Librarian.
Mario H. Ramirez, a vastly experienced archivist, scholar, and information professional, is the new Associate Dean and Chief Librarian at The City College of New York. His appointment was announced by CCNY Provost Tony M. Liss.

"Dr. Ramirez's rich and varied experience as an archivist, scholar, and information professional provide an outstanding basis for his work in the CCNY Libraries," said Liss. "Most recently as head of special collections and archives at the California State University, Los Angeles, his vision and leadership supported the equitable representation of immigrants, women, LGBTQIA communities and communities of color in special collections and archives. He served for eight years as project archivist for the Center for Puerto Rican Studies at Hunter College, CUNY, and we are happy to welcome him home to New York City in his new role."
As chief librarian, Ramirez will oversee the eight highly active libraries on campus which serve a very diverse community of scholarly interests. He will be responsible for developing and leading the libraries' direction in line with the College's strategic vision. The libraries' collection includes more than 1.44 million books, 50,000 periodicals, 1,000,000 digital images and 240 databases.
Ramirez said he is particularly interested in contributing to the development and transformation of library-wide strategic directions. "I want to support community engagement and student and library services, and to foster an equity minded and collaborative work environment across the libraries that emphasizes the diversity, power, and impact of institutions like CCNY."
He's a graduate of UCLA where he completed his PhD in the Department of Information Studies. His research focused on the documentation of human rights violations in El Salvador. Ramirez was a CLIR/DLF-Mellon Postdoctoral Fellow in Data Curation for Latin American and Caribbean Studies in the Digital Collections Department at Indiana University, Bloomington. In that capacity, he developed a migration plan for the Archivo Mesoamericano, a collection of videos documenting the history, social movements, culture, and indigenous languages of Mexico, El Salvador, and Nicaragua. He also served as an affiliated researcher in the Center for Latin American and Caribbean Studies at IU.
Ramirez previously spent close to a decade as an archivist in the Bancroft Library at the University of California, Berkeley and the Center for Puerto Rican Studies, Hunter College/CUNY.
He also served a three-year term as a member of the governing Council of the Society of American Archivists from 2019-2022.
About the City College of New York
Since 1847, The City College of New York has provided a high-quality and affordable education to generations of New Yorkers in a wide variety of disciplines. CCNY embraces its position at the forefront of social change. It is ranked #1 by the Harvard-based Opportunity Insights out of 369 selective public colleges in the United States on the overall mobility index. This measure reflects both access and outcomes, representing the likelihood that a student at CCNY can move up two or more income quintiles. Education research organization Degree Choices ranks CCNY #1 nationally among universities for economic return on investment. In addition, the Center for World University Rankings places CCNY in the top 1.8% of universities worldwide in terms of academic excellence. Labor analytics firm Emsi puts at $1.9 billion CCNY's annual economic impact on the regional economy (5 boroughs and 5 adjacent counties) and quantifies the "for dollar" return on investment to students, taxpayers and society. At City College, more than 15,000 students pursue undergraduate and graduate degrees in eight schools and divisions, driven by significant funded research, creativity and scholarship. This year, CCNY launched its most expansive fundraising campaign, ever. The campaign, titled "Doing Remarkable Things Together" seeks to bring the College's Foundation to more than $1 billion in total assets in support of the College mission. CCNY is as diverse, dynamic and visionary as New York City itself. View CCNY Media Kit.