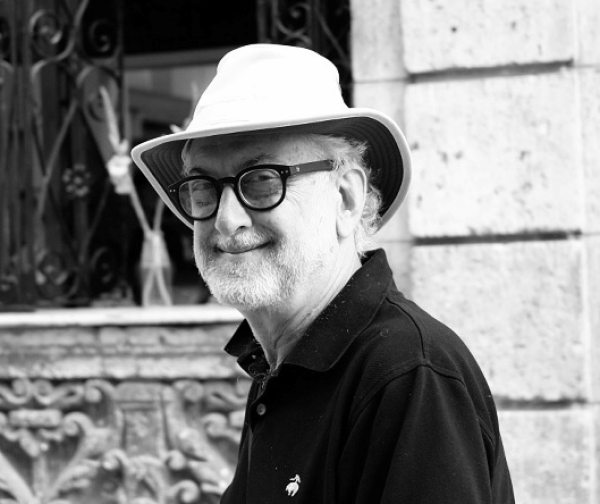 The Sorkin Reading Room opens in honor of the late Distinguished Professor Michael Sorkin on December 1. Photo by Hui Liang UD '19.

The City College of New York's Bernard and Anne Spitzer School of Architecture celebrates the opening of the Sorkin Reading Room, dedicated to its namesake, Michael Sorkin, the late Distinguished Professor of Architecture, 6 p.m. on Thursday, Dec. 1, in the Spitzer School Atrium at West 135th and Convent Ave., Manhattan.
An author, activist, architecture critic, urbanist and the head of Michael Sorkin Studios, Sorkin joined the Spitzer School as a Professor of Architecture and Director of the Graduate Program in Urban Design in 2000, and built a competitive program with top academics specializing in urban issues. He founded the annual Mumford Lectures which boasts stellar speakers, and, in 2008, Sorkin was made a Distinguished professor.
Sorkin died of Covid in March 2020.
"The reading room will be used by researchers interested in Michael Sorkin's criticism, pedagogy, and design practice," said Joan Copjec, Sorkin's wife and main proponent of the project. "The room itself, designed by Michael's colleague Professor Elisabetta Terragni, is beautiful and calm."
Located close to St. Nicholas Park, the space is light-filled with a long seminar table to engender conversation and debate. Lining shelves he designed for his office, Sorkin's books are organized according to his personal system, introducing readers to his way of thinking about urbanism, architecture, and cities.
"Michael Sorkin was a creatively provocative and animating force in architecture and at CCNY's Spitzer School. A reading room to carry forth the spirit of intellectual excitement that he embodied is an absolutely appropriate tribute to his legacy at our college," said CCNY President Vincent Boudreau.
In addition to the Sorkin Reading Room opening, there is much to celebrate at the Spitzer School, including Shellie Sclan-Berman's generous gift of the books and papers of her late husband Marshall Berman, the Distinguished Professor of Political Science at City College, to the CCNY Architecture Library in the Spitzer School building.
"Michael would be delighted to know that the archive of his colleague and 'comrade' Marshall Berman was installed near his library. Professor Berman was an essential component of the Graduate Program in Urban Design, the first chosen by Michael when he drew up his 'wishlist' for the slate of his faculty," said Copjec. "Marshall Berman was a towering intellect and also a close colleague and friend over my decades at CCNY; he often said that he'd never leave the college. Now, in the close company of his friend Michael, he never will," said Boudreau.
The 51st anniversaries of the Graduate Programs in Urban Design and Landscape Architecture will also be celebrated.
The Atrium will play host to the Spitzer School community and invited guests. Spitzer Dean Marta Gutman will give a toast and welcome remarks, as will Boudreau and Provost Tony Liss. In attendance will be Copjec, Sclan-Berman, Terragni and Julio Salcedo-Fernandez, director of the Urban Design Graduate Program, Catherine Seavitt-Nordenson, director of the Master of Landscape Architecture Program, as well as past Mumford Lecturers, the Spitzer Advisory Board, and Friends of the Spitzer School.
About the City College of New York
Since 1847, The City College of New York has provided a high-quality and affordable education to generations of New Yorkers in a wide variety of disciplines. CCNY embraces its position at the forefront of social change. It is ranked #1 by the Harvard-based Opportunity Insights out of 369 selective public colleges in the United States on the overall mobility index. This measure reflects both access and outcomes, representing the likelihood that a student at CCNY can move up two or more income quintiles. Education research organization DegreeChoices ranks CCNY #3 nationally for social mobility. In addition, the Center for World University Rankings places CCNY in the top 1.8% of universities worldwide in terms of academic excellence. Labor analytics firm Emsi puts at $1.9 billion CCNY's annual economic impact on the regional economy (5 boroughs and 5 adjacent counties) and quantifies the "for dollar" return on investment to students, taxpayers and society. At City College, more than 15,000 students pursue undergraduate and graduate degrees in eight schools and divisions, driven by significant funded research, creativity and scholarship. This year, CCNY launched its most expansive fundraising campaign, ever. The campaign, titled "Doing Remarkable Things Together" seeks to bring the College's Foundation to more than $1 billion in total assets in support of the College mission. CCNY is as diverse, dynamic and visionary as New York City itself. View CCNY Media Kit.