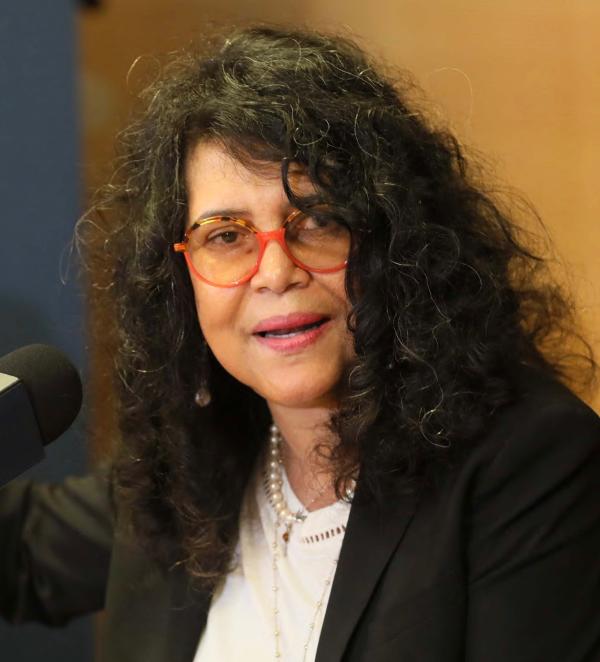 Ramona Hernandez, CUNY DSI director.
Backed by a $1.5 million grant from the National Science Foundation (NSF), the CUNY Dominican Studies Institute (DSI) based at The City College of New York is going beyond its core mission of research and scholarship and now aims to improve the recruitment, retention, and graduation rates of Latino/a/x students in STEM programs.
The grant from the NSF's Hispanic Serving Institution (HSI) Program, is part of a $3 million largesse to be shared equally between CUNY DSI and the Institute for Study of "Race" & Social Justice of the University of New Mexico (UNM). The funding will support the creation of resource hubs at both CCNY and UNM to serve Hispanic Serving Institutions (HSIs) across the nation under the leadership of CUNY and UNM.
"Over the next five years CUNY DSI will work to advance equity and student success in STEM by creating a hub centering intersectionality as inquiry and praxis and serving as a connector, and a resource for all who are interested in advancing equity and student success in STEM," said Dr. Ramona Hernandez, Director, CUNY DSI.  
The future depends on a well-developed and robust scientific workforce, Hernandez added.  However, millions of underserved students are underrepresented in these fields. "Students of Latino/a/x ancestry are underrepresented in the STEM fields, despite the fact that the Government and other institutions have allocated funding to address the disparity. Our proposal calls for the use of different lenses, different view to understand and to develop programs that are tailored to the specific needs of Latino/a/x students." 
She noted that the grant opens up a line of scientific research inquiry that departs from perceiving Latino/a/x students not as a homogenous group, but as a people who represent different national/ethnic origins and as such, embody specific life experience and historical legacy. 
"Diversification of STEM is an essential endeavor for us all," said Tony Liss, CCNY Provost. "The intersectional approach championed by Dr. Hernandez's grant holds great promise for identifying and lowering the barriers faced by Latino/a/x students interested in the STEM fields. We need them badly and I'm grateful for the help the NSF is providing as we work to address these issues."
 
For this grant, Hernandez partnered with Yoel Rodriguez, Department of Natural Sciences at Hostos Community College and Maria-Isabel Roldos-Prosser, Director of the CUNY Institute of Health Equity at Lehman College. The team will work in collaboration to address and dismantle the barriers that prevent Latino/a/x students from achieving higher success in the STEM fields. The project, entitled "Collaborative Research: HSI-Hubs: Intersectionality as Inquiry & Praxis: Race, Class, Gender & Ethnicity for Student Success in STEM" aims to:
Examine institutional data across various partner sites to assess equity in admissions, enrollment, retention, degrees awarded, and post degree outcomes; 
 
Develop and convene communities of practice, consisting of faculty fellows and other stakeholders across project sites in order to share and learn about equity initiatives that have been implemented in other institutions and develop action plans for home institutions; and 
 
Center intersectionality as equity through narrative change, communication strategies, and publications.
In the end, researchers will develop a framework for how to advance equity in STEM education for all underserved student populations through a collaboration that examines the experience of students in colleges and universities in the two different geographic regions. 
About The City College of New York
Since 1847, The City College of New York has provided a high-quality and affordable education to generations of New Yorkers in a wide variety of disciplines. CCNY embraces its position at the forefront of social change. It is ranked #1 by the Harvard-based Opportunity Insights out of 369 selective public colleges in the United States on the overall mobility index. This measure reflects both access and outcomes, representing the likelihood that a student at CCNY can move up two or more income quintiles. Education research organization Degree Choices ranks CCNY #1 nationally among universities for economic return on investment. In addition, the Center for World University Rankings places CCNY in the top 1.8% of universities worldwide in terms of academic excellence. Labor analytics firm Emsi puts at $1.9 billion CCNY's annual economic impact on the regional economy (5 boroughs and 5 adjacent counties) and quantifies the "for dollar" return on investment to students, taxpayers and society. At City College, more than 15,000 students pursue undergraduate and graduate degrees in eight schools and divisions, driven by significant funded research, creativity and scholarship. This year, CCNY launched its most expansive fundraising campaign, ever. The campaign, titled "Doing Remarkable Things Together" seeks to bring the College's Foundation to more than $1 billion in total assets in support of the College mission. CCNY is as diverse, dynamic and visionary as New York City itself. View CCNY Media Kit.