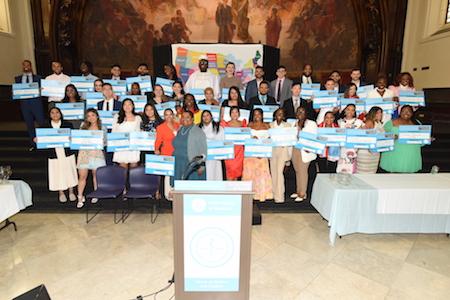 Dean Carmen Renée Green and CUNY Med MD students on Match Day.
MD candidates, from the CUNY School of Medicine (CUNY Med) at The City College of New York, join medical school students throughout the country to learn where they have matched for their residencies. "Match Day," is run by the National Resident Matching Program, which releases results to applicants seeking residency positions in the U.S. 

"The specific contribution of our medical school lies in our ability to provide culturally competent primary care physicians to underserved communities," said CCNY President Vincent Boudreau. "Every year match day - when our graduates learn where they will serve their residency - demonstrates how enthusiastically the medical community embraces the work of this school. The CUNY School of Medicine at The City College of New York was established to change the way medical care is delivered in communities like Harlem and the South Bronx and every year, this day provides a measure of our success."
"Match Day is the culmination of our students' intense commitment to their medical education and the reward for all of their hard work these past seven years," said Victor Schwartz, MD, DLFAPA, senior associate dean for Wellness & Student Life at the CUNY Med. "It is a special day at CUNY Med that is filled with emotion as students (and our faculty and staff) reflect on all that our future medical healers and leaders have accomplished."
CUNY Med students received their match results in CCNY's Great Hall at 12 p.m. on March 17 in front of their invited guests, colleagues, faculty, staff and alumni. Medical schools throughout the country participate in their own unique Match Day celebrations and traditions that often include colorful maps of the U.S. and student signs. 
CUNY Med will continue its Match Day tradition that was started last year by Dean Carmen Renée Green, MD. Students who choose to publicly announce where they have matched wrote their name on a slip of paper and dropped it into a fish bowl. 
Their names were drawn, and students shared their placements with the audience from the podium. The last student to present won a cash prize donated by the faculty and staff. 
About the City College of New York
Since 1847, The City College of New York has provided a high-quality and affordable education to generations of New Yorkers in a wide variety of disciplines. CCNY embraces its position at the forefront of social change. It is ranked #1 by the Harvard-based Opportunity Insights out of 369 selective public colleges in the United States on the overall mobility index. This measure reflects both access and outcomes, representing the likelihood that a student at CCNY can move up two or more income quintiles. Education research organization Degree Choices ranks CCNY #1 nationally among universities for economic return on investment. In addition, the Center for World University Rankings places CCNY in the top 1.8% of universities worldwide in terms of academic excellence. Labor analytics firm Emsi puts at $1.9 billion CCNY's annual economic impact on the regional economy (5 boroughs and 5 adjacent counties) and quantifies the "for dollar" return on investment to students, taxpayers and society. At City College, more than 15,000 students pursue undergraduate and graduate degrees in eight schools and divisions, driven by significant funded research, creativity and scholarship. This year, CCNY launched its most expansive fundraising campaign, ever. The campaign, titled "Doing Remarkable Things Together" seeks to bring the College's Foundation to more than $1 billion in total assets in support of the College mission. CCNY is as diverse, dynamic and visionary as New York City itself. View CCNY Media Kit.