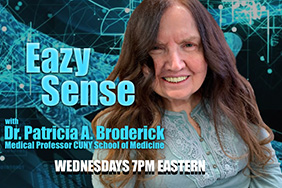 Eazysense with Dr. Patricia Broderick, medical professor at the CUNY School of Medicine, on Wednesdays at 7 p.m. Eastern.
Patricia A. Broderick, inventor, researcher and medical professor in the CUNY School of Medicine at The City College of New York, is the host of "Eazysense" on Bold Brave Media Tune in Radio Talk Show and recently spoke about spinal cord injuries during the Covid-19 pandemic.
"The Covid Brain" focuses on conceptual and empirical leaps into the temporal synchrony of movement, freezing and panic disorders. The episode also focused on what affects movement other than muscles, limbs and spiny interneurons.
As the inventor of The BRODERICK PROBE®, named after her father, and owner of its Trademark worldwide, Broderick developed and patented this series of nanobiosensors as well as the electrical circuits to direct the sensing work of the nanobiosensor. Whereas all patents are assigned to the innovative company she founded, Eazysense Nanotechnologies Inc., in concert with The City University of New York Technology Commercialization Office, a portion of her patents are assigned to New York University.
Based on nano biotechnology, the probes are biomedical-sensing devices, smaller than one strand of human hair. They have proven successful in sensing exact neuronal transmitters in the temporal lobe brain in epilepsy patients, intraoperatively, during surgery performed at New York University's Tisch Hospital.
She has also written numerous book chapters and peer reviewed prestigious articles in the neurodegenerative and psychiatric as well as sensor journals. Her latest book is "Neuroimaging, Nanosensing Biochemistry in the Brain," (Jenny Stanford Publishing Pte Ltd., Singapore, October 31, 2020). 
Eazysense is in its second season and streams live on channel 100 on Wednesdays at 7 p.m., EST. It is syndicated on 16 media networks and platforms including ABC, NBC, CBS as well as on Spotify and YouTube.
About the City College of New York
Since 1847, The City College of New York has provided a high-quality and affordable education to generations of New Yorkers in a wide variety of disciplines. CCNY embraces its position at the forefront of social change. It is ranked #1 by the Harvard-based Opportunity Insights out of 369 selective public colleges in the United States on the overall mobility index. This measure reflects both access and outcomes, representing the likelihood that a student at CCNY can move up two or more income quintiles. In addition, the Center for World University Rankings places CCNY in the top 1.8% of universities worldwide in terms of academic excellence. Labor analytics firm Emsi puts at $1.9 billion CCNY's annual economic impact on the regional economy (5 boroughs and 5 adjacent counties) and quantifies the "for dollar" return on investment to students, taxpayers and society. At City College, more than 16,000 students pursue undergraduate and graduate degrees in eight schools and divisions, driven by significant funded research, creativity and scholarship. CCNY is as diverse, dynamic and visionary as New York City itself. View CCNY Media Kit.