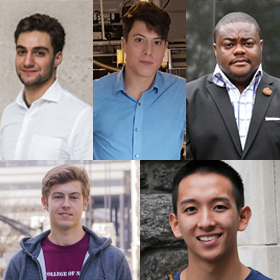 CCNY's 2016 NSF Fellows and Honorable Mentions. Clockwise: Andoni Mourdoukoutas, Halley Christopher Aycock-Rizzo, Solomon Mensah, Kevin Vu and Pavel Shapturenka.
Andoni Mourdoukoutas, biomedical engineering senior in the Macaulay Honors College at The City College of New York, and two recent CCNY graduates have been awarded National Science Foundation (NSF) Graduate Research Fellowships.
The fellowships recognize and support exceptional students who have proposed graduate-level research projects in their fields. Selection is through a national competition.  
Fellows receive an annual stipend of $34,000 and $12,000 cost-of-education allowance for graduate study that leads to a research-based master's or doctoral degree in science or engineering.
From Lindenhurst, Long Island, Mourdoukoutas is deciding among universities that have accepted him to doctoral programs in neural engineering, specifically spinal cord stimulation to treat illness. He won a Goldwater Scholarship in 2015.
CCNY's other NSF fellows and their research thrusts are:
Halley Christopher Aycock-Rizzo, physics doctoral program, CUNY Advanced Science Research Center, interaction of visible light with individual atoms;
 
Solomon Mensah, doctorate in bioengineering, Northeastern University, mechanical properties of biological cell coatings to better understand cardiovascular disease and cancer.
In addition to the three fellows, three other CCNY students – two of them Macaulay Honors graduating seniors – received Honorable Mentions from the NSF for their outstanding work.  They are:
Pavel Shapturenka, chemical engineering/Macaulay Honors, from Brooklyn;
Alismari Read, chemical engineering, Manhattan;
and Kevin Vu, civil engineering/Macaulay Honors, from Flushing, Queens.
About The City College of New York
Since 1847, The City College of New York has provided low-cost, high-quality education for New Yorkers in a wide variety of disciplines. More than 15,000 students pursue undergraduate and graduate degrees in the College of Liberal Arts and Science; Bernard and Anne Spitzer School of Architecture; School of Education; Grove School of Engineering; Sophie Davis Biomedical Education/CUNY School of Medicine; and the Colin Powell School for Civic and Global Leadership. U.S. News, Princeton Review and Forbes all rank City College among the best colleges and universities in the United States.