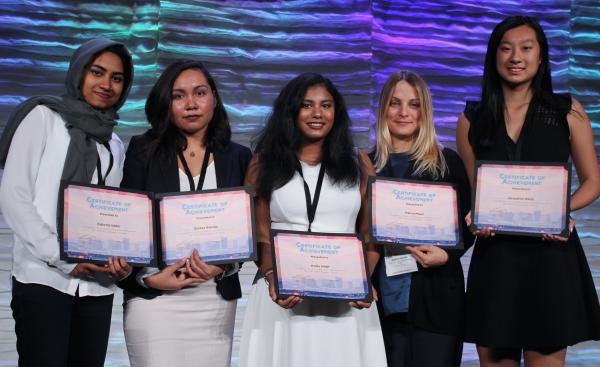 Five of CCNY's 2017 ABRCMS winners in Phoenix, (from left) Fathema Uddin, Geneva Hidalgo, Kailey Singh, Mariya Mayer and Jacqueline Weng.
Six students from The City College of New York were winners at the Annual Biomedical Research Conference for Minority Students in Phoenix, Arizona. The undergraduates from the Division of Science, the CUNY Medical School at CCNY, the Colin Powell School for Civic and Global Leadership and the Grove School of Engineering excelled in both poster and oral presentations.
The students, their majors, topics and presentation categories, are:
Geneva Hidalgo, psychology, social/behavioral sciences and public health (oral);
Mariya Mayer, music, cancer biology (poster);
Courtney Ogando, biomedical engineering, cell biology (poster);
Kailey  Singh, biomedical science, physiology (oral);
Fathema Uddin, biology, cell biology (poster); and
Jacqueline Weng, biomedical science, social/behavioral sciences and public health (poster).
Hidalgo, a senior in CCNY's RISE Program, summed up the team's winning formula: "You have to know your research really well and prepare for questions from people from other fields who don't know anything about your research."
ABRCMS is one of the largest, professional conferences for underrepresented minority students, military veterans, and persons with disabilities to pursue advanced training in science, technology, engineering and mathematics. ABRCMS attracts more than 4,000 individuals, including 2,150 undergraduate and post baccalaureate students, 400 graduate students and postdoctoral scientists and 450 faculty, program directors and administrators. Students come from more than 350 U.S. colleges and universities.
About The City College of New York
Since 1847, The City College of New York has provided low-cost, high-quality education for New Yorkers in a wide variety of disciplines. Today more than 16,000 students pursue undergraduate and graduate degrees in eight professional schools and divisions, driven by significant funded research, creativity and scholarship.  Now celebrating its 170th anniversary, CCNY is as diverse, dynamic and visionary as New York City itself.  View CCNY Media Kit.