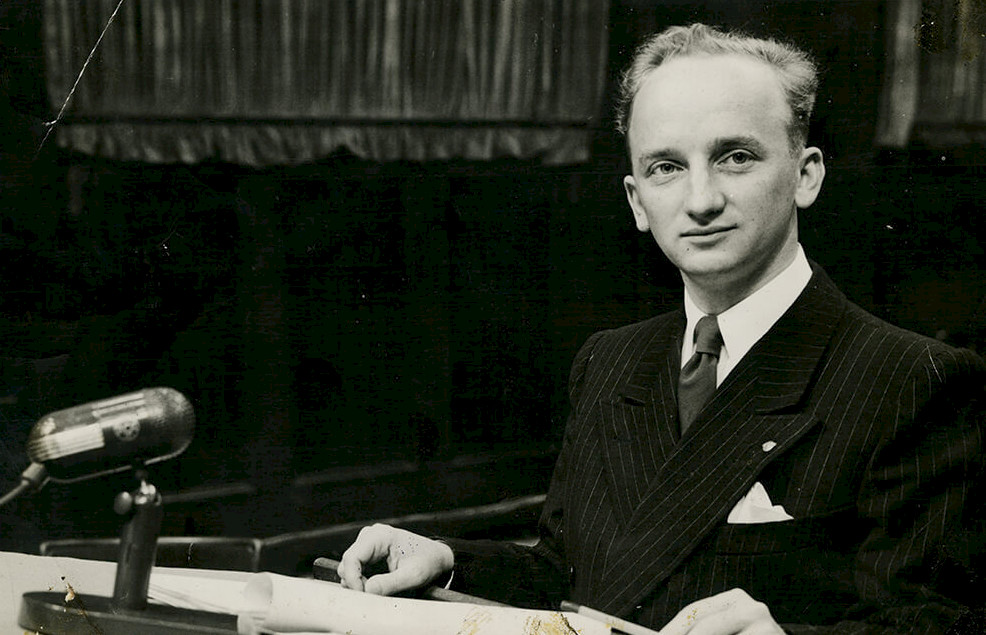 Benjamin Ferencz, Class of 1940, is CCNY's 2020 Virtual Salute keynote speaker.
Centenarian Benjamin B. Ferencz, a distinguished 1940 alumnus and the last surviving prosecutor from the post-WWII Nuremberg trials, is the keynote speaker at The City College of New York's first ever "Virtual Salute" on June 30, in celebration of its Class of 2020.  Mr. Ferencz, who turned 100 on March 11, will receive the honorary degree Doctor of Laws from his alma mater. He's believed to be the oldest honorary degree recipient from City College. The institution was founded in 1847.
Other speakers during CCNY's 50-minute virtual salute, include:
In addition, New York State Lieutenant Governor Kathy Hochul and CUNY Chancellor Félix V. Matos Rodriguez, will offer greetings to CCNY's graduating class.
A physically active man who does 100 pushups daily, Mr. Ferencz is still an advocate for human rights and the rule of law. He will, in his address to CCNY's latest graduates, share some of his remarkable experiences in the 80 years since his own graduation from City College in 1940.  "Experiences, which I hope will be inspirational and will guide the Class of 2020 during difficult times now and in the future," he said. 
Mr. Ferencz, whose family came to the United States from Romania when he was 10-months-old, attended Harvard Law School after graduating from CCNY. He earned his law degree in 1943 and fought in World War II.
At the end of the war, the young lawyer was recruited for the Nuremberg war crimes trials in Nuremberg, Germany. Once the International Military Tribunal's prosecution of German Field Marshal, Herman Goering and his henchmen was concluded, the United States tried a broad cross section of Nazi criminals.
He said of the experience: "Nuremberg taught me that creating a world of tolerance and compassion would be a long and arduous task. And I also learned that if we did not devote ourselves to developing effective world law, the same cruel mentality that made the Holocaust possible might one day destroy the entire human race."
This is the second major accolade for Mr. Ferencz from his alma mater. He received The City College President's Medal from his alma mater in Sept. 2019. The Medal is awarded for distinguished achievement and public service. Past recipients include: Nelson Mandela; Nobel Laureates Robert Aumann and Leon M. Lederman; Coretta Scott King, Gen. Colin L. Powell, USA (ret.), astronaut Mario Runco Jr., and Sen. Hillary Rodham Clinton. The 2002 Medal was awarded to the men and women of New York City's uniformed services for their heroic service on and after September 11, 2001.
About the City College of New York
Since 1847, The City College of New York has provided a high-quality and affordable education to generations of New Yorkers in a wide variety of disciplines. CCNY embraces its position at the forefront of social change. It is ranked #1 by the Harvard-based Opportunity Insights out of 369 selective public colleges in the United States on the overall mobility index. This measure reflects both access and outcomes, representing the likelihood that a student at CCNY can move up two or more income quintiles. In addition, the Center for World University Rankings places CCNY in the top 1.8% of universities worldwide in terms of academic excellence. Labor analytics firm Emsi puts at $1.9 billion CCNY's annual economic impact on the regional economy (5 boroughs and 5 adjacent counties) and quantifies the "for dollar" return on investment to students, taxpayers and society. At City College, more than 16,000 students pursue undergraduate and graduate degrees in eight schools and divisions, driven by significant funded research, creativity and scholarship. CCNY is as diverse, dynamic and visionary as New York City itself. View CCNY Media Kit.