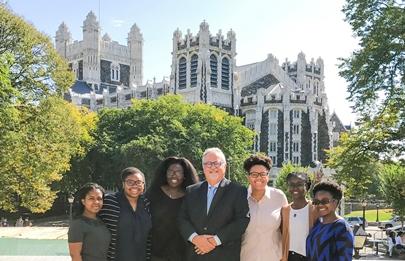 Barbara Badio, Nneka Ogbutor, Tracey Akanbi, Dean Maurizio Trevisan, Nwando Ekezie, Ndeye Gningue, and Hazeezat Shittu of the CUNY School of Medicine at CCNY
Coffee is bad for you. No, it's good for you. You need 30 minutes of daily activity – or is it 10? Come hear the latest on how to stay healthy on Wednesday Oct 18 at the first Mini-Medical School hosted by the CUNY School of Medicine at The City College of New York. The latest health information will be shared and refreshments will be served at the event, which is free and open to the public from 5:30 – 7 p.m. at CCNY's North Academic Center (Room 1/201). Click here to RSVP.
The idea for the Mini-Medical School started with medical student Hazeezat Shittu. As part of an Independent Study course, Shittu wanted to find out what the Harlem community's main health concerns are. So she and her team placed surveys in multiple locations – including the Harlem YMCA, Café One, and two NYPD precincts. The community responded with the topics they'd like information on – as well as when and where they'd like the events to be held.
CCNY Interim President Vincent G. Boudreau will kick off the inaugural Mini-Medical School event. Then information about diet, physical activity and health will be shared by Maurizio Trevisan, Dean of The CUNY School of Medicine, and Joan Dorn, Chair of the Department of Community Health and Social Medicine.
If you'd like to help make Harlem healthier, don't miss this event. And keep your eye out for future Mini-Medical School events which will address diabetes and other health-related topics suggested by members of the Harlem community.
"As a medical school based in Harlem, it's important to have a direct impact on the health of the community by providing people with the knowledge and tools to make better health decisions for themselves and their loved ones," said Shittu, the student team leader.
About Vincent Boudreau
Dr. Vincent Boudreau has served as City College Interim President since November 2016. He was previously Dean of the college's Colin Powell School for Civic and Global Leadership. He is a professor of political science at CCNY and a member of the City University of New York graduate faculty. A specialist in the politics of social movements, particularly in Southeast Asia, his latest book is "Resisting Dictatorship: Repression and Protest in Southeast Asia" (Cambridge University Press). Boudreau is a graduate of Cornell University, where he earned his Ph.D. in 1991.
About The City College of New York
Since 1847, The City College of New York has provided low-cost, high-quality education for New Yorkers in a wide variety of disciplines. Today more than 16,000 students pursue undergraduate and graduate degrees in eight professional schools and divisions, driven by significant funded research, creativity and scholarship. Now celebrating its 170th anniversary, CCNY is as diverse, dynamic and visionary as New York City itself. View CCNY Media Kit.